2015 Chevy Camaro SS coupe review
Nobody has to twist my arm to review a 2015 Camaro SS. While I've never been a big fan of this particular generation of Camaro, I can appreciate it's place in Chevy's lineup.
Having already spent a day with a 5th generation Camaro SS back in December of 2013, I pretty much knew what to expect when I was handed the keys to this nearly-identical silver coupe at the Bellingham airport.
What is it with me and silver rental cars? That other Camaro was silver, Budget gave me a silver Ford Focus in Anchorage, and now here I am again in a silver Camaro SS. A different color would have been nice, but honestly I think I got the only Camaro they had – I didn't see any others on the lot.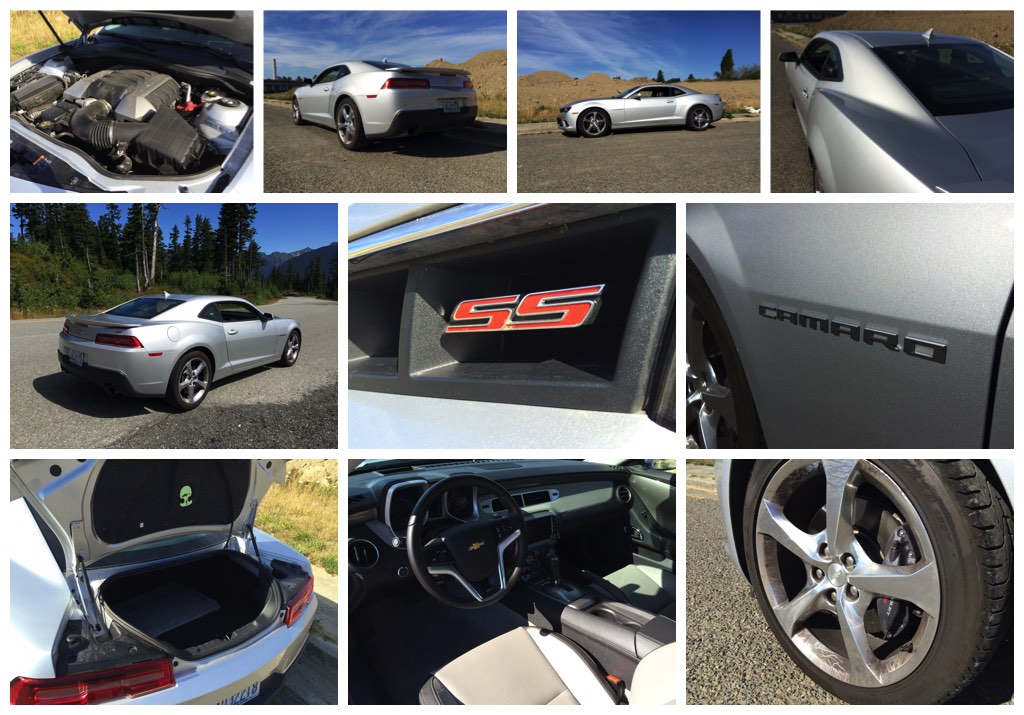 Because this Camaro was so similar to the 2013 convertible that I drove before, I'm going to keep the words and pictures to a minimum here and let my video do most of the talking. However, I would like to say that there was one big difference between that convertible and this coupe: 2 years of real life driving experience. What exactly do I mean by that? Let me explain:
When I drove that other Camaro in Phoenix two years ago, it was the first time I had ever driven a high-horsepower car like that. I had nothing else to compare it do, and I basically came away from it feeling as giddy as a boy and having a strong desire to buy one of my own.
But since that experience, I've driven a few other high(ish) end cars such as the BMW 328i, C7 Corvette, and Mercedes Benz E350. Those two cars in particular made me realize how rough around the edges the 5th generation Camaro really is, and that came through loud and clear as I was driving this car around the twisty mountain roads east of Bellingham.
2015 Camaro SS first impressions
This particular 2015 Camaro SS coupe was nicely loaded with leather seats and a power sunroof, but the light gray interior made it seem a bit less sophisticated to me. I would have preferred black here, but overall, the interior was exactly as expected. And am I wrong in feeling like the exhaust noise is too docile and quiet for a high-horsepower car such as this?
Exterior and interior
The 5th generation Camaro gets a lot of hate for it's tank-like windows, but honestly, I think it makes the car look pretty mean and aggressive. Yes, it makes outward visibility difficult, but I didn't mind it so much. As a matter of fact, I said the same thing in my overview of the 2020 Dodge Challenger interior. Tank-like windows look cool!
What I really liked, in particular, were the hard cuts and creases on the exterior of this car. If only they would have carried that design language through to the interior! Yeah, the inside of this car doesn't really match the outside – and it's probably my biggest gripe about the Camaro.
Driving impressions and final thoughts
Driving a C7 Corvette on the Tail of the Dragon at Deals Gap, North Carolina spoiled me, and it was difficult for me to fight the urge to compare the Camaro SS to the Vette. I know, I know.
They are two completely different classes of cars, but the Camaro seemed like such a huge step down in terms of driving feel and performance on twisty mountain roads. It didn't feel aggressive enough for me, and my hope is that the 6th generation Camaro will have slightly more of an "edge" to it.