Review: 1997 Ford Mustang GT
That 1997 Ford Mustang GT in 2004 was probably my most spontaneous car purchase ever. The night before, I cruised down to Qualcomm Stadium here in San Diego to watch the 1/8 drag races, and I drove home thinking how badass it would be to have a V8 Mustang. Of course this wasn't the first time I ever had those kinds of feelings, but this time it was different. I had an itch for a Mustang GT that needed to be scratched.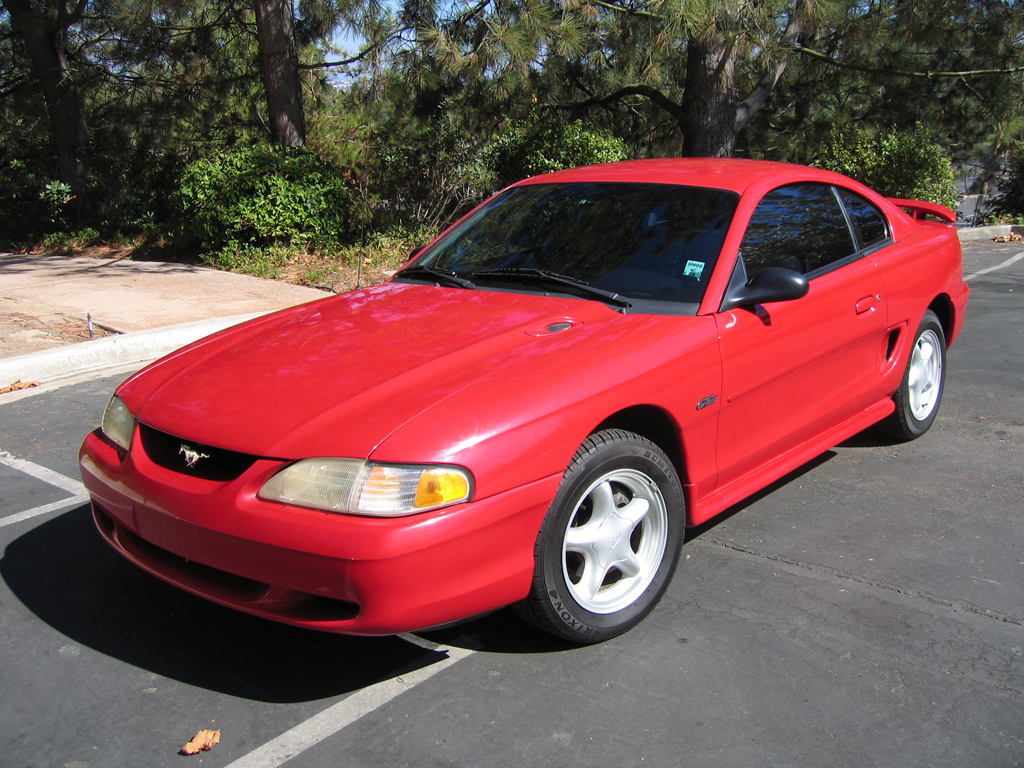 So there I was at a rinky-dink used car lot on a bright and sunny July morning here in San Diego, staring at a 1997 Ford Mustang GT with 75,000 miles on it with tinted windows and faded red paint. It wasn't in the best condition, but it ran solid and the price was right. "Should I or shouldn't I" was the question running through my brain, and I probably stood there and thought about it for 20 minutes.
I couldn't make up my mind so I told the sales guy that I'd think about it before I hopped in my Celica and headed home to give it some more thought. I'm not even sure I made it all the way home before I decided to go for it. I grabbed a quick bite to eat, then headed right back down to that little car lot to get that Mustang.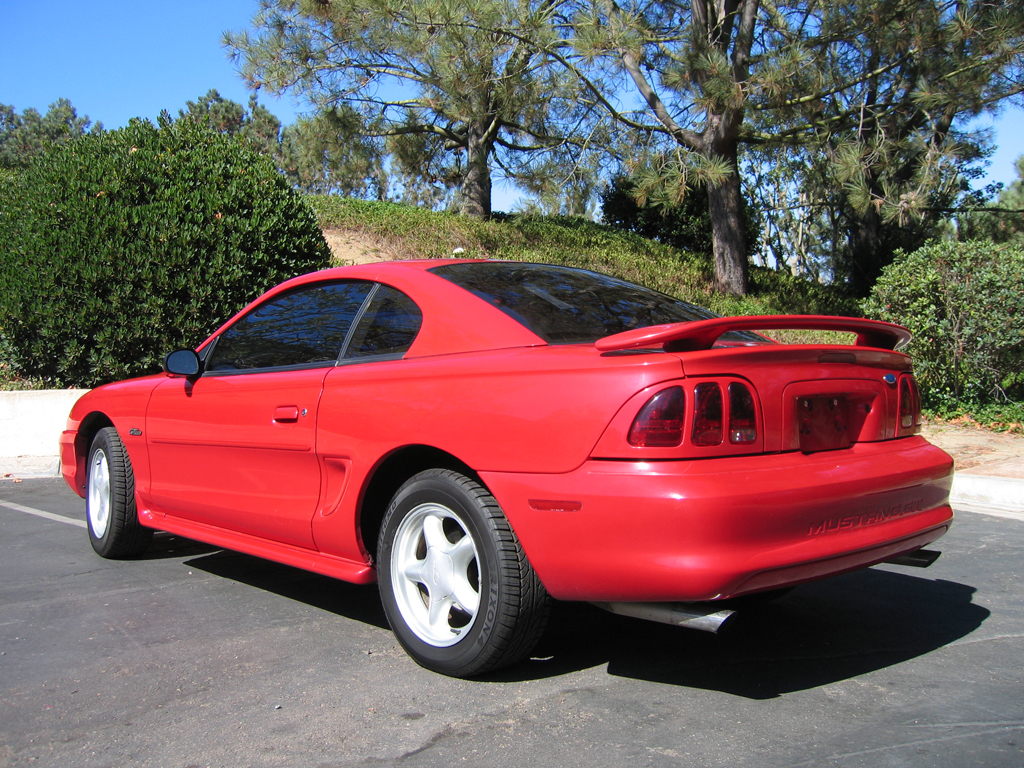 My relationship with this car didn't begin well at all. On the drive home from the lot, It quit on me and left me stranded on the freeway two miles from home – I was not a happy guy. I immediately called them up and told them to come and get the car, and I wanted a full refund. Long story short, they came and got it, but they agreed to fix it for free if I still agreed to take it. Ok, whatever. Two days (and a new fuel tank sending unit) later, I drove the car home.
The first few days with it were fun, but it didn't take long before I began second-guessing my decision to buy this car. The honeymoon was over, and all I could think about at that point was:
The car itself was junk. Yes, it ran good and everything worked, but it was pretty worn out. Faded paint, a dying battery, worn seats, etc. The car was tired.
It was actually pretty slow. First and second gear offered gobs of delicious torque (and that lovely Ford V8 sound), but it simply ran out of breath beyond that.
It was downright scary to drive on the freeway. At higher speeds, it felt just like an old Crown Victoria taxicab bouncing high and loose on it's marshmallow-like suspension.
It also had a slight misfire under load in higher gears, which (after some research) I discovered to be a common problem with these 4.6L modular engines. It didn't affect the drivability, but it was quite noticeable on the freeway.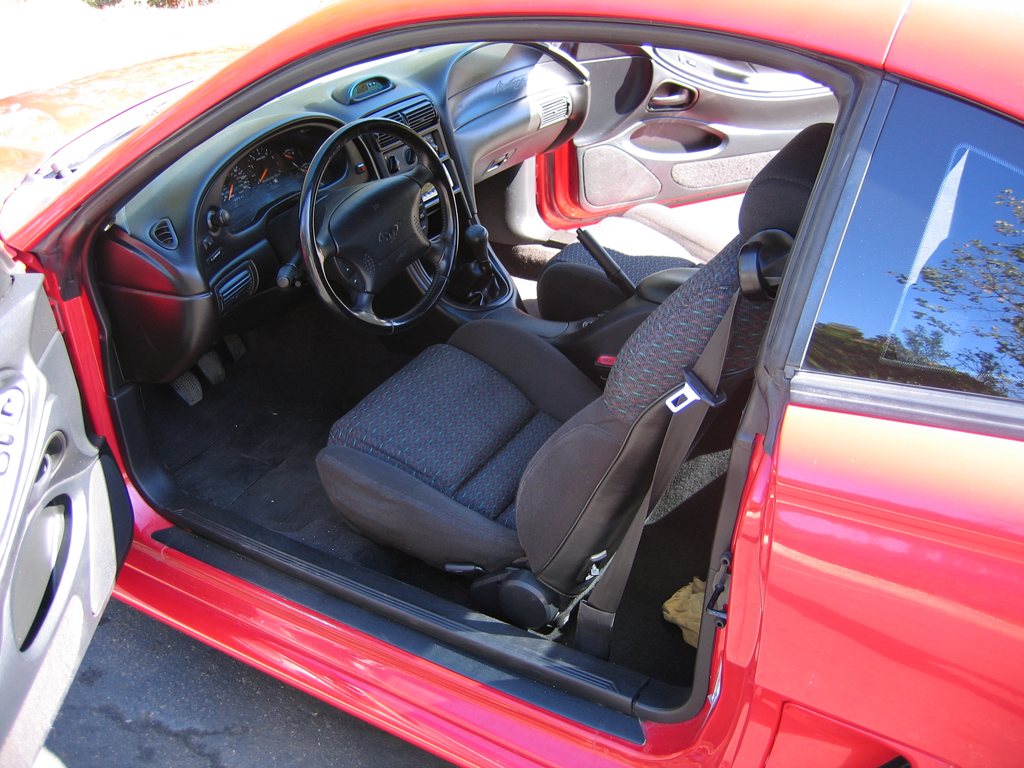 It was a fun cruiser though, and I soon discovered the perfect use for it: cruising up and down Pacific Coast Hwy here in southern California. The Mustang was best at lower speeds going from stoplight to stoplight, and there wasn't much that sounded better than rowing through the gears on that mean-sounding V8. The car sounded like a total animal, but unfortunately, it's bark was much (much) worse than it's bite.
One other significant thing to note about this car is that the clutch was extremely heavy. We're talking dump truck-like heavy. I've driven other Mustangs from this era (both stock and modified), and as far as I can tell, the clutch was stock – they came from the factory that way.
The brakes were surprisingly good though, and they grabbed much better than the brakes on the 2002 Toyota Celica GT I was driving at that time. They could be a bit twitchy at times, but I can't complain at all about how well they stopped the car.
I only had the Mustang for a month before I sold it. It was fun while it lasted, but there were just too many things bugging me about the whole situation. Most notably, it was about that time that I became very serious about saving money – I was feeling pretty guilty about the purchase so the car had to go. However, this would not be my last SN95 4.6L Mustang GT…