Pics of the 2021 Kia Forte interior: 10 things to love and hate
One of my biggest automotive surprises of the year was finding out firsthand how nice the 2021 Kia Forte interior is. Perhaps my expectations were set too low (it is a Kia after all), but I was really impressed.
That's not to say that it was totally perfect. Being a budget priced car, there are definitely some odd (and cheap feeling) quirks about the interior. It's obvious that Kia was trying to be as cheap as possible with some components.
Anyway, I recently spent an entire week with a neon blue 2021 Forte, and I've got lots to say about the guts of that thing (both good and bad). Let's just get right into it…
5 things I love about the 2021 Kia Forte interior
For the record, I mostly loved the interior of the 2021 Forte. It's a near perfect blend of sporty and comfortable, and I hate to say it but – I think I like the interior of the Forte better than the interior of my 2012 Mustang GT.
But I'm getting ahead of myself here. These are the things that I love about it:
1. It's very sporty
The very first thought that popped into my head upon sitting down into the interior of the 2021 Kia forte was that it looked (and felt) like a finely-crafted Japanese sports car. Well, compared to a 2021 Kia Soul interior anyway.
The entire interior is laid out quite nicely in my opinion, and as I mentioned in the beginning of the section, it feels even more sporty than the inside of my Mustang GT. Which totally ticks me off.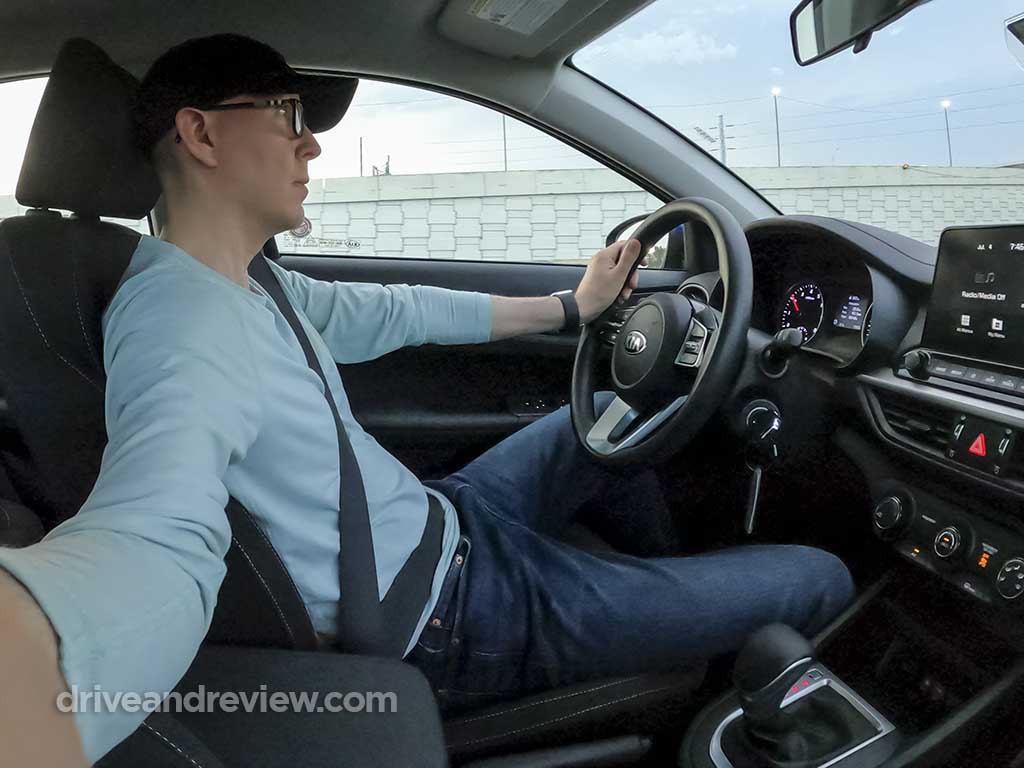 For what it's worth, Kia is building some seriously fantastic cars these days – and they all have a hint of sportiness to them that is very (very) nice. Read my list of Kia K5 pros and cons if want to hear me gush about this!
2. The large infotainment display is positioned perfectly at top of dash
A large infotainment screen in the center of the dashboard is pretty much standard in all cars these days. However, in the 2021 Forte, it's placed at the very top of the dashboard. It sits so high that it actually protrudes upwards about 3 or 4 inches.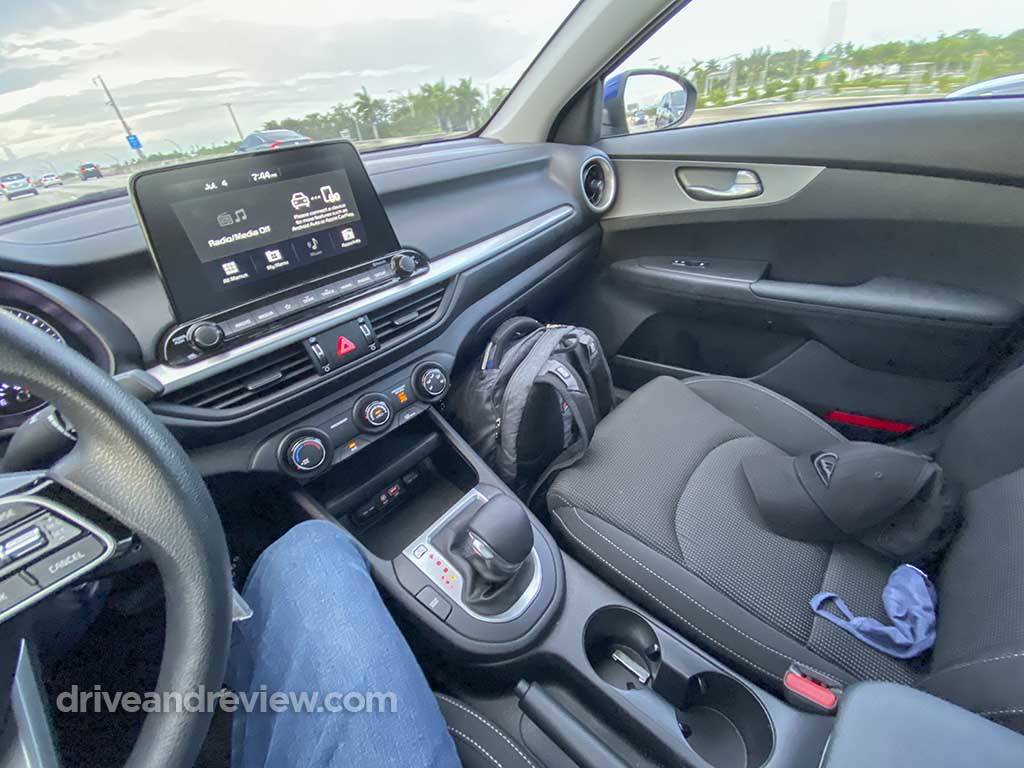 This is the perfect position for an infotainment screen in my opinion. I hate large displays that are buried low in the center of the dash, which requires taking your eyes off the road to interact with it. This isn't the case with the Forte.
3. The thick steering wheel feels great
That steering wheel! As you probably learned from reading my 2015 Audi A4 review, I loves me a beefy steering wheel. It's the easiest way to make the interior of a car feel sporty in my opinion, and I want to give the interior designers of the Kia forte a high-five for including such a thick steering wheel.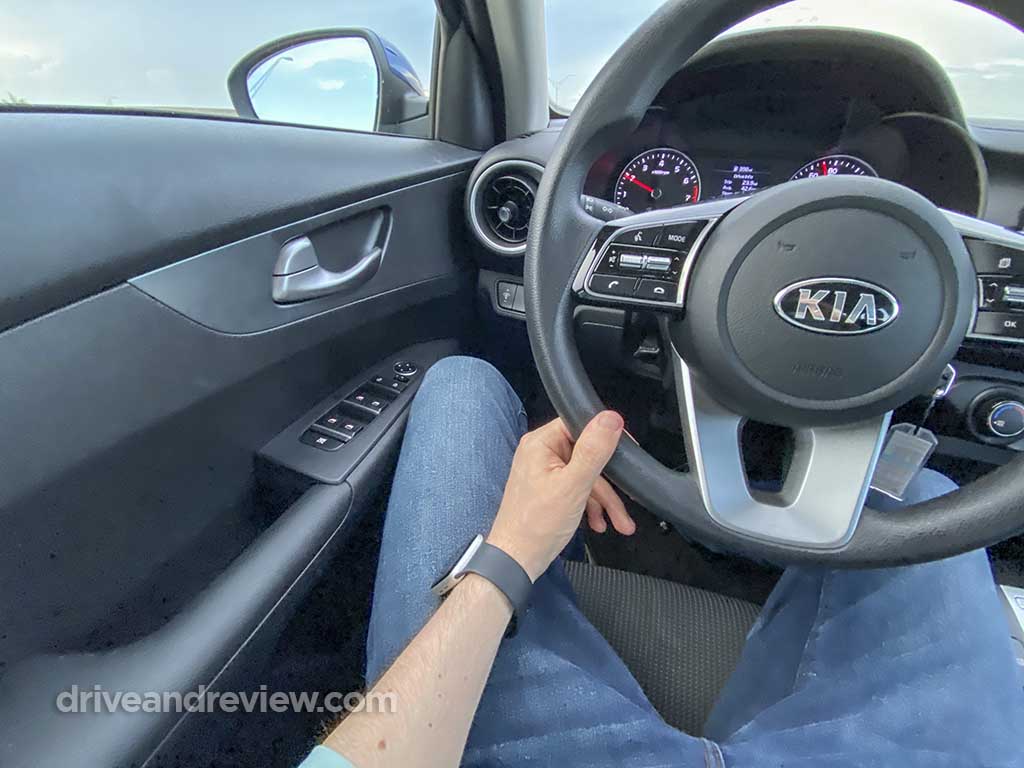 I spent a lot of time on the freeway during my drive of a 2021 Kia forte, and having a thick (and well-padded) steering wheel made the drive so much more comfortable.
4. Outward visibility is very good
One of the best parts about the 2021 Forte interior is that it's easy to see out of (in all directions). Whether I was trying to merge into traffic or just backing up into a really tight spot, outward visibility was fantastic.
Kia is generally very good about making cars you can see out of IMHO. Even in my list of pros and cons of the Kia Soul (a car I have mixed emotions about), I couldn't help but to gush over outward visibly.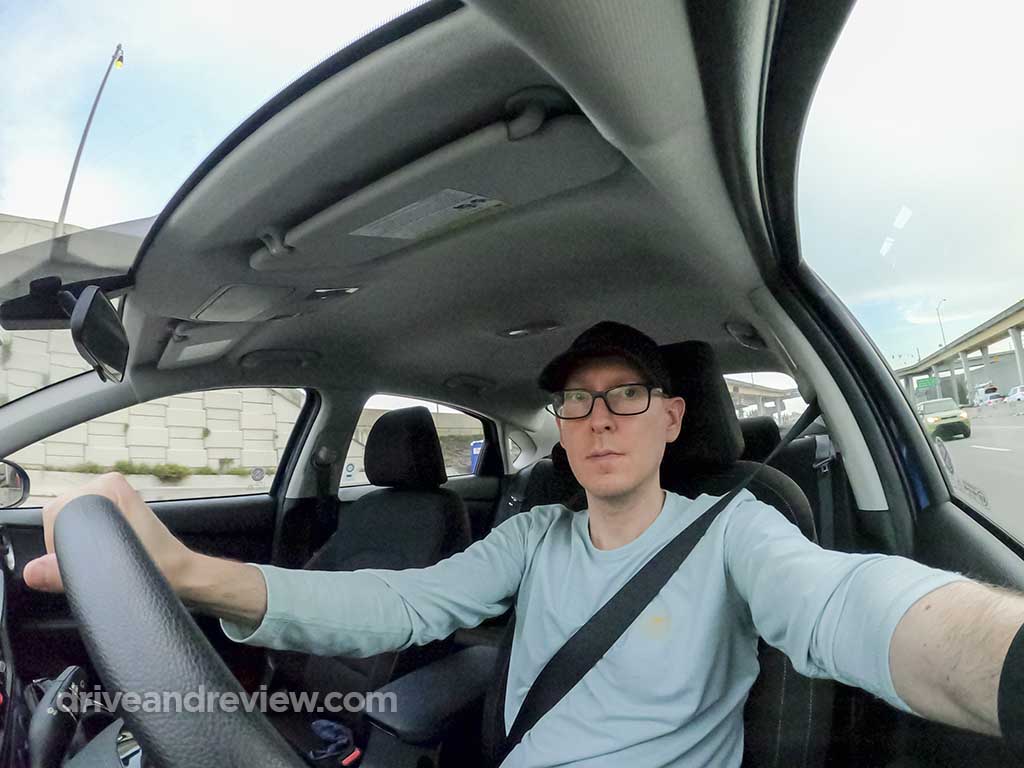 And I just want to reiterate that the large video infotainment screen at the top center of the dashboard does not interfere with outward disability. Yes, it sticks up quite a bit, but it doesn't get in the way.
5. There are lots of useful storage bins
I put a lot of miles on the Forte that I test drove. It was essentially a weeklong road trip, and just like any road trip, I need to have places for my water bottles, cameras, and mobile devices. I am happy to report that the interior of a 2021 Kia Forte has many little cubby holes and containers to store your things.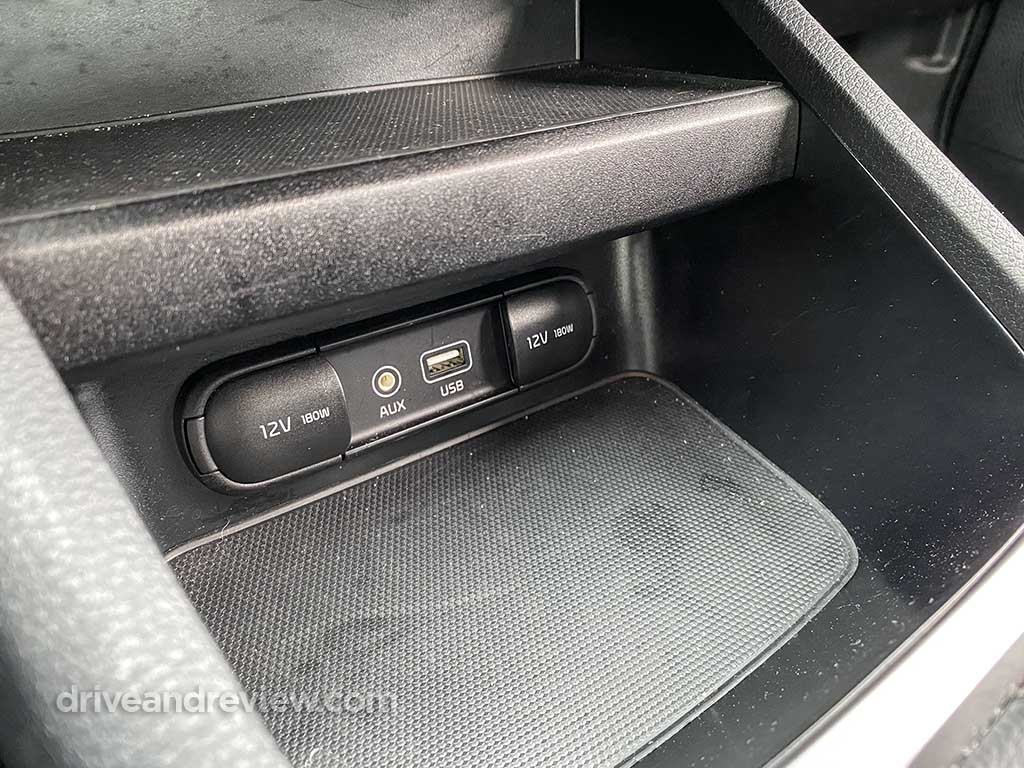 There were so many little cubby holes actually, but I worried about leaving something important behind when I had to give the car back. Thankfully, I remembered to triple-check everything before handing over the key fob.
5 things I hate about the interior of the 2021 Kia Forte
If you read my review of the 2017 Kia forte, you'll know how irritated I was with the seats. Spoiler alert: Nothing has changed. As a matter fact, let's lead off with that point…
1. The front seats aren't very supportive
One of the things I was looking forward to the most when driving the 2021 Kia forte was updated front seats. Not because of how ugly they used to be, but because of how my back always hurt like a mofo after driving a Forte for any amount of time in the past.
It bums me out to say that the seats in the 2021 Forte are the same old non-supportive pieces of junk that were in previous generations.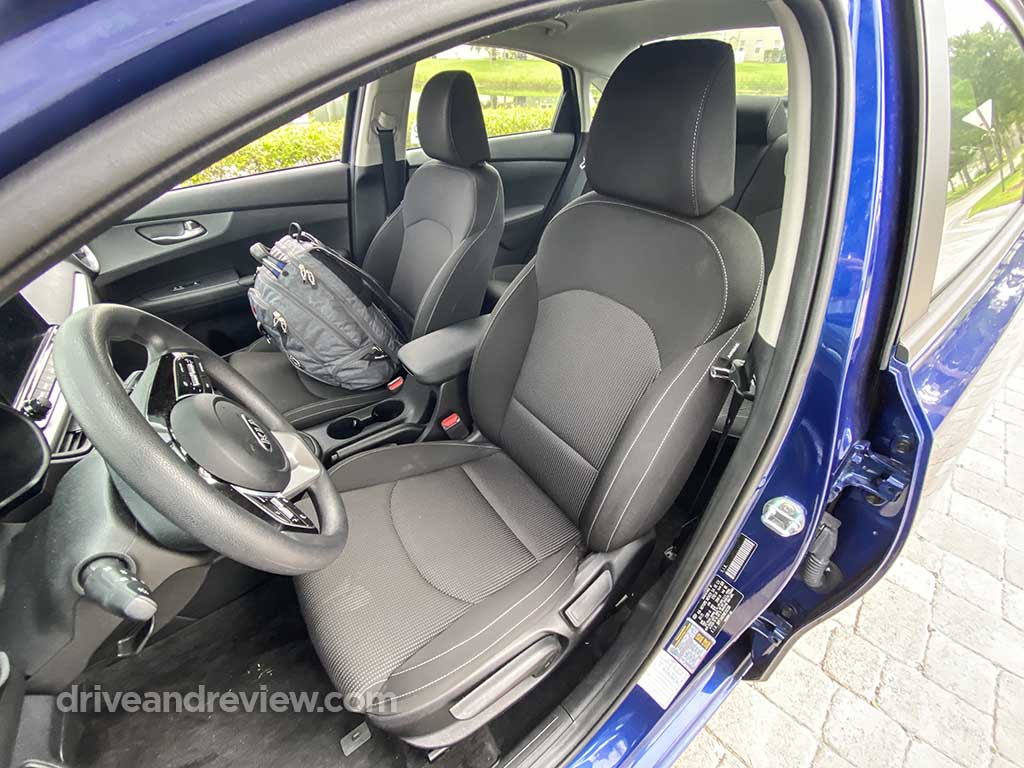 The seats are so bad actually that I had to put a small pillow between the seat and my lower back within 10 minutes of getting into the car. They're that bad.
2. Cheap plastics everywhere
After reading my list of pros and cons of the Chrysler 300, you should know how I feel about cheap plastics in a car. And before you say anything, I know that the Kia forte is marketed as affordable transportation for the masses. It pretty much defines the definition of a "budget" car.
That being said, I still couldn't get over how cheap feeling the interior of the 2021 Forte is. There are no premium materials used anywhere on the dashboard (or the center console). Everything is plastic. And it's the cheap kind of plastic that has very little structural rigidity.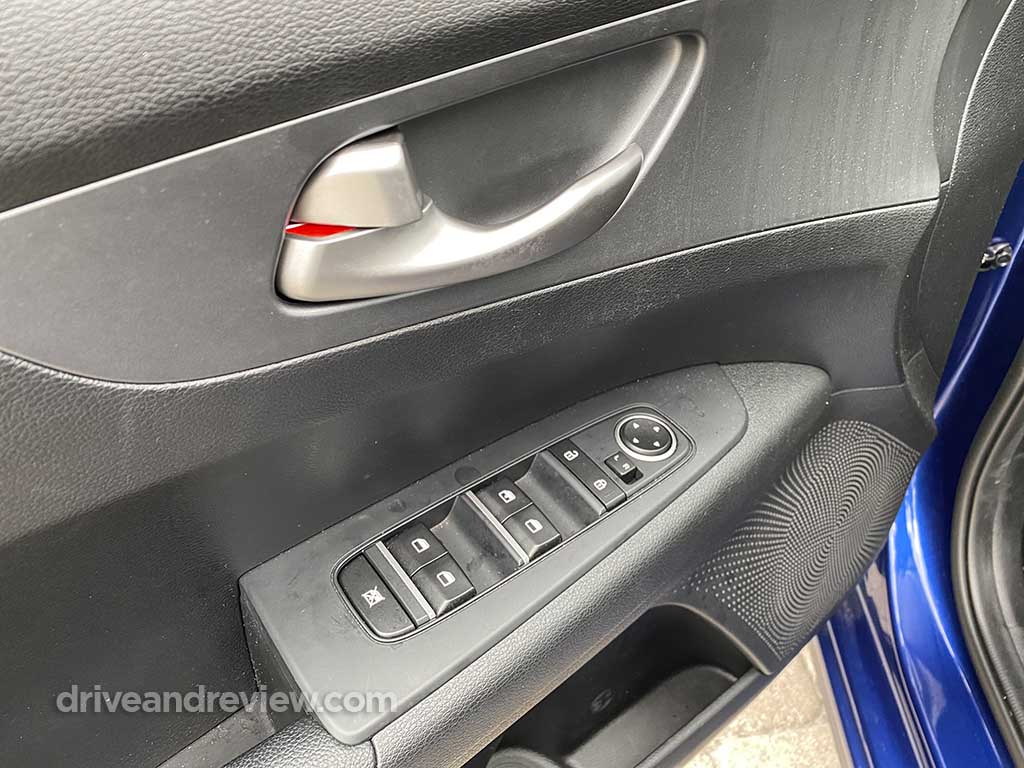 Time will tell, but I'll bet anything that these plastics will fade and deform after several years if you live in a hot climate and you leave your Forte out in the sun all the time. If that starts happening, I'll be sure to add it to my list of Kia Forte problems.
3. There is very little insulation
Not only is there an over-abundance of plastic used in the Kia Forte interior, it's made even worse by the fact that there's very little insulation behind it. In other words, you're going to hear a lot of rattles, buzzing, and hollow noises from areas covered in those cheap plastics.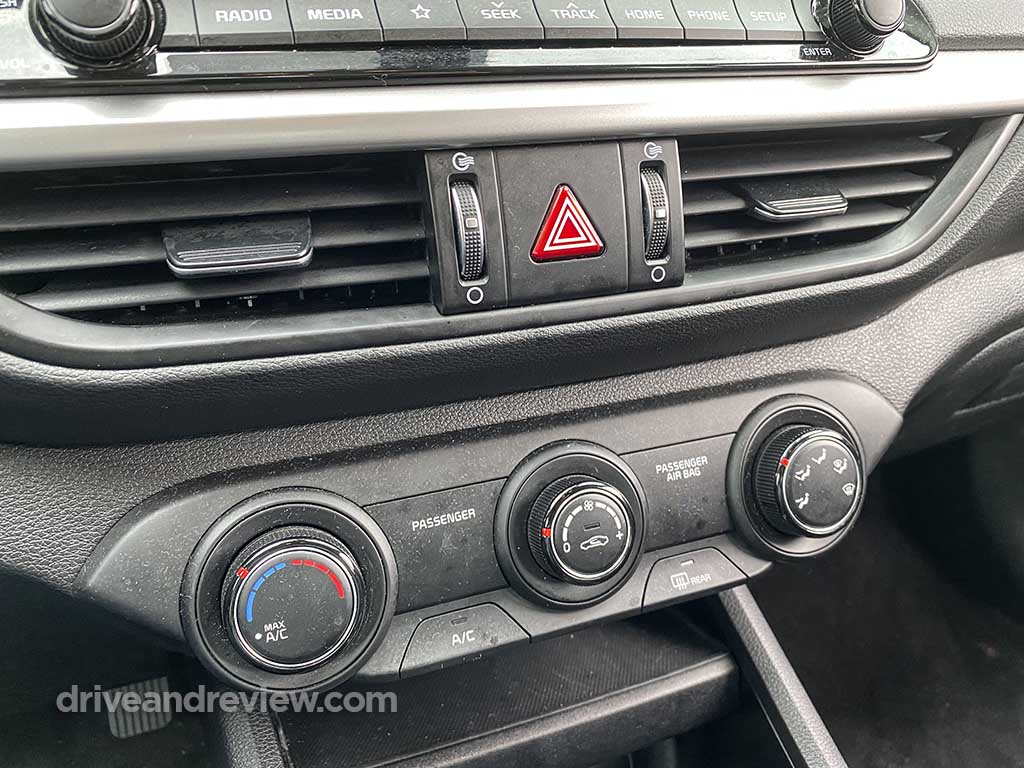 I can tell you firsthand that this is especially annoying on long road trips.
4. The rear seating area feels extremely cheap
Again, I know that the Kia Forte isn't marketed as a luxury vehicle, but the rear seats downright cheap. About as cheap as the rear seats in my 2010 Honda fit.
This probably isn't a very big deal if nobody ever sits back there, but be prepared to be judged by friends and family who will be forced into the backseat of your 2021 Kia forte. Yes, these seats are so spartan that it's highly likely that even your toddlers will judge you for being a cheapskate.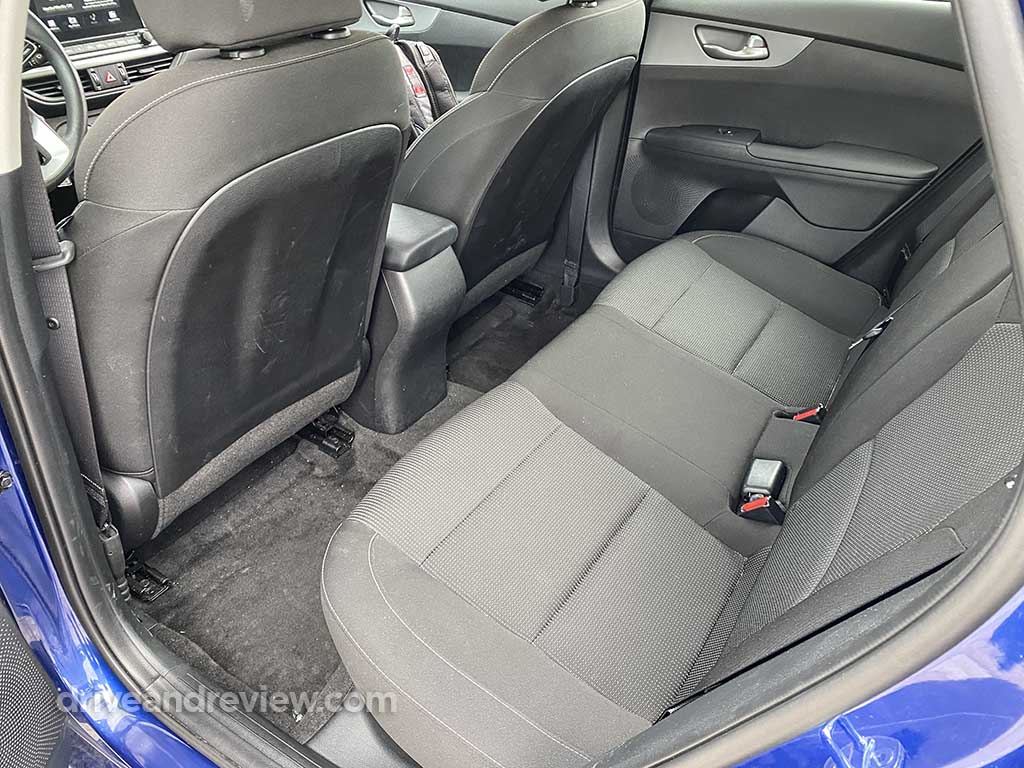 5. The dashboard lighting isn't bright enough at night
Even though I really like the red back lighting in the dashboard of the 2021 Kia forte, I found that it wasn't bright enough at night. In my opinion, it seemed like it was only about 75% as bright as it should've been. Yes, I double-checked the brightness settings for the dashboard lights many times, and I can assure you that I had it turned all the way up.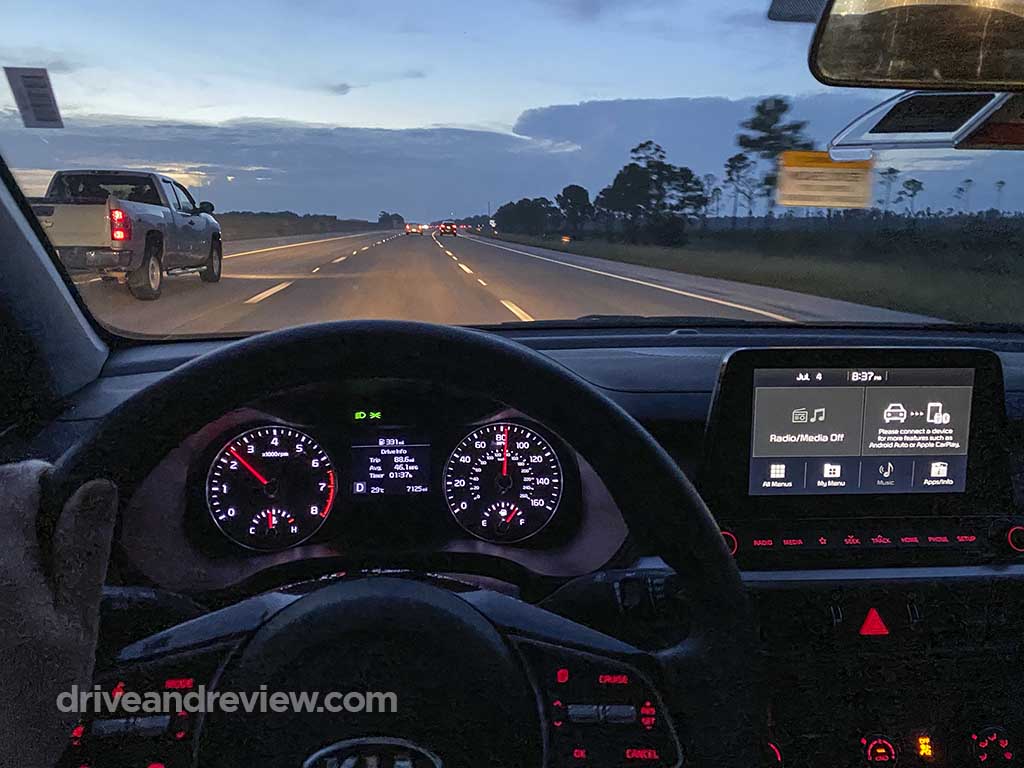 It was perfectly bright while driving in rural areas in complete darkness. However, driving through cities with lots of ambient light interfered with the brightness of the dashboard lighting to the point where I'm complaining about it here on DriveAndReview.com. It's not bright enough!