Pics of the 2021 Kia Soul interior: 10 things to love and hate
There's a lot that I have to say about the interior of the 2021 Kia Soul. Most of it is good, some of it is bad, but my feelings are mostly indifferent towards it.
On one hand, I find it to be extremely basic (and bland) compared to the competition.
On the other hand, being basic has its advantages.
It's the perfect interior for a daily driven vehicle, and you'll never have to worry about fancy design elements getting in the way. It's basic, it's clean, and it works.
The best way to summarize my most brutally honest feelings about the Kia Soul interior (at least the 2021 version) is to tell you everything that I love and hate about it.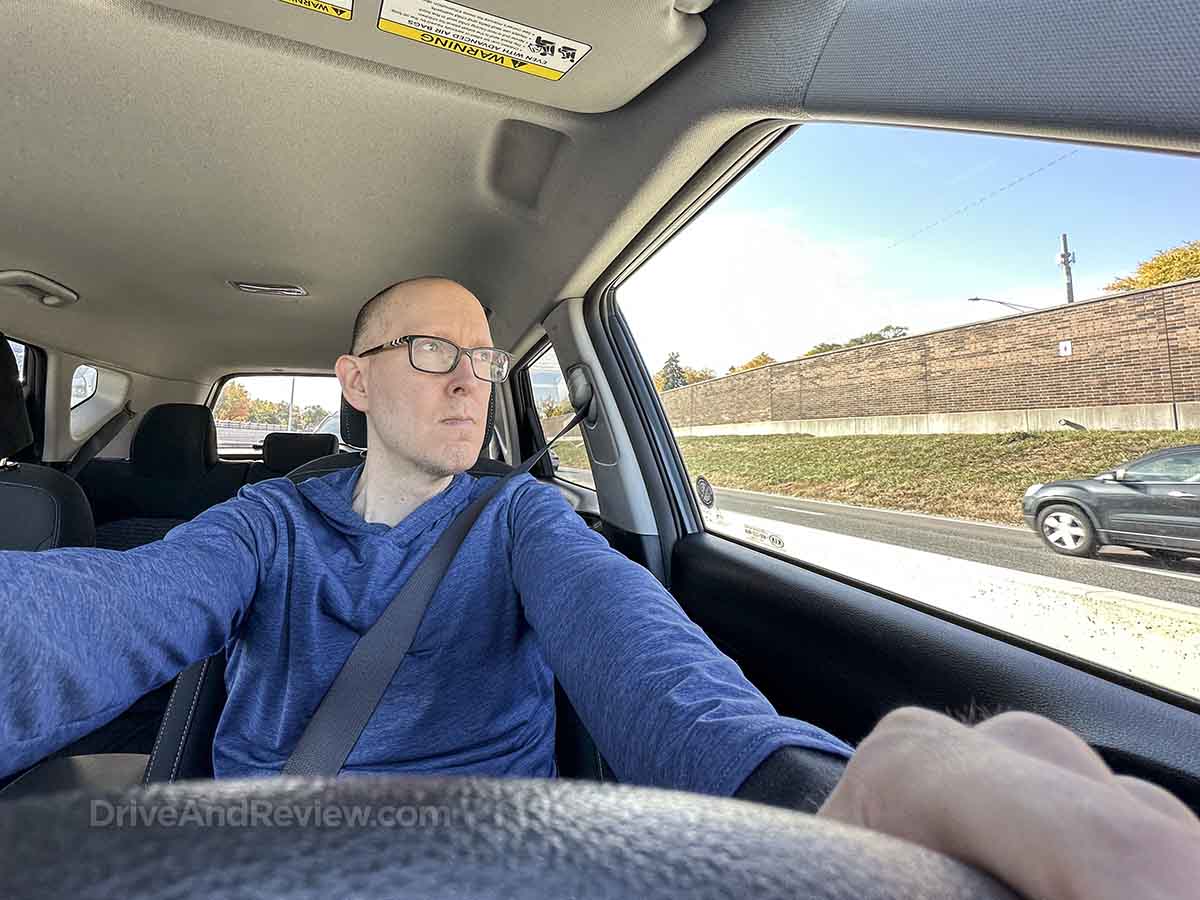 5 things I love about the 2021 Kia Soul interior
It's really easy to list out all the pros and cons of the Kia Soul. Even though I've got lots of bad things to say about this interior (which I'll get to in a moment), listing out all the things that I really like about it is probably the best way to start:
1. It's not overly-designed
The Kia Soul is for people who need a stupidly practical vehicle. Thankfully, the interior is about as practical as it gets. They didn't try to make it look like a spaceship, and all the buttons and switches are laid out in a very logical manner.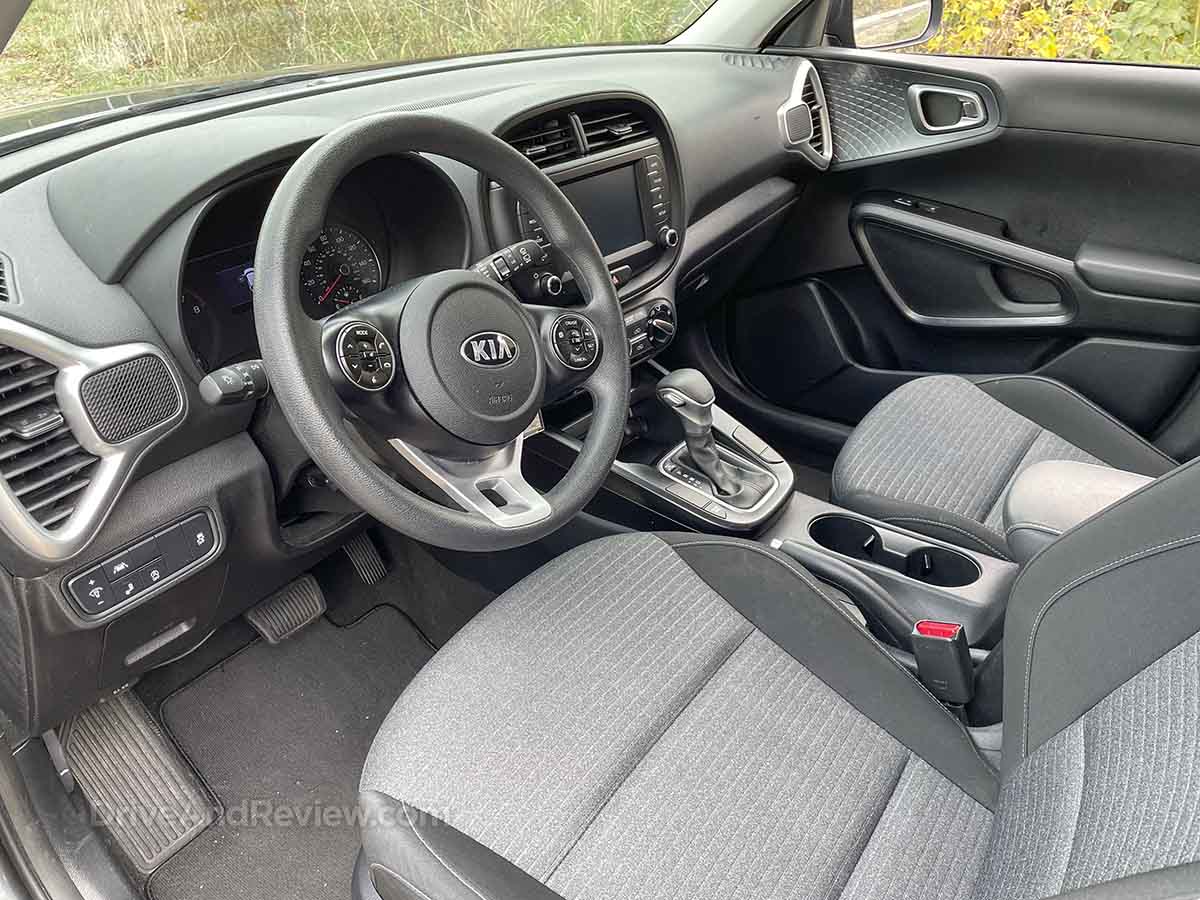 The interior is so basic that you won't feel guilty the first time you spill your coffee while driving like an ***hole (something we're all guilty of).
2. There are still physical buttons and knobs
One of the best things about sitting in the interior of the 2021 Kia Soul is that you can interact with most of the controls without taking your eyes off the road. Physical buttons for things like audio and climate controls makes it easy to make adjustments simply by feel.
The only touchscreen is for the entertainment system – but you can still interact with it via the buttons and knobs located beside and beneath it. Most of the controls in the 2021 Soul are physical knobs. Hallelujah!
3. It's really easy to see out of
Oh first thing you'll notice when sitting in a Kia Soul is how good visibility is. This is a very upright vehicle, and the windows are extremely large. You'll have no issues at all merging in and out of traffic without totally pissing off everyone in your blind spots.
4. Rear cargo capacity is massive
My #1 favorite thing about the 2021 Kia Soul interior is how spacious it is when you fold down the rear seats. Those seats fold nearly flat, which will allow you to stuff a ridiculous amount of cargo in the back. This is definitely a vehicle you can use for spirited trips to IKEA.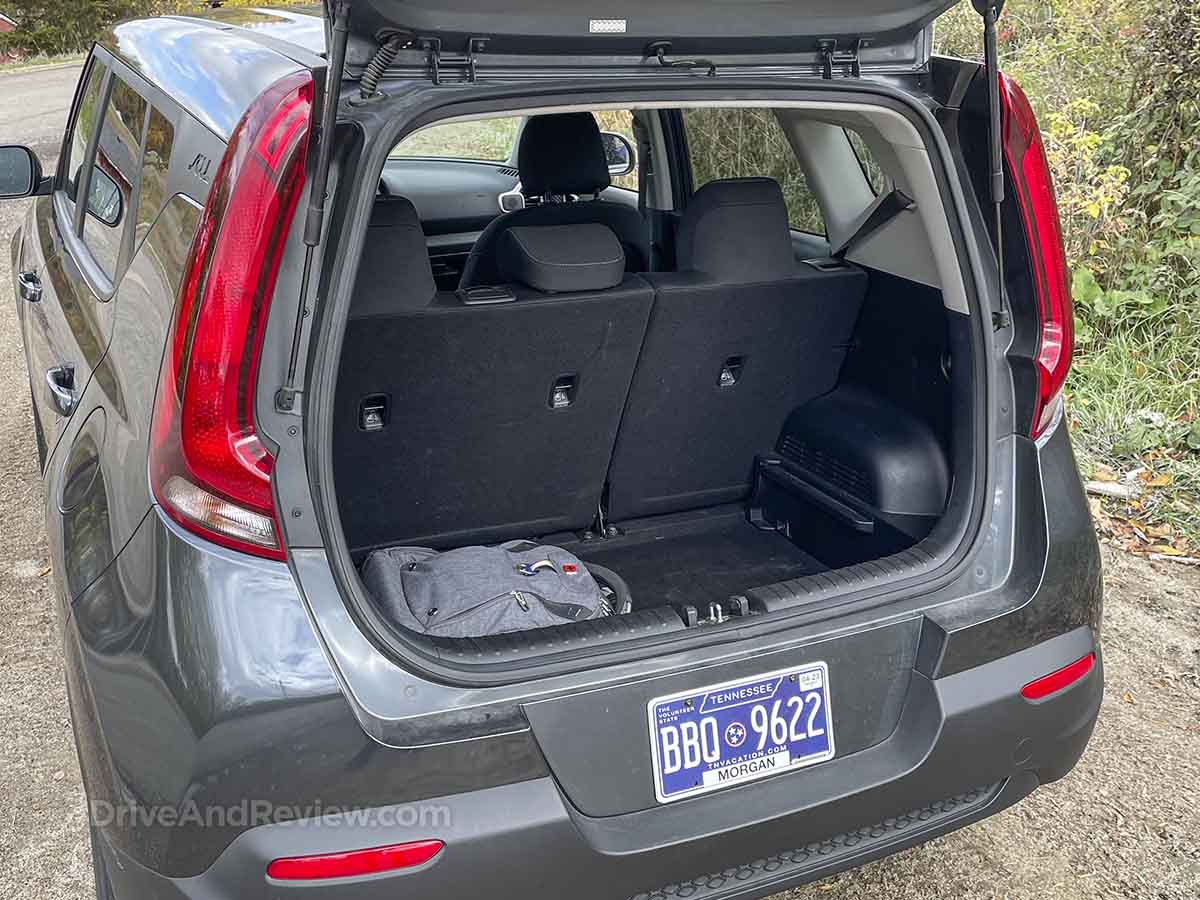 5. Seat materials (and hard surfaces) are extremely durable
There are many flat surfaces which are easy to clean, and the seat materials are extremely durable. This is the kind of interior that you can do really gross things in for many years in a row and it'll hold up well.
5 things I hate about the interior of the 2021 Kia Soul
Before telling you all the things that I don't like about the interior of the Kia Soul (at least the 2021 version), keep in mind that I'm very seriously thinking about buying one of these things and putting it to use as next daily driver. It's not perfect, but it's not bad enough to prevent me from buying one.
1. The front seats are horribly uncomfortable
Those of you with lower back problems like me are likely to find the front seats in the 2021 Soul to be uncomfortable. There is absolutely no lumbar support, and even when sitting fully upright (no slouching), my back still hurts after 20 minutes of driving. The only solution I found was to put a small pillow or towel between my lower back and the seat.
2. The infotainment screen looks (and feels) cheap
You can tell just by looking at it that Kia sourced the cheapest possible screens for the interior of the soul. Yes, the infotainment system is feature-rich and includes things like Apple CarPlay and Android Auto, but – it has issues.
The most notable problem with the infotainment screen is that it's washed out and hard to see in bright sunlight.
The other issue is that the screen itself isn't as responsive as something like an iPad. It just feels like a cheap Android tablet you can get at Walmart for 129 bucks.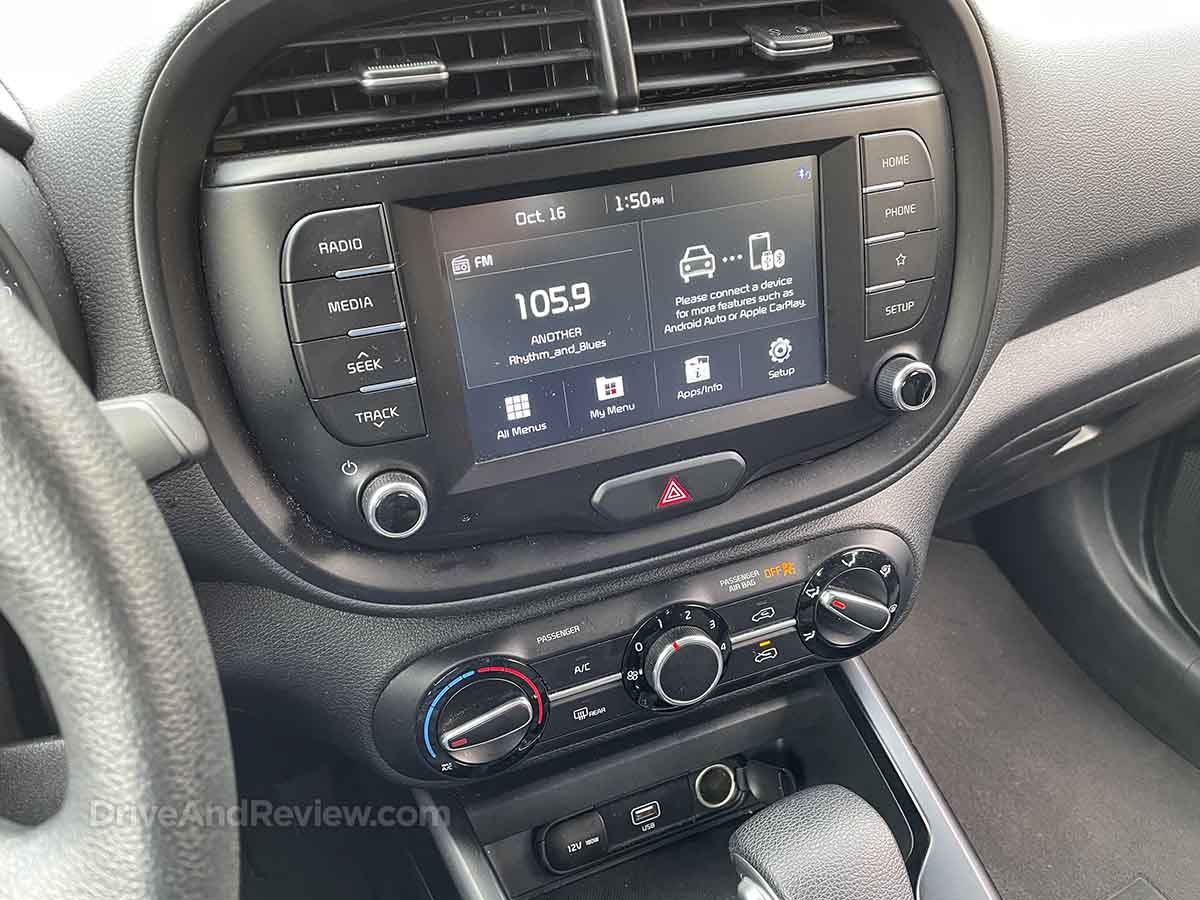 3. The rear window tint might be a problem for some drivers
Personally, I love the tinted windows in the back of the 2021 Soul. Not only does it look great, it prevents prying eyes from looking in and scoping out your stuff.
The problem is that the tint is so dark that it may reduce outward visibility in low light conditions. Especially in rural areas where there are fewer street lights.
4. Creaks, buzzing, and rattling (oh my!)
I mean, you kind of had to expect rattling and buzzing sounds. The Kia Soul is budget transportation after all, and you can't expect the interior to be built like a Mercedes with high-quality materials.
Because of this, you're going to have to deal with the inevitable creaks, buzzing, and rattling from the plastic bits as they loosen up over time.
5. It looks so outdated
Compared to the competition, the interior of the 2021 Soul interior looks dated. If it lacks any of the modern Kia design language (which you can see in my 2022 Kia K5 pros and cons overview), and it's essentially like taking a step back to 2012 as soon as you open the door. Not that 2012 was a bad year or anything, but the competition has since moved on.