Review: 2013 Chevrolet Camaro SS Convertible
For automotive gear heads like me, this is a glorious time to be alive. The muscle car era has returned in full force, and it seems every manufacturer is in a race to produce the strongest and fastest car on the market. What's not to like about that? Unfortunately, I'm sort of a cheap-skate when it comes to large purchases so that's why I haven't (yet) bought a high-horsepower monster of my own. Yes, I do have a 1996 Mustang GT as a second car, but it's anything but fast. Fun yes, but fast? Not quite.
One of the other great things about this muscle-car renaissance is the fact that the rental car companies are taking part in it as well.
That's right – for just a few dollars more than a standard 4 door sedan, you can walk into nearly any major Hertz or Avis location here in the US and rent cars such as the Mustang GT, Camaro SS, Corvette, and…pretty much anything else you can think of. And these are fully-optioned cars with the high-end engine and all the trimmings too – not the watered-down versions that are normally part of rental car fleets.
I recently spent a weekend in Phoenix, Arizona and I needed a rental car. Being the car guy that I am, I only thought it fitting to rent something fun. A Camry just wasn't going to do it for me. Long story short, Hertz had a nice deal on Camaro SS convertibles going, and I ended up getting a fully-loaded silver SS for about $110 a day (all fees and taxes included).
Yes, that's a bit pricey but hey – I consider it one heck of a deal considering how much fun a car like that can be. One other interesting thing to note was that the guy at the check in counter offered me a Porsche 911 or Cayman, a Mercedes model I couldn't remember, and even a Ferrari. I thought long and hard about trying the Cayman, but I was in the mood for a V8 muscle car that day. The Porsche was going to have to wait until next time.
2013 Camaro SS first impressions
This was my first time driving a fifth generation Camaro, and I have to be honest when I say that prior to this drive, I wasn't interested in the Camaro at all. I've been more of a Mustang guy for the past 10 years or so, and that's why I wasn't overly excited about spending a couple days with this car.
The thing that turned me off the most about it was the design – I much preferred the way the Mustang looks, despite it's larger size. The Camaro just looked weird to me from a distance with it's narrow windows and angular front end, and I had a hard time comparing it to the Ford.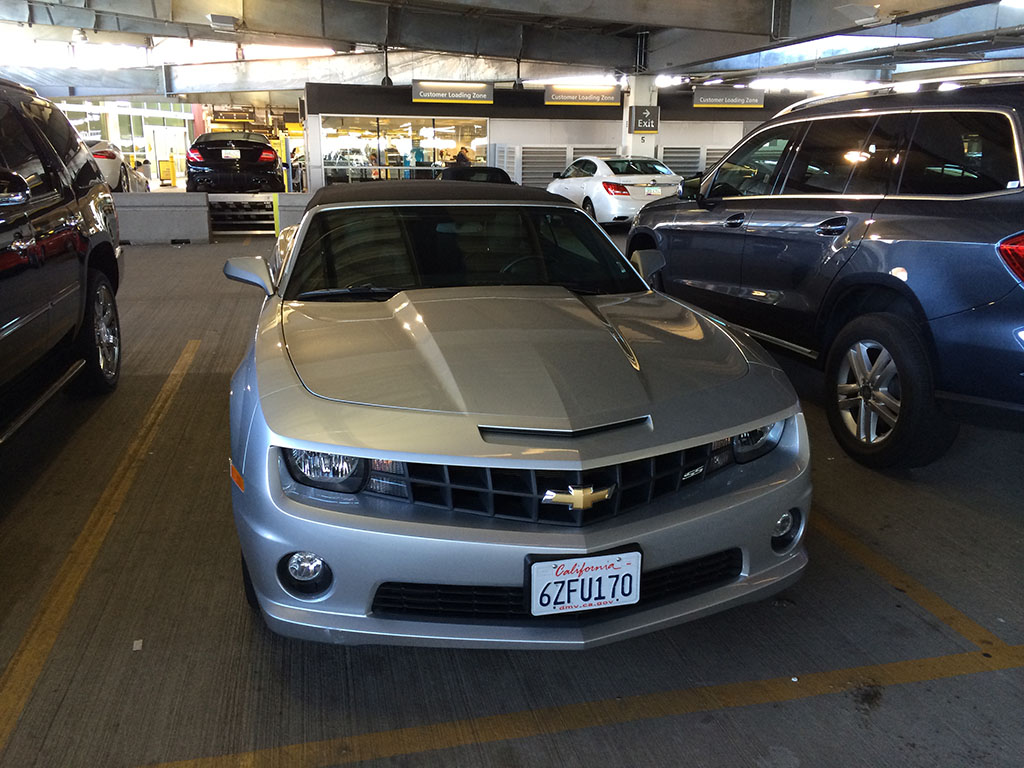 The interesting thing is that all changed once I sat in the car and drove it for the first time. Despite the odd proportions, it looked pretty good up close. Better yet, the blind spots from the inside weren't nearly as bad as I thought they'd be. I was actually impressed during my first few minutes with the car before driving off the lot.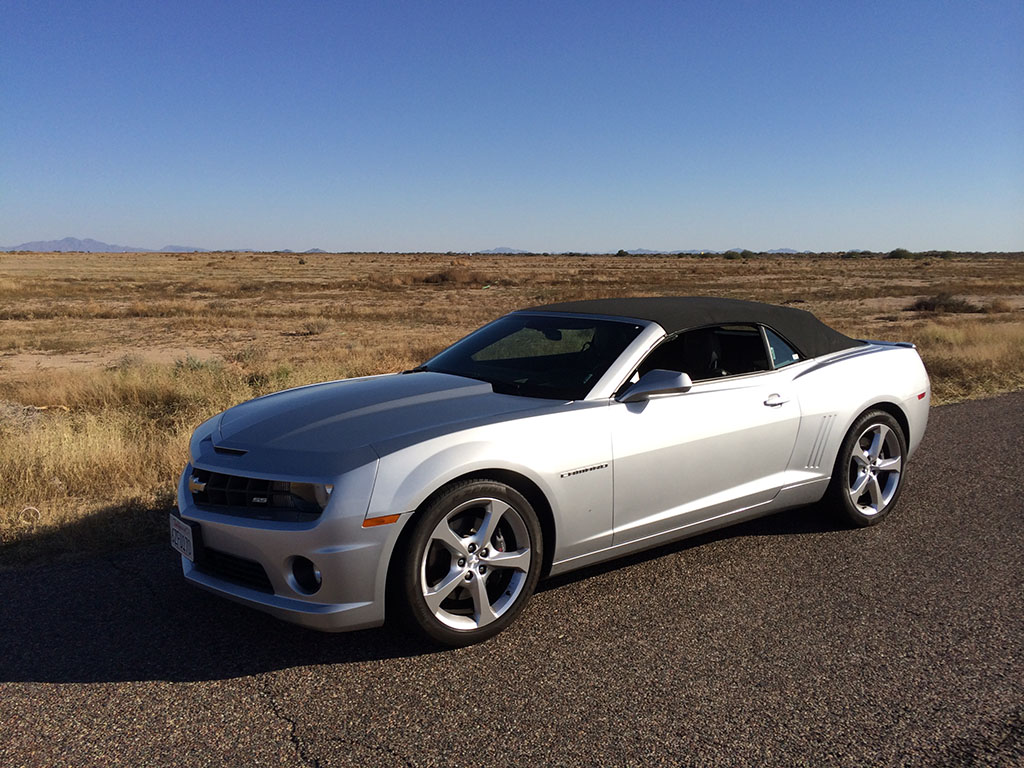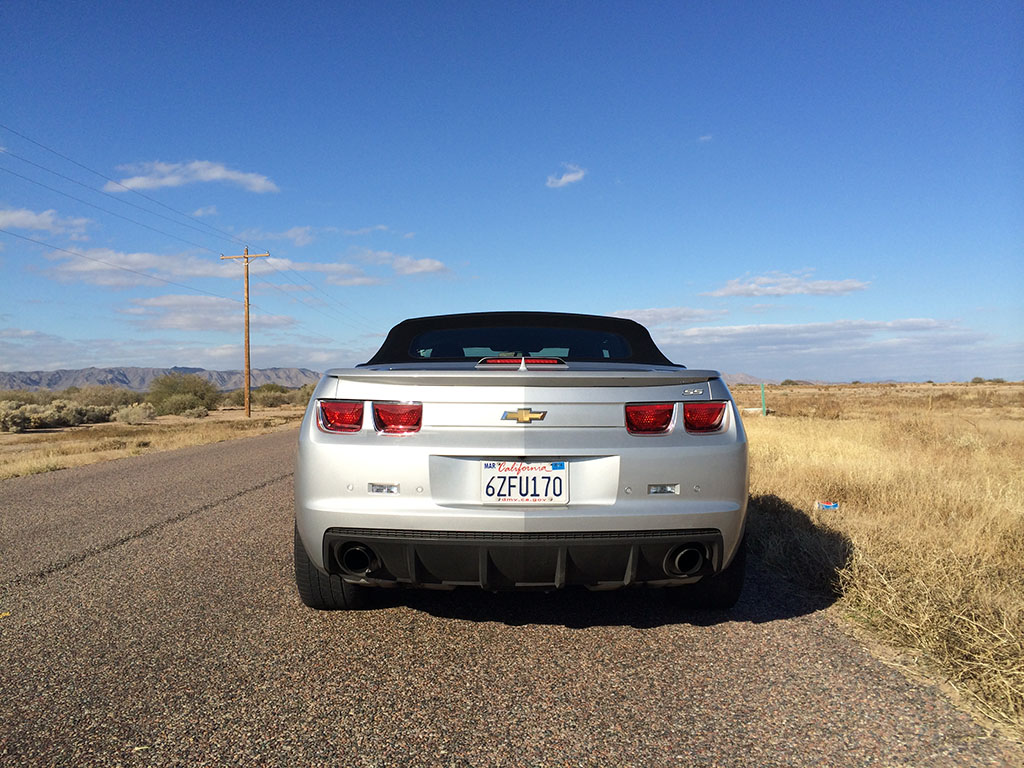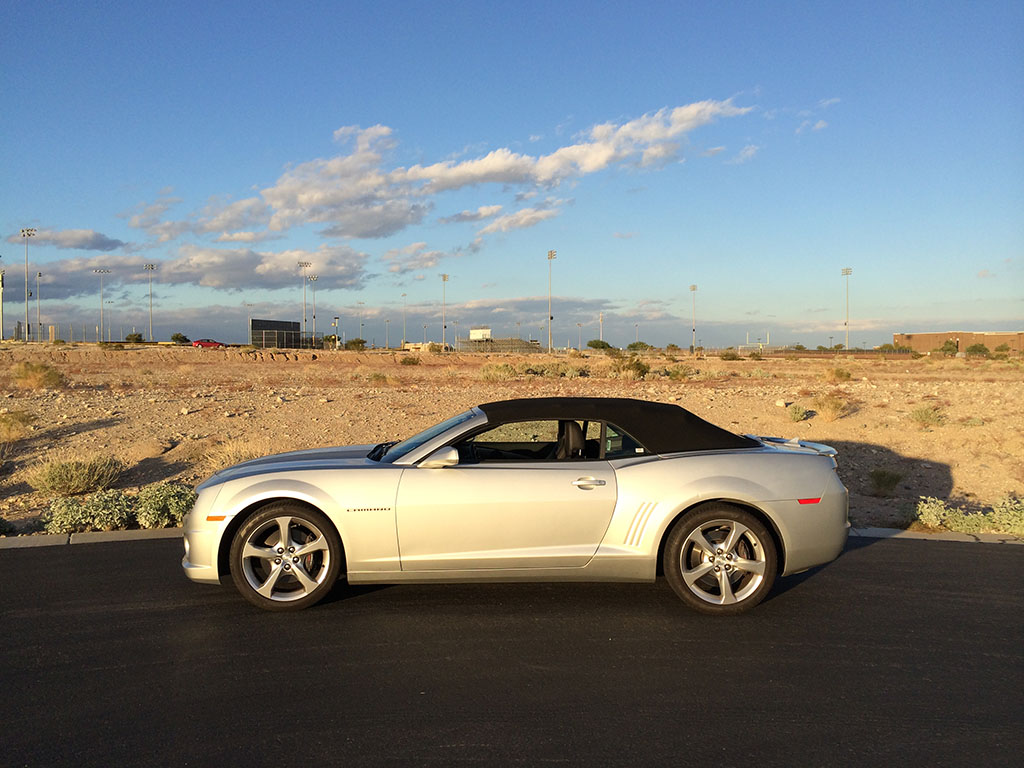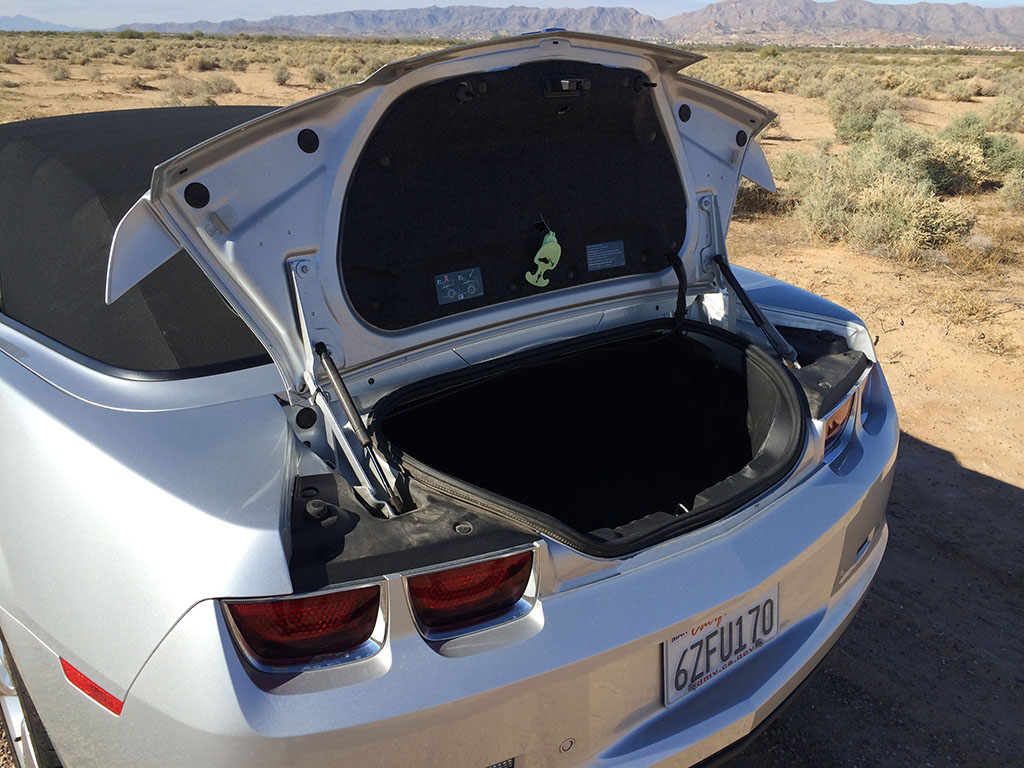 Driving the 2013 Camaro SS
The best thing about the Camaro is – by far – it's 6.2L 426-hp V8 engine. Without it, I doubt I'd have as much interest in this car. It's a strong engine, and moves the weight of the car very well. However, I will say this: it's deceptive. You see, when I fired the car up for the first time in the Hertz garage, I couldn't even tell it was a V8.
It certainly didn't have that deep growl of a 426-hp monster, and I actually thought for a moment that they had made a mistake and gave me a V6 RS model instead. But no, this was indeed an SS as proven by the badge on the trunk.
Even driving out of the lot, I was having doubts. The car was, shall I say, mild. It was docile as a minivan, and it was effortless to move around at low speeds. This was a massive difference compared to my own 1996 Mustang GT. My Mustang (100% stock, by the way) requires brute strength to move around.
The clutch and steering are heavy, and you can feel the torque as you slowly move the car from a stop in 1st gear. The Camaro, on the other hand, was a gentile giant. The steering was light at low speeds, and it didn't lurch forward with a slight press on the gas. In terms of sound, there is no comparison with my Mustang.
My 'Stang has stock mufflers and it sounds like a complete animal compared to this car. The Camaro had none of that aggressive sound at low speeds that should naturally come with a V8 pony car. Suffice to say, I hadn't even driven 2 miles and I was already disappointed.
But then, the busy city streets cleared and I merged onto the I-10 freeway. Holy moly! Every one of those disappointing thoughts disappeared in an instant as I opened it up. The acceleration in this car was brutal – it had been a long time since I've driven anything that fast, and I was instantly hooked.
It was strong, and I'm happy to report that it made all the right sounds too – this car sounds downright mean at full throttle. Maybe not as good as my stock Mustang, but still really good. It was right then and there that I knew that I probably wouldn't be getting very good gas mileage during my time with this car. It was way to difficult to keep my right foot out of it.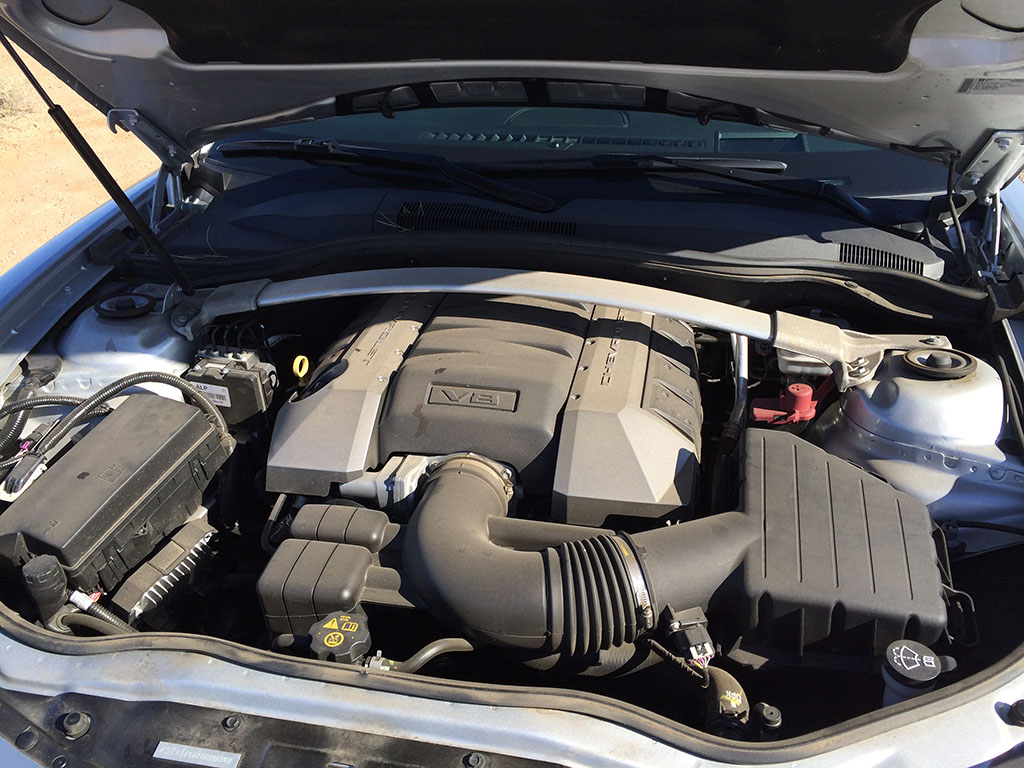 The interior is…ok.
This Camaro had the 2SS package, which meant that it was a higher-optioned car than a standard SS (1SS). This includes options such as leather seating, heads up display (HUD), gauges, and upgraded stereo. I'm not really into heavily loaded cars like this, as I prefer to forgo the comforts for lighter weight. I also have a strong dislike for leather seating.
I hate the feeling of sliding around during spirited driving, as well as the feeling of sitting down on cold seats in freezing temperatures. Luckily we don't have to deal with freezing temperatures much in San Diego, but what can I say – I have a delicate behind.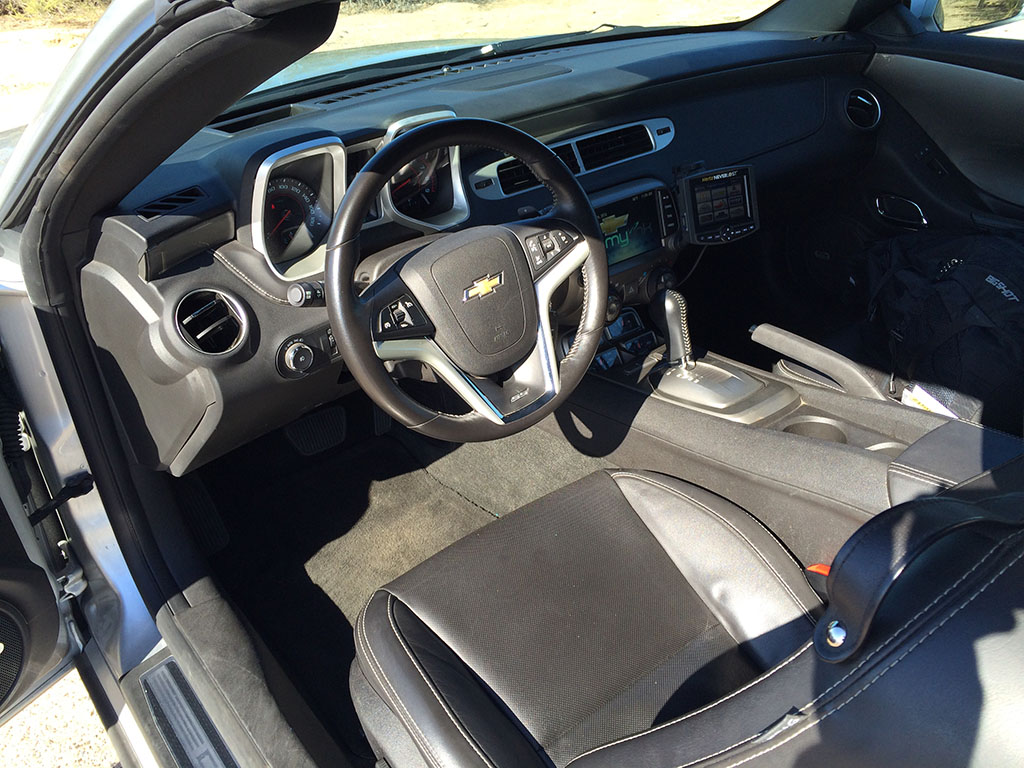 Seating position was good, and everything was in easy reach. I found the base SS seats to be quite comfortable, though I was starting to get slight lower back pain after 4 hours of driving around.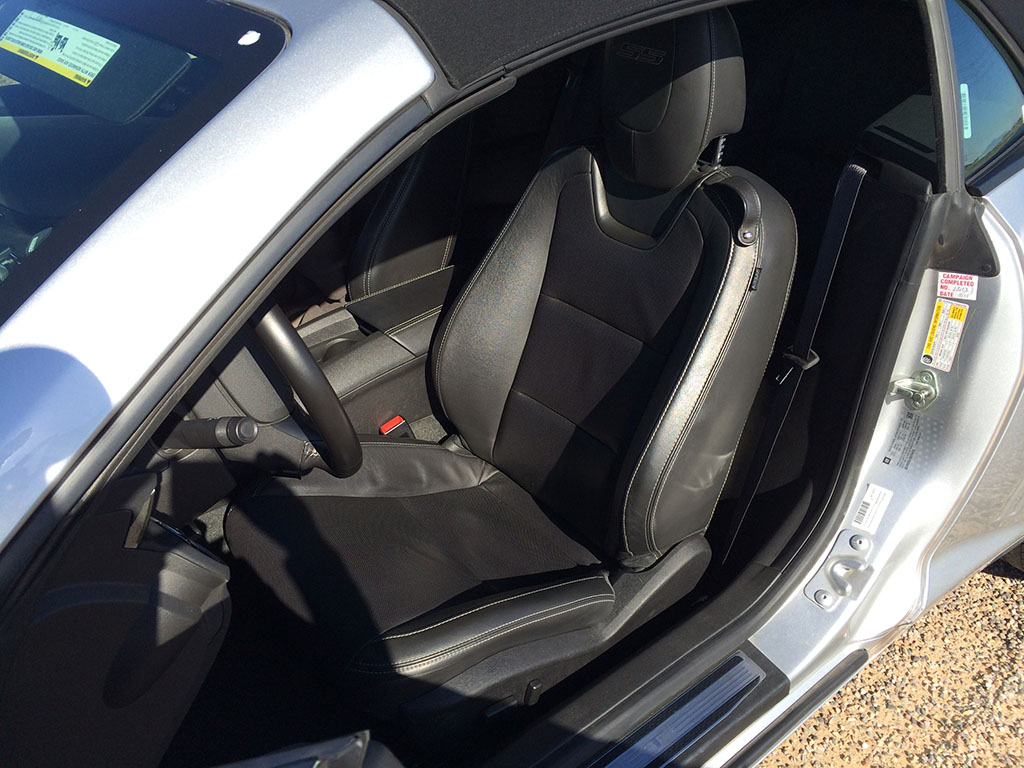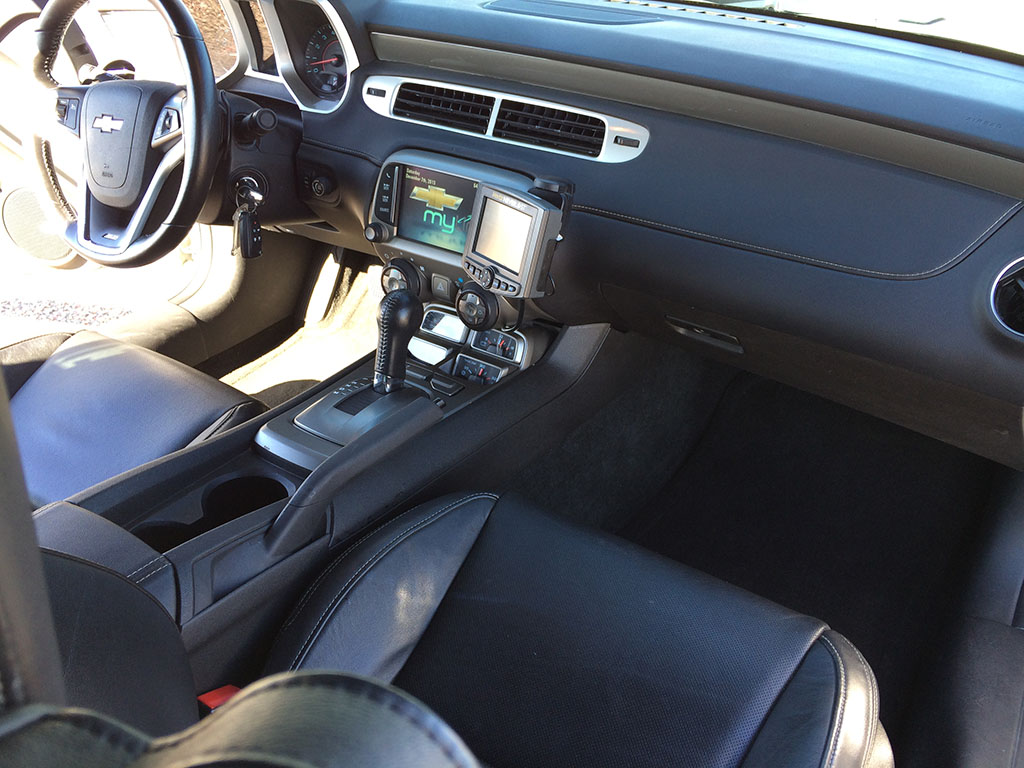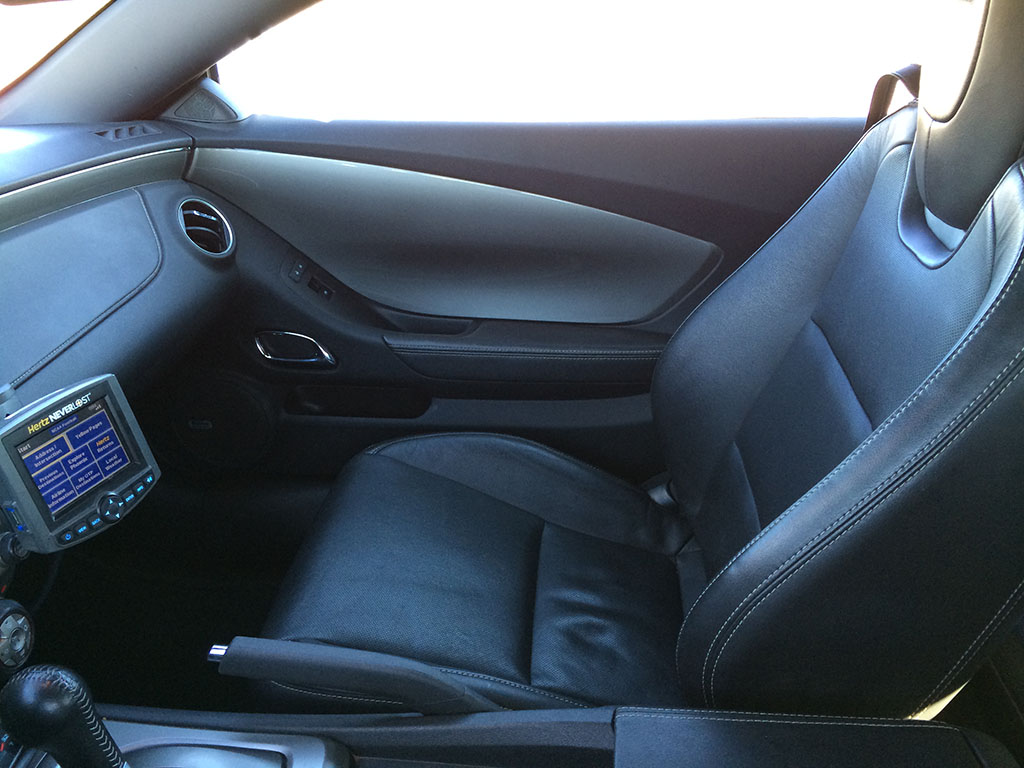 The design of the dashboard is the part I disliked about the car the most. It seems so…odd. I think that my mind is stuck in my adolescent years during the 1980's, back when I thought that the third generation Camaro was the hottest car on the planet (really).
Heck, I still think that the interior 3rd gen Camaro is better than the 5th gen version. This latest one seems so over designed and bordering on obnoxious, sort of like that kid in school who tried too hard to fit in and be cool.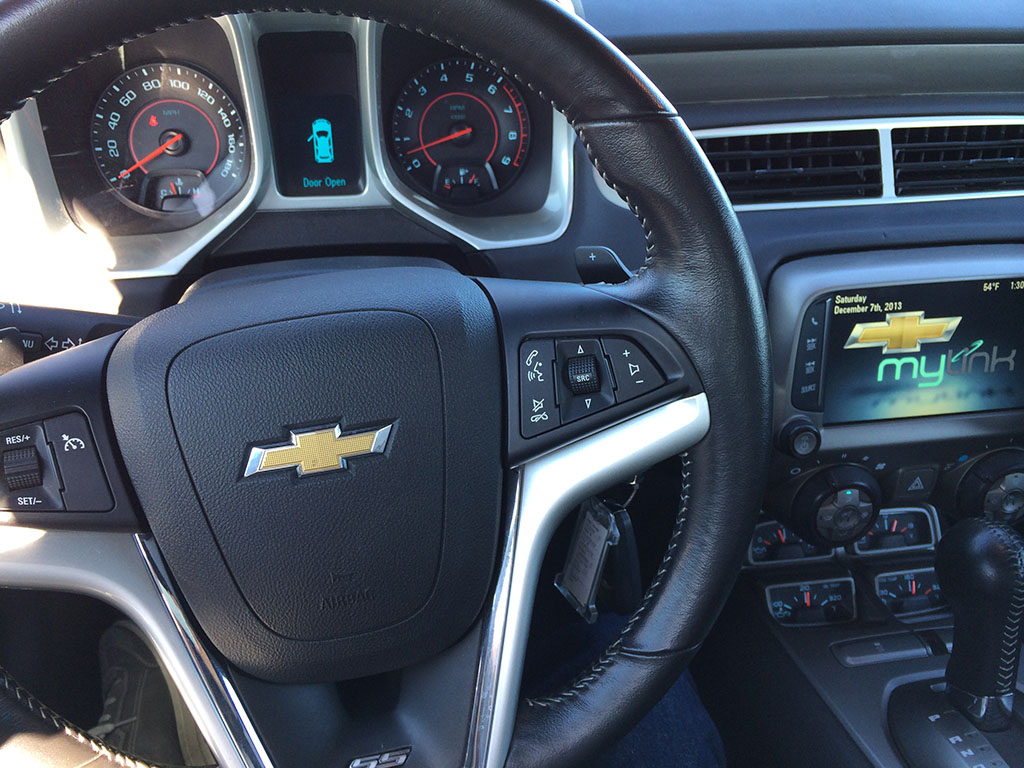 I should also note that I never once put the convertible top down. Well, I tried (just for photo purposes) but it was far too complicated to figure out, even after reading the instructions from the owners manual. I didn't spend more than 5 minutes with it, because really, I'm not a convertible guy at all. I just don't see the appeal of open-top motoring.
Driving feel is nice, but a bit numb
This Camaro SS handled remarkably well for a car of it's size. I didn't get the chance to drive it on winding mountain roads, but I never had the sense that it felt sloppy or unresponsive. It felt firmly planted whether on the highway or going around tight corners, which is something that I wasn't expecting at all for a car with stock suspension.
I'll go as far to say that it handled nearly as well as the Shelby GT-H I drove in 2007 – a car which had extensive suspension mods done to it. This Camaro was tight and responsive just as any performance car should be.
Braking was more than adequate as well. The SS package includes 4-piston Brembo ventilated disc brakes at all four corners and while I never had the chance to test them to their limit, brake feel was very strong with only a light touch required on the pedal.
Conclusion
I put 233 miles on this Camaro in 24 hours, so I feel like I experienced enough of it to give it a fair assessment. While it is a very fast and fun car to drive, I didn't get the sense that I needed to go out and buy one of my own. To be honest, it might actually be a bit too tame for me, as it doesn't have any of that "raw" character that my '96 Mustang has. Dare I say that it's a bit too refined?.
That said, I did return that car to the folks at Hertz with a much better appreciation for the 5th generation Camaro than I had prior to this drive. If I were shopping for a new pony car today, I'd actually have a hard time trying to decide between the Mustang and Camaro. Given the fact that I've been such a die-hard Mustang fan all these years, that says a lot.