Review: 2013 Ford Focus SE hatchback
I wasn't planning on doing a 2013 Ford Focus SE hatchback review, but here we are. How did this happen? Well, it's simple.
Upon reserving a "Ford Focus or equivalent" on the Budget Rental Car website, my expectations instantly dropped to the floor. Like most people who hear the words "Ford Focus", the only thing that came to my mind was "crap" – though I have to admit that the actual words in my head were a bit more harsh than that. I was definitely planning for the worst.
So yeah…my wife and I recently rented a 2013 Ford Focus SE from Budget at the Reno Airport. We were flying in from San Diego and needed a car for a long weekend of skiing at Heavenly, and being that the weather was good and we didn't have a lot of luggage with us, a small car like the Focus was all we needed.
Of course the car guy in me wanted to go all-out and get something cool like the Camaro SS I recently rented in Phoenix, but my wife might have killed me if I did that. She's far more practical smart than I am!
First impressions of the 2013 Ford Focus SE hatchback
They told me at the counter that it was red, which instantly raised my spirits. There's no better color on a car IMHO, so at least it would have that going for it. But it got even better – once I actually saw the car, I realized that this was not the stripped-down and soulless Foucs I had envisioned in my head.
What Budget actually gave us was a fully-optioned SE model with all the sporty bits like gray aluminum wheels, leather interior, and that cool red paint to match. Alright! It was right then that I knew that this might not be so bad after all.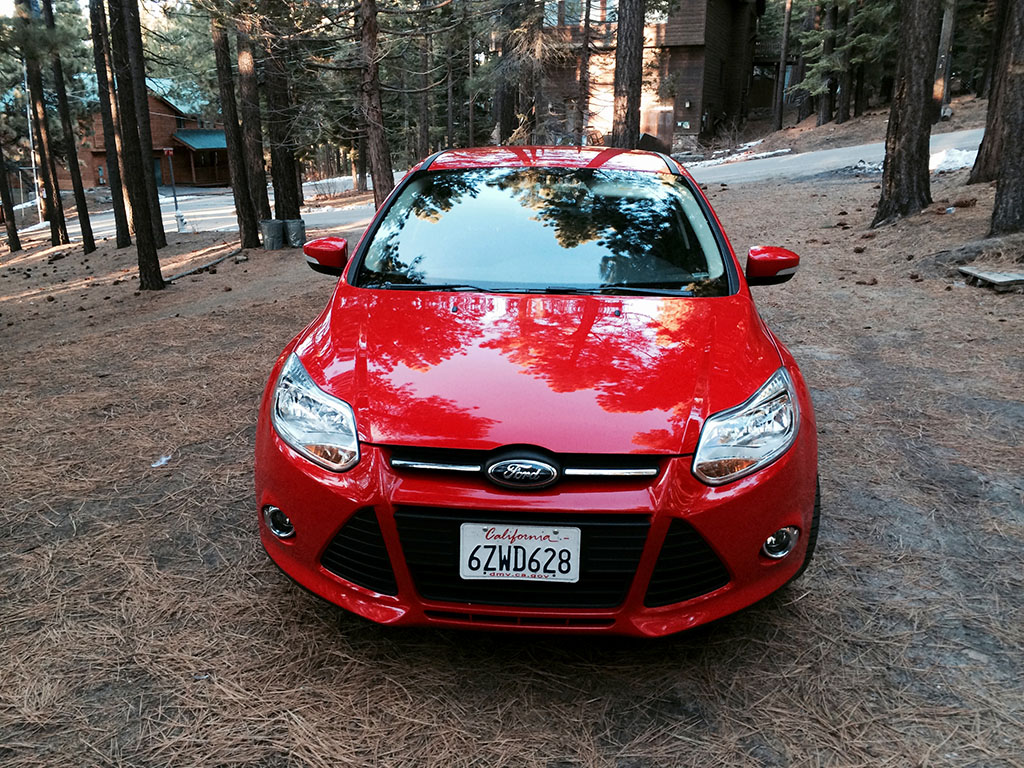 There wasn't a lot of time to get to know the car before we set off on our drive out of Reno towards Heavenly / Lake Tahoe. It was 3:45pm at this point, and we needed to be there before 5pm to pick up our rental skis. If we were going to make it in time, we needed to leave now – so we literally threw our bags in the back and started driving.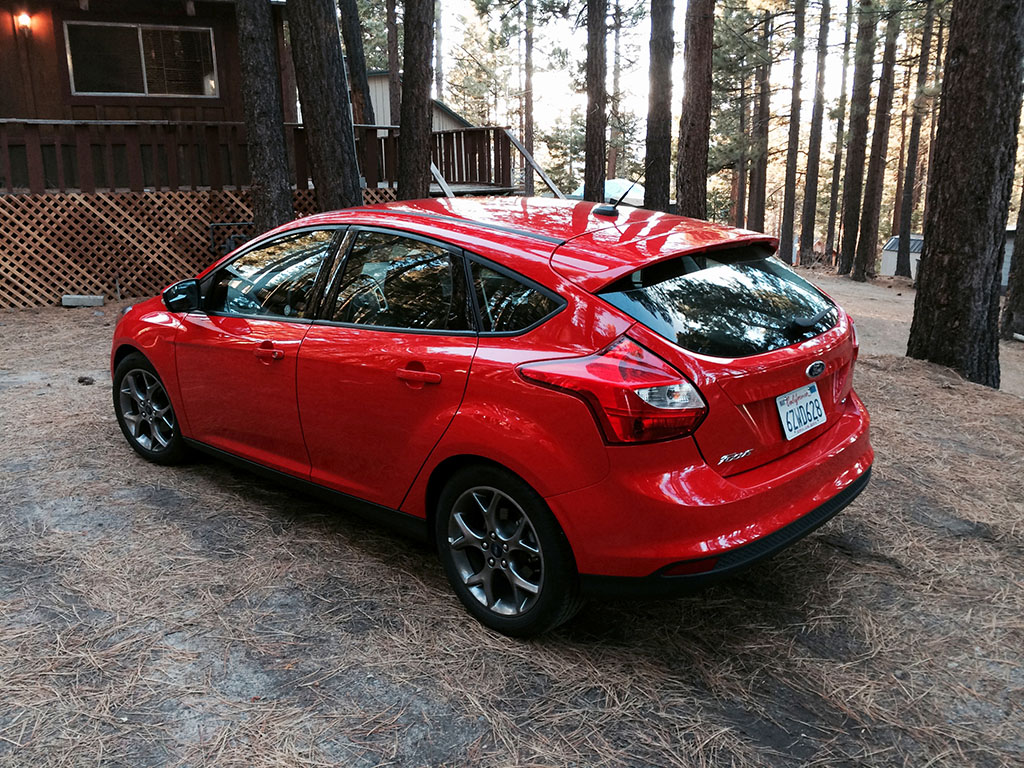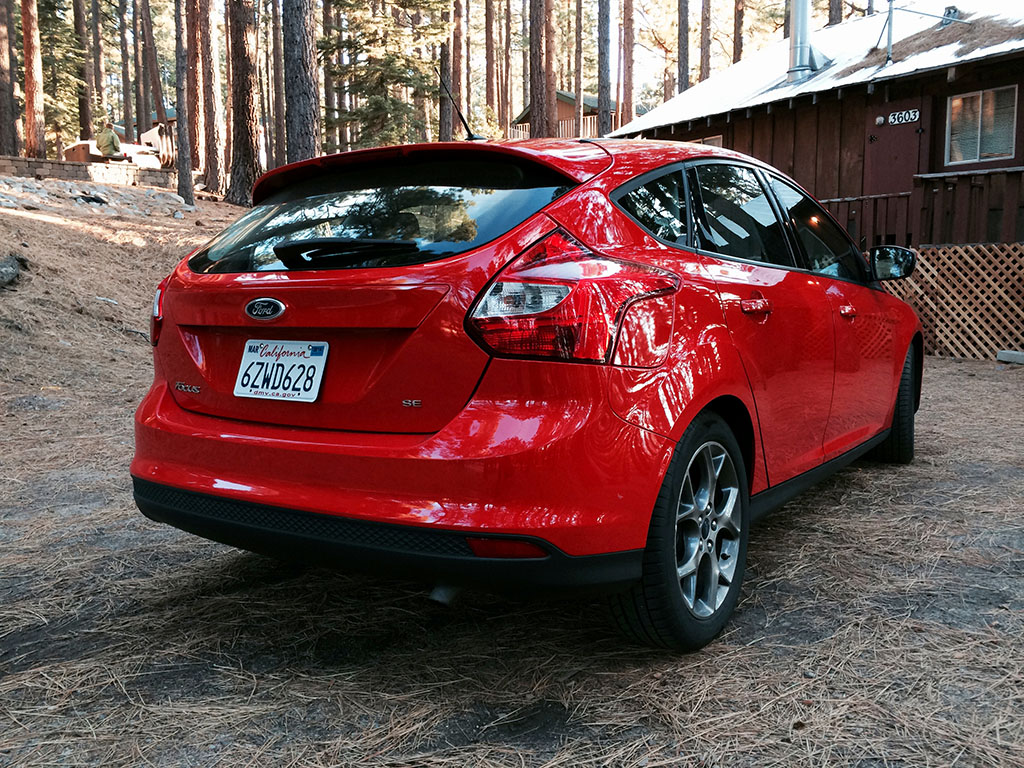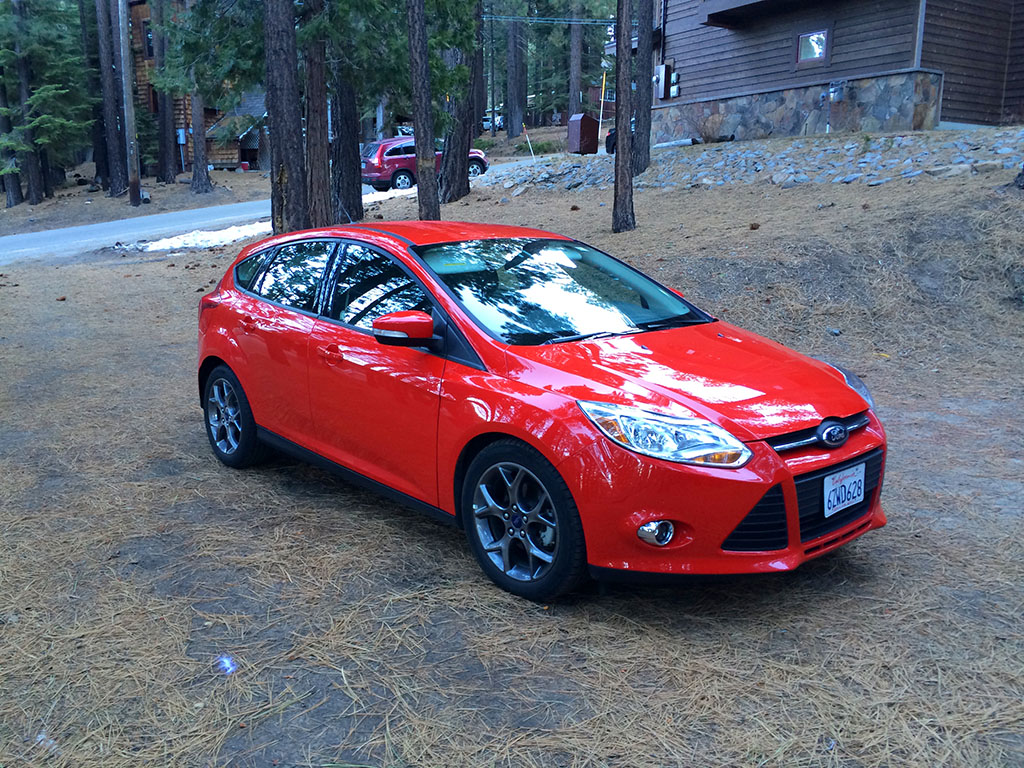 All of the major controls were easy to find within the first few minutes, which says a lot considering that I was trying to drive and get comfortable at the same time. I knew immediately that the car felt good – nice supportive seats, gauges that were easy to read, and very good visibility to the outside from any angle.
Even though this particular car had over 21,000 miles on it, it felt really tight and there were no annoying rattles or creaks. Structurally, it felt like a brand new car.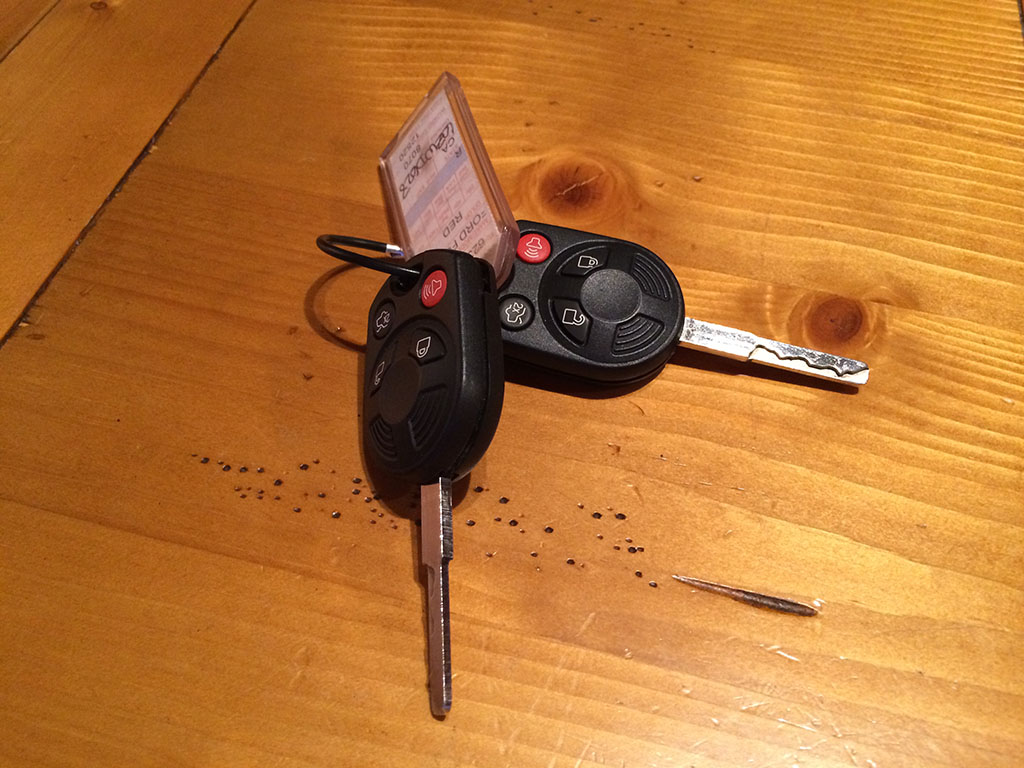 How does the 2013 Ford Focus SE hatchback handle?
One of the good things about this rental experience was that it required a lot of time driving on winding mountain roads (HWY 50 on the east side of Lake Tahoe). Therefore, I got a pretty good feel as to how this car handled in a variety of driving conditions and coming away with a clear understanding of what it was best suited for.
So what's the verdict? This car is most fun on mountain roads at slower speeds. It's not a race car, and it's really easy to push to the limits around tight corners, but it's totally fun to cruise around in the mountains at a casual pace.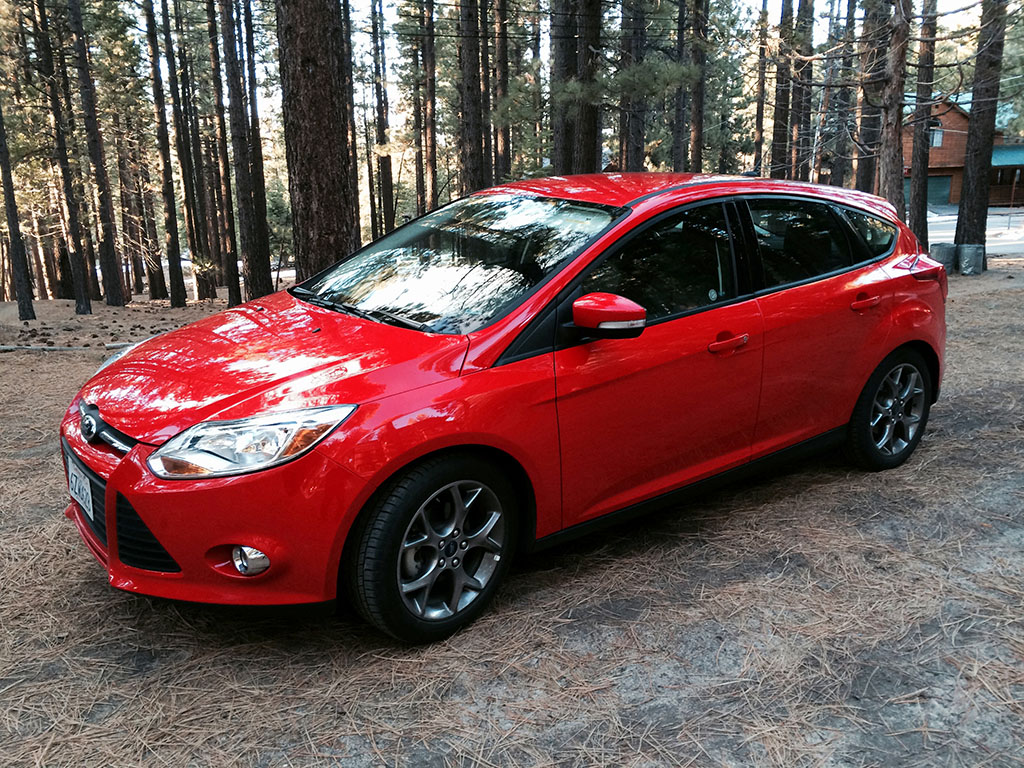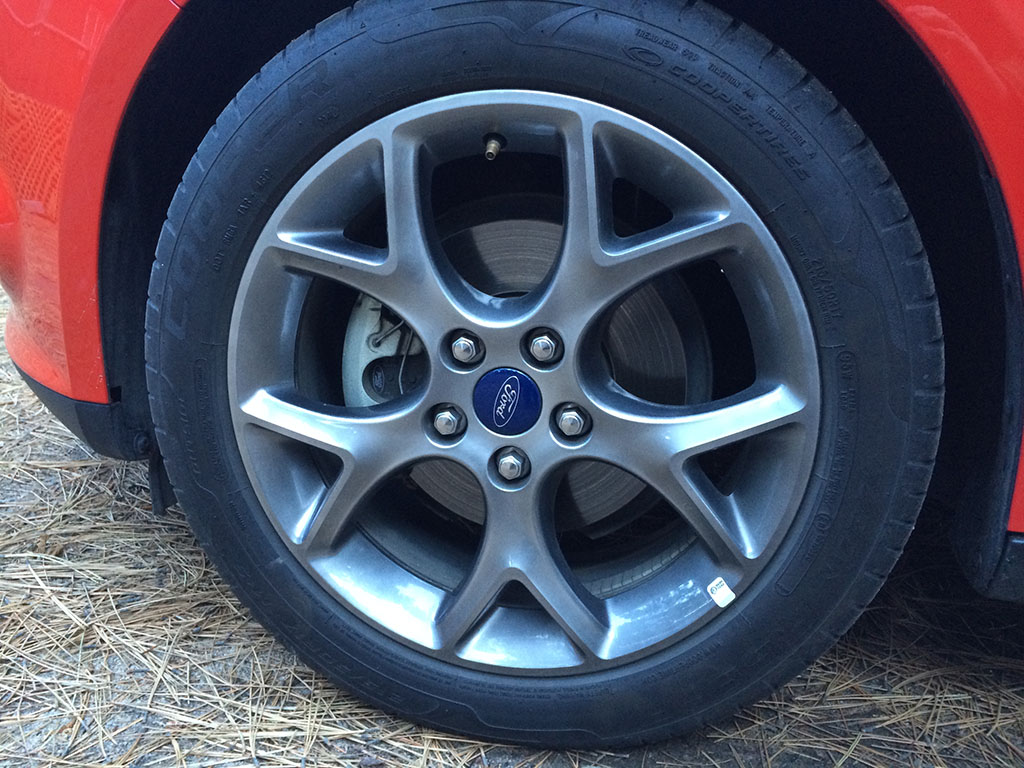 It also tracks very well on the freeway. Road noise is higher than what we hear in our Honda Fit, which isn't surprising considering the sportier tires on this Focus.
What is the 2013 Ford Focus SE interior like?
I've seen plenty of pictures of the Focus interior from magazines and blog articles, and I had always thought it looked too crazy for me. It looked like it was designed for the young male demographic, and although I am male, I am not so young anymore. It didn't really appeal to me.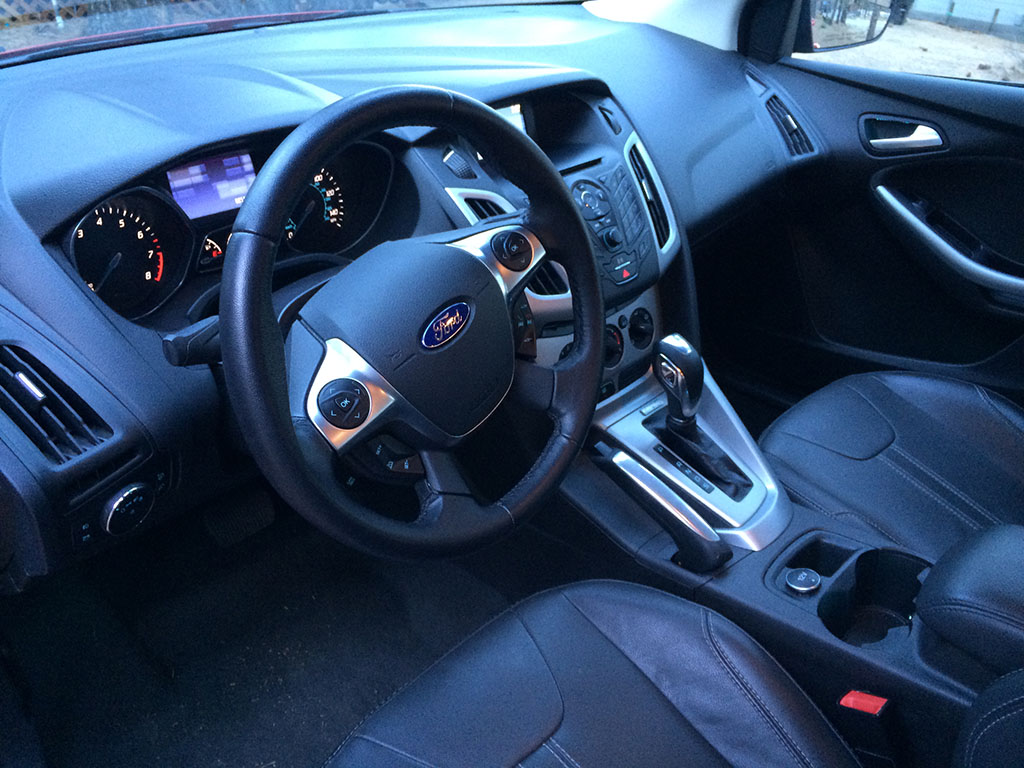 However, that all changed once I got the chance to spend some time with this car. Yeah, there's a lot going on visually – but it's so darn comfortable! And I like the cockpit feel from the driver's seat. It looks and feels like a sports car, which as a guy, thinks is pretty cool. For what it's worth, my wife was not amused.
I didn't get the chance to sit in the back seats, but I did have plenty of opportunity to stuff a lot of things into the back. The rear hatch area easily swallowed our two large suitcases, as well as several pairs of ski's with the poles and boots to go with them. This car can easily swallow a lot of cargo thanks to the split-folding rear seats.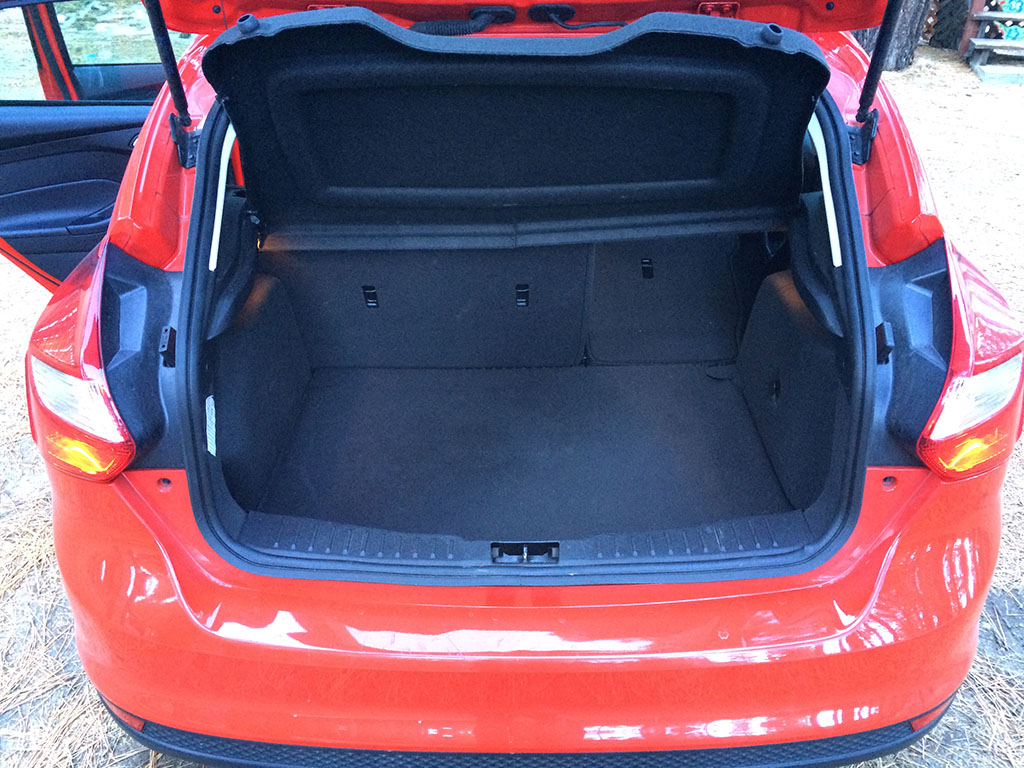 Is the 2013 Ford Focus SE engine and transmission any good?
This Focus was powered by a 2.0 L Inline 4-cylinder engine making 160bhp mated to a 5 speed automatic transmission. Underpowered is probably the best way to describe this combination, and I really didn't feel as if it was any more powerful than our 2010 Honda Fit.
While not completely slow, it really didn't have the power to back up the sporty looks of the car. Yes, it merged onto the freeway well. And yeah, it powered up and over the mountains on the way to the Heavenly Ski Resort, but…it just felt so weak doing all that.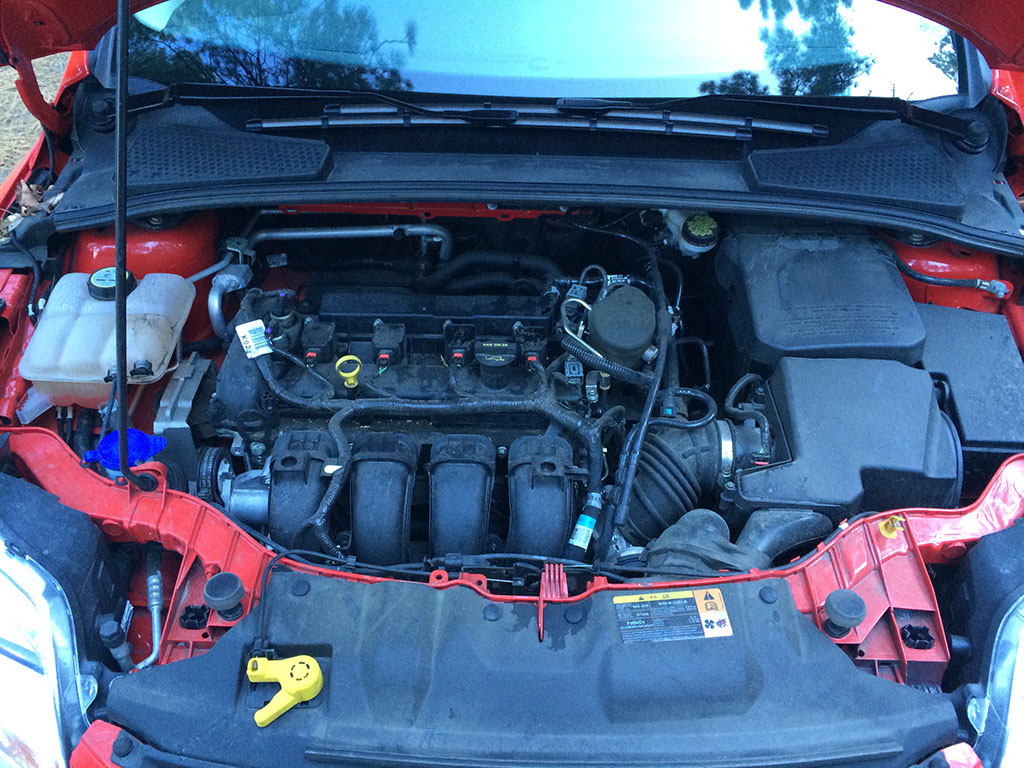 Another troubling issue was the transmission. It felt as if it was slipping a bit, due to sloppiness and bucking slightly at slow speeds (asa matter of fact, it's a very common problem for the 2013 Ford Focus)
That's a pretty serious issue to have with only 21,000 miles on the clock! I'm not totally convinced that this was a problem, however – it was hardly noticeable most of the time, so I'd have to drive other Focuses (er…Focii?) to determine whether or not this is a natural trait. But when it did happen, it felt like something was definitely wrong.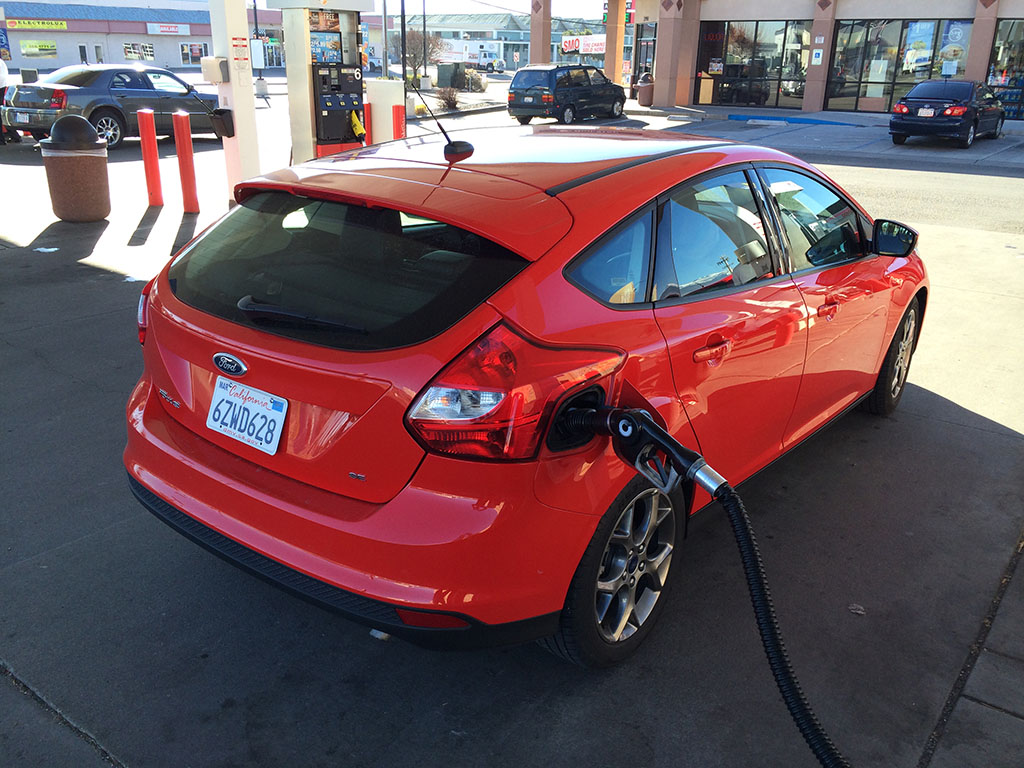 2013 Ford Focus SE hatchback final verdict:
After putting 136 miles on this Ford Focus SE over the weekend, I walked away really impressed with it. The engine and transmission combo left a lot to be desired, but I loved the driving position and feel from inside the car. I came to think of it as a practical sports car due to it's fighter-jet cockpit and ample storage space.
There's definitely a Yin / Yang thing going on there, and…I like it. As a matter of fact, I'd happily trade our Honda Fit in on one of these, though my wife would be more hesitant. She liked it, but thought that it was a bit to complex and overly designed (especially the interior). She much preferred the simplicity of our Fit.
But yeah. I'm not going to hesitate to rent a Focus again given the opportunity. I liked this car a lot.