Quick Review: 2013 Toyota Camry LE
Doing a 2013 Toyota Camry review isn't exactly what I had in mind when I decided that I wanted to start doing car reviews. But I figured that I have to start somewhere, so here we go…
How I ended up doing a 2013 Toyota Camry review
Remember when I was complaining about the fact that I had inadvertently (and unfortunately) rented two Ford Focus's (Focii?) back to back? I would have been happy with anything other than another Focus, but the circumstances at Budget Car Rental that day gave me no other option. I wasn't a very happy camper at that moment, thinking that there really wasn't anything worse when it comes to rental cars.
I was wrong. Just hearing the words "all I have is a Camry today, is that ok?" is enough to make me turn right around and head back into the airport and abort the trip altogether. Unfortunately, that wasn't an option on this blistery cold Thanksgiving day at Minneapolis St Paul International airport, as my wife and I had to get to my sister's house ASAP in time for the holiday feast. A Camry it would be.
To be honest, I can't even remember the last time I've driven a Camry. Have I ever driven one at all? I really have no idea, which says a lot about how bland of an automotive appliance these cars really are. But this mattered to me not as we ran out to the parking garage to wrangle our steed – it was cold, and all we wanted to do was get into a warm car. Any car.
Right off the bat (even before pulling out of the parking garage), I will admit that I was slightly impressed. It seems as if the Camry has matured well over the years, and the car that they gave us was actually pretty nice and optioned out to the max with an electronic control or fancy display for everything you could possibly think of.
Interior
While certainly not Lexus quality (and design), everything about this car was solid and tight. Controls moved with precision, levers had heft, and buttons were firm. And to make that even more impressive, this car had nearly 30,000 miles on it – yep, she had been around. Even the seats still felt good, and judging by feel alone, I never would have been able to guess that this car had 30k hard rental car miles on it.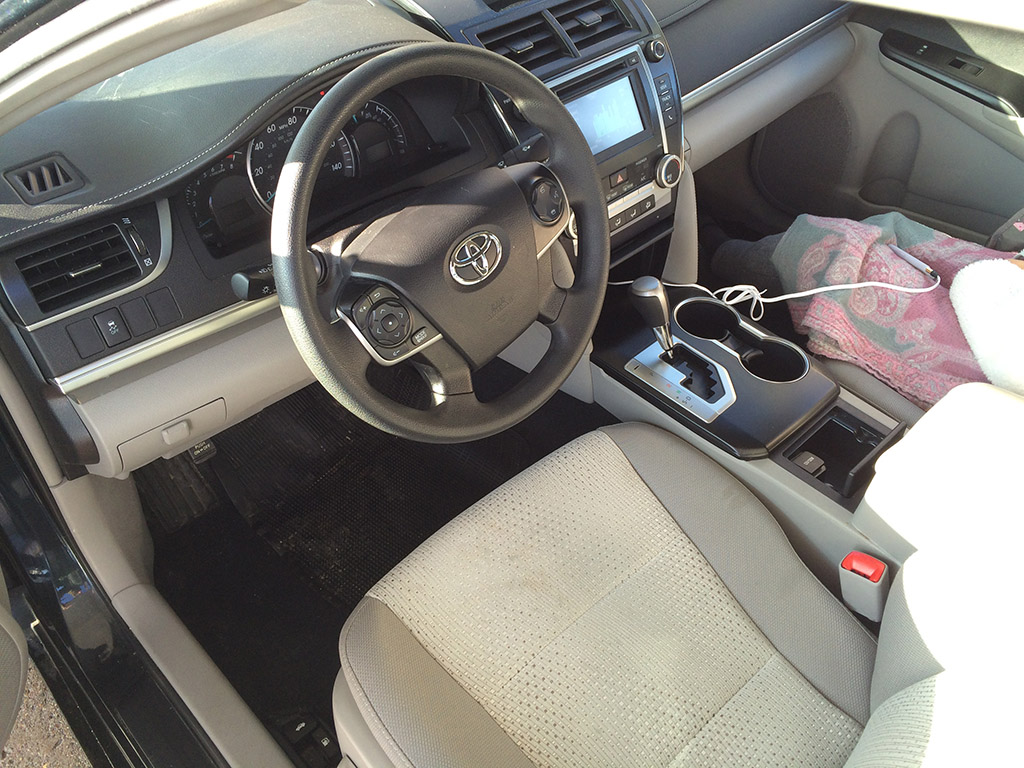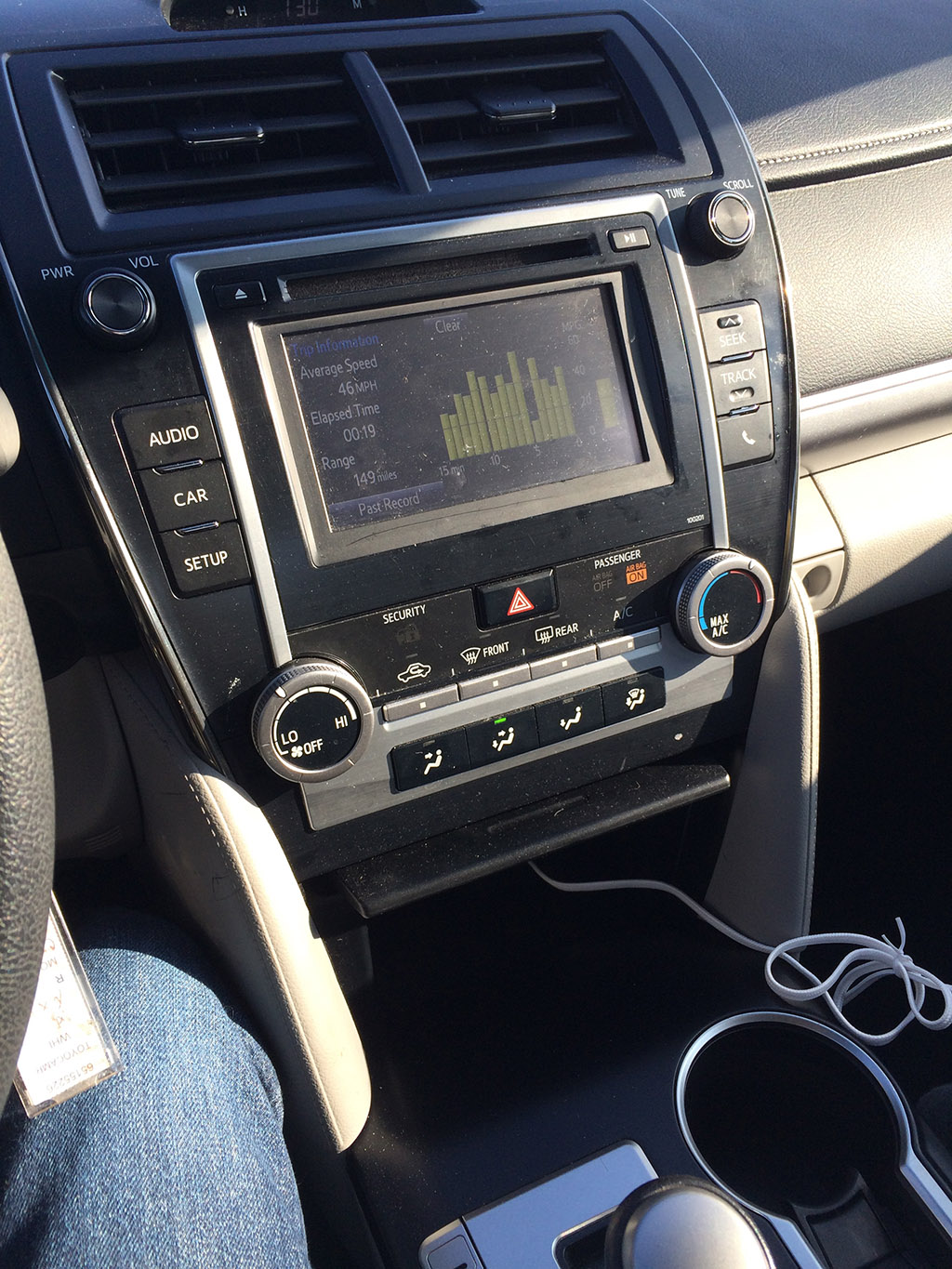 The only issues we had right off the bat was that we couldn't get the bluetooth working – perhaps there really was a problem with it, because it seemed intuitive enough but it just wouldn't pair with my wife's phone. We gave up after a few minutes, unwilling to dig the manual out of the glovebox and try and sort things out.
Engine and Transmission
I admit it: I couldn't figure out how to put the 6-speed automatic transmission in Drive. The only options on the gear shift were "P R N S-D". What the hell is S-D? I just dropped the gear lever in that section hoping for the best, and all seemed well. Initially.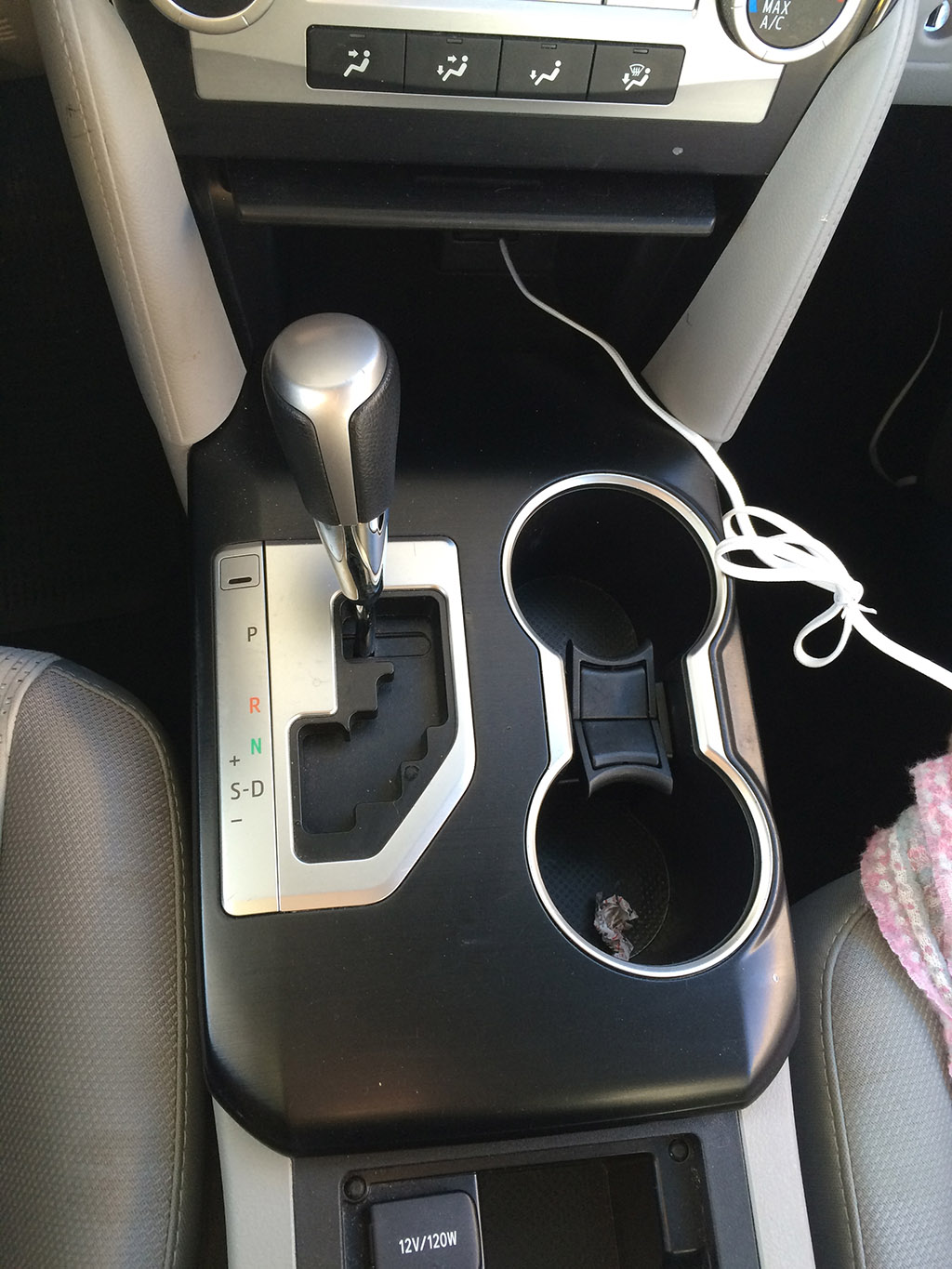 It turns out that I had it in "manual" mode – which became obnoxiously obvious as we pulled out of the parking garage. It would't shift without my intervention, but there was nowhere to pull over and try and figure things out so I figured we'd be driving all the way to my sister's place in manumatic mode. Yes, I felt as if my mancard had been revoked…
The good news is that I eventually figured it out at a stoplight 20 minutes later. It turns out that you have to have the gear lever all the way to the left in order for it to lock into Drive. You can still manually upshift or downshift my moving the lever forwards or backwards.
But the question I have to ask is…why? Why is this feature even on this car? This is not a sporty car by any means – it's got hubcaps for crying out loud! Perhaps they did it for the poor souls who wanted a sports car but had to make due with a Camry. But I'm willing to bet that this is a feature that not even 1% of Camry owners would ever use.
As far as the engine goes, well…there's nothing worth noting here. This LE model had a 178hp, 2.5-liter I-4, which in a car this size, isn't all that great. It wasn't slow, but it certainly wouldn't fry the tires off the rims.
Handling
What can I say about how well (or unwell) this thing handled the arrow-straight roads of central Minnesota? It's a Camry for crying out loud! The only corners I was able to put this thing through were slow 90-degree Minnesota turns from one highway to the next, so I really can't tell you about how many G's she'll pull in the hairpins. But it's a comfortable ride – solid, not too soft, with just the right amount of firmness to make it feel not so floaty.
I should also point out that it tracks very well in the snow. It snowed a bit the second day we were there, and I drove it about 80 miles in slushy conditions. It surprised me – it held firm, and I never once did feel as if it was slipping beyond my control.
Final thoughts about the 2013 Camry
As much as I hate to admit it, I walked away from this car after 200 or so miles of driving feeling a bit impressed. It is a Camry after all, so I'm not up at night thinking about my experience with this car, but the features and solid feel made me fully understand why this is one of the best selling cars in the US.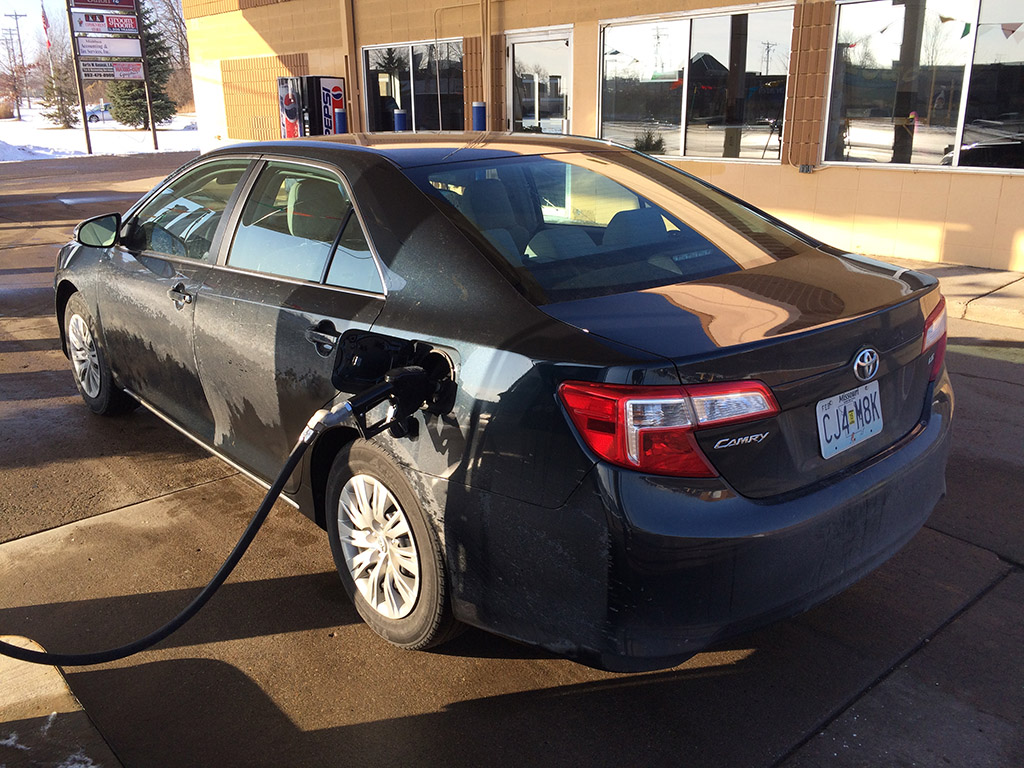 The bottom line is that it's solid, dependable, functional transportation. As a car guy, I can think of a million other cars I would buy before this if I needed a mid size car to haul the family around – but there's really nothing bad about this one if high style and fun isn't high on your priority list.
Be warned though – this car hasn't aged very well, and you might want to read all about the latest 2013 Toyota Camry problems before purchasing one.