Review: 2006 Hertz Shelby Mustang GT-H #169
The following review is a recollection of a day spent with Shelby Mustang GT-H #169 in Honolulu, Hawaii in January of 2007:
I'm not sure what it is about a mean-sounding V8, but it can turn pretty much any car into something fun and entertaining to drive. The Ford Mustang is a great example of that – if this car didn't have a high-torque (and sinister sounding) eight cylinder engine, I wouldn't even give it a second glance. But the engine makes this car. It makes it something that, quite frankly, I like a lot.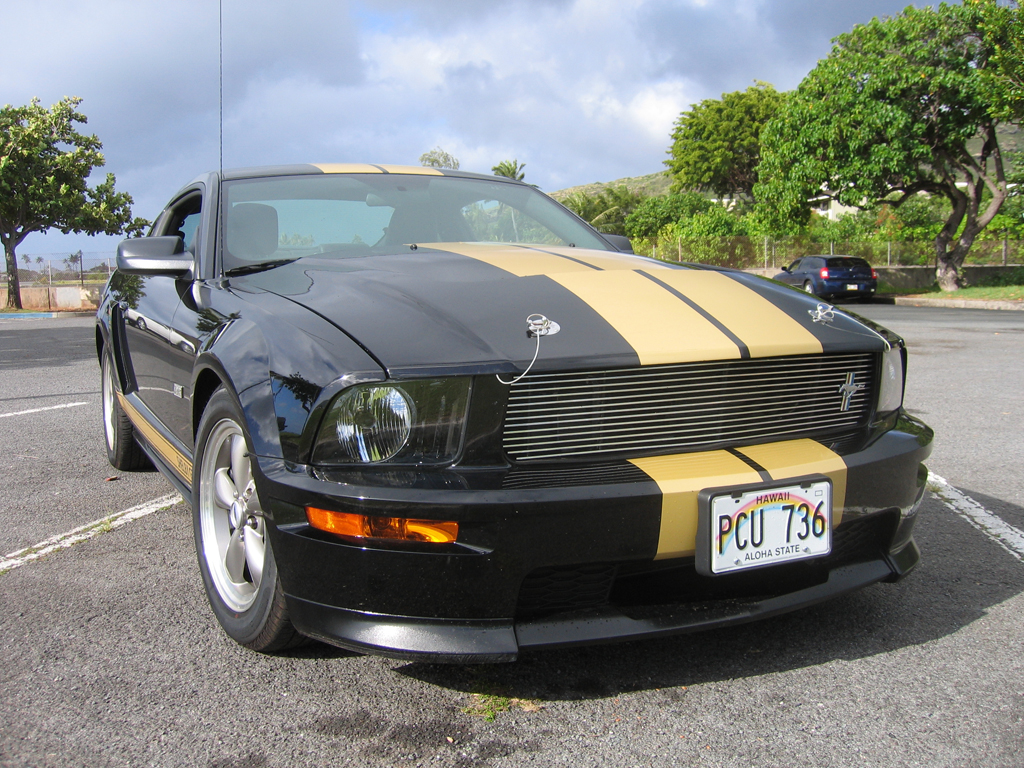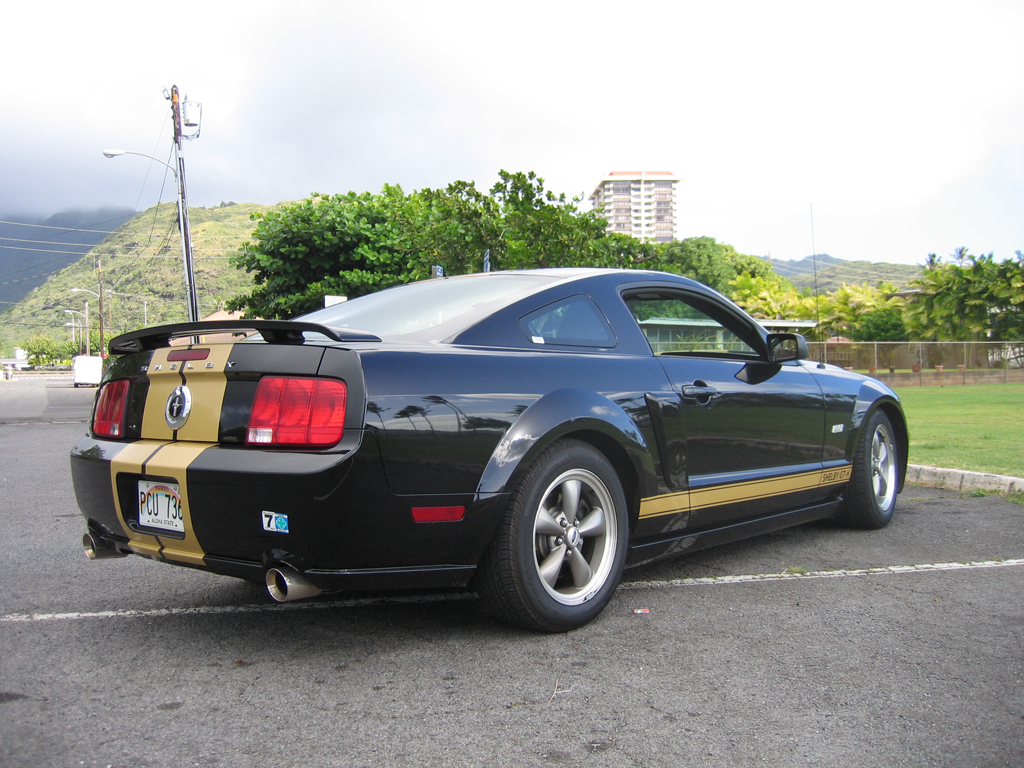 I should start out by saying that I'm not a fan of large automobiles. While they serve a purpose for millions of motorists around the world, I just don't like the feeling of a big car around me.
Without sounding perverted, I much prefer strapping one on, and becoming one with the car I drive. Now that I've got that out of the way, you have a solid base from which to fully understand my comments and overall assessment of the 2006 Ford Shelby Mustang GT-H.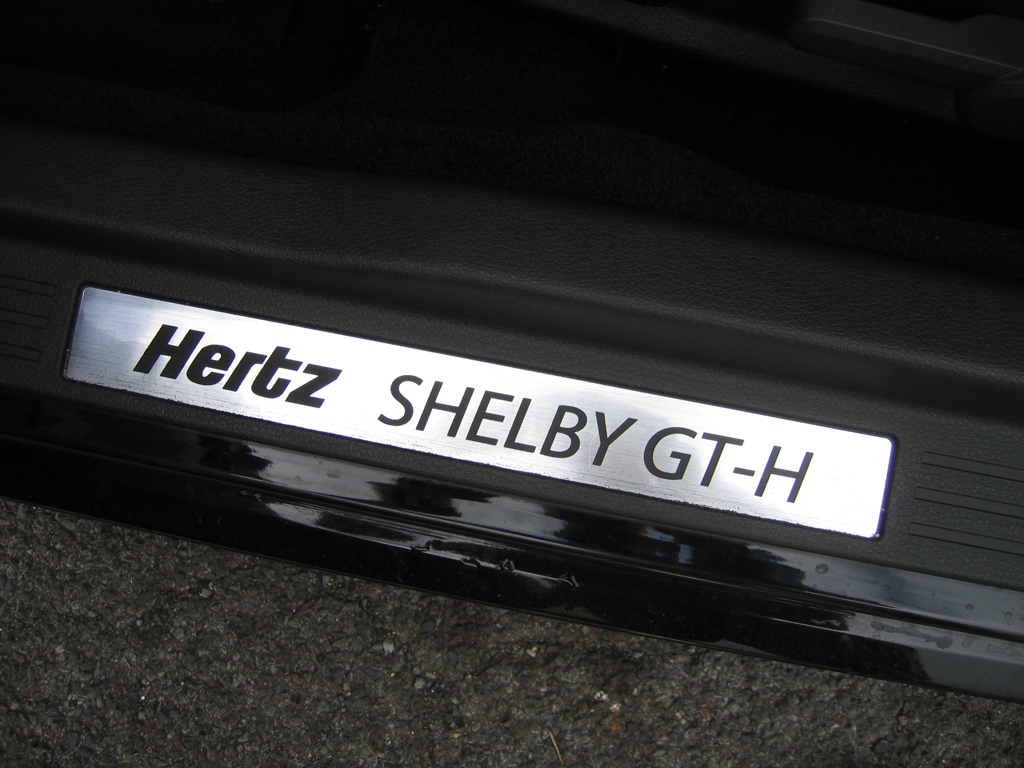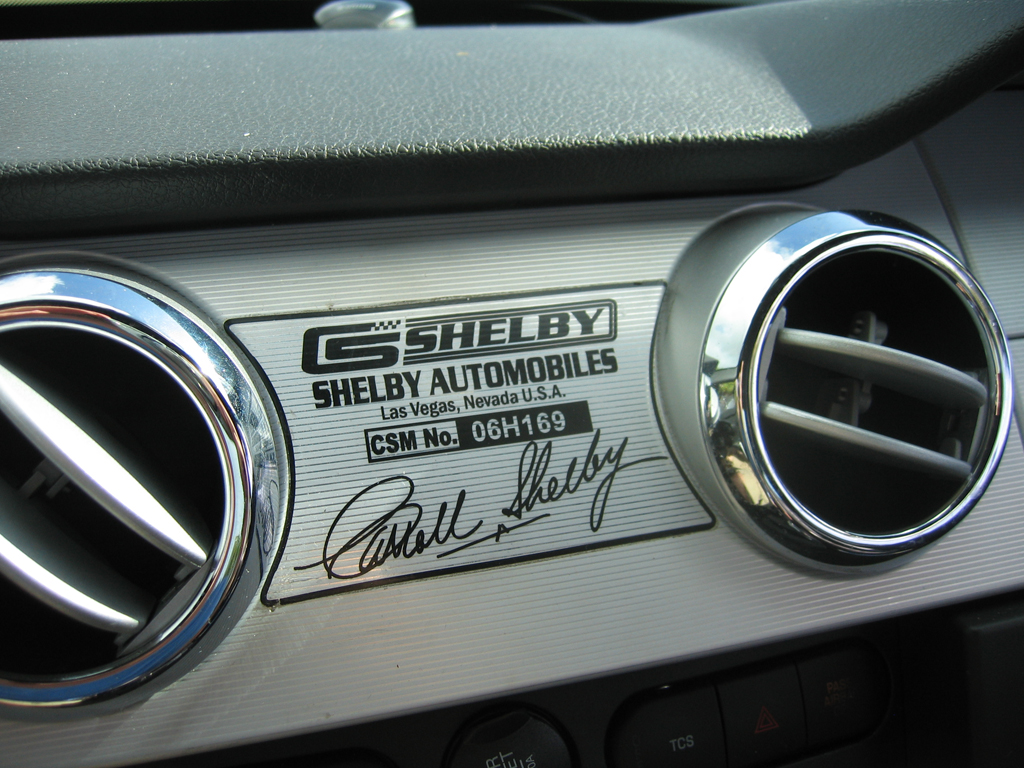 First, a quick bit of background. The Shelby Mustang GT-H (the H stands for 'Hertz') was introduced in late 2006 as a collaboration between Caroll Shelby, Ford Motor Company, and Hertz to be a tribute to the old Shelby/Hertz Mustangs from the 60's.
Only 500 were produced, and they were stationed at several major business/vacation locations throughout the US. All cars were black, with signature gold racing stripes. Other modifications included hood pins, lowered suspension, cold air intake, and a minor engine tune bringing total horsepower to 330 (up 30 from the standard 300 of the Mustang GT).
On the interior, the only additions were a data plate at the center of the dash signifying that it was an authentic Shelby Mustang, and polished metal GT-H door sill plates. Additionally, the traction control was hardwired to the "on" position. No smoky burnouts in these cars…
My encounter with the GT-H (Serial Number 06H169) came at the Hertz rental car lot at Honolulu International Airport (HNL) in January of 2007. It was the last day of my vacation, and I had planned on renting a car (any car) for a leisurely drive around the island to check out the surf pounding the north shore.
Walking up to the Hertz rental counter, I saw two freshly-polished Mustang GT-H's sitting front and center, obviously strategically placed to lure interested customers. It worked.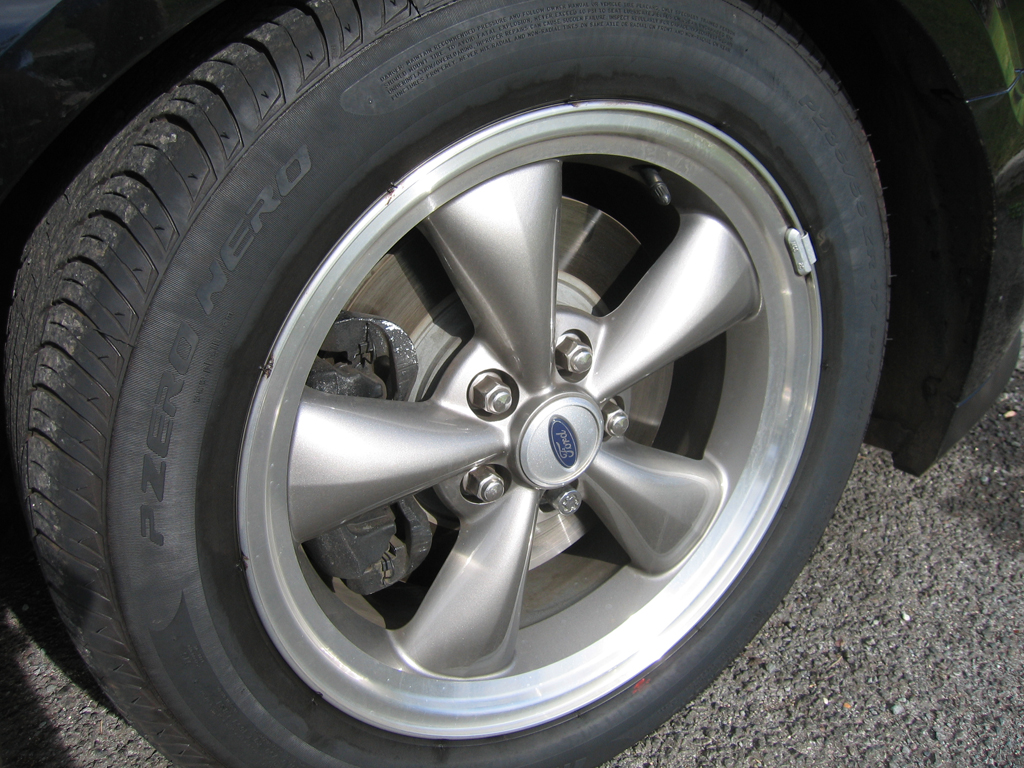 "I have a midsize rental reserved, but…how much to rent one of those Mustangs instead?" I asked as I pointed in the general direction of the Mustang corral. 10 minutes and a lot of paperwork later, I was driving out of HNL in one heck of a cool rental car. I should note that the reservation procedure for one of these things had given me second thoughts as to if I really wanted to do it.
The manager personally walked me over to the car, went over it with a fine-tooth comb, and had me sign a pile of paperwork. If anything, it was thorough. I made a quick mental note to myself to treat this car very well – otherwise, I may never rent a car in this town again.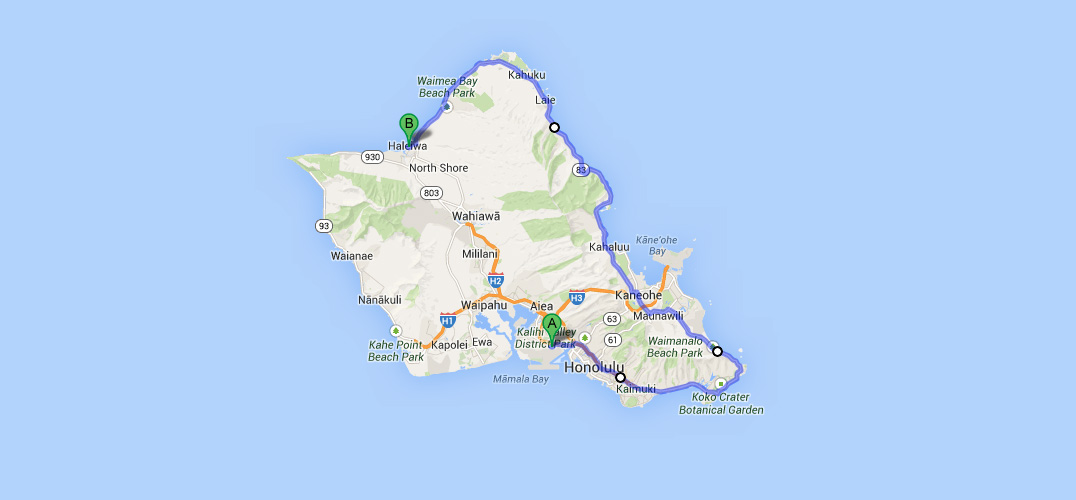 Overall Impressions:
As noted at the beginning of this article, I don't care much for big cars. I have driven other 2005+ Mustangs, and I knew it was a big car. But the Shelby GT-H didn't seem that big to me. Perhaps it was the lowered suspension, but it felt very tight and nimble. The body didn't roll very much in corners, and it seemed to be eager to go where I pointed it – unlike other big cars that seem to take much effort to maneuver and throw around.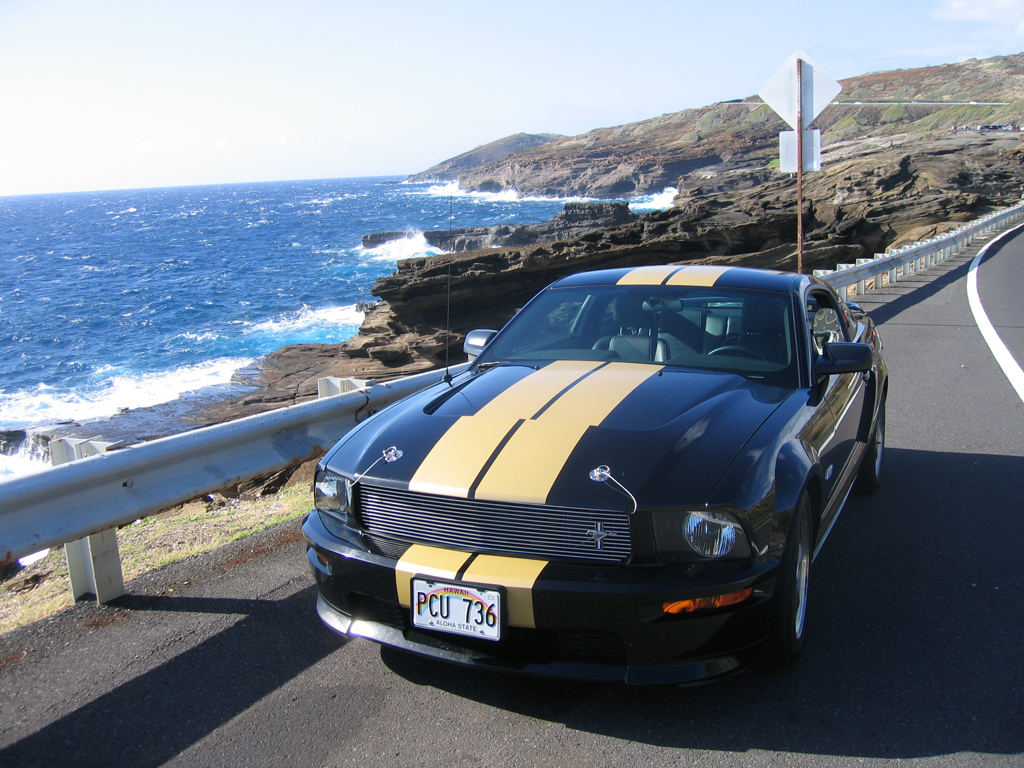 The best part of this car, by far, is the engine. Now, I've driven faster cars. And to be honest, I didn't really find this car to be all that fast. Quick, definitely, but not fast. The initial torque hit is huge, making it seem like the car is going to launch into space – but once the rpm's build, things settle down and the thrust resides.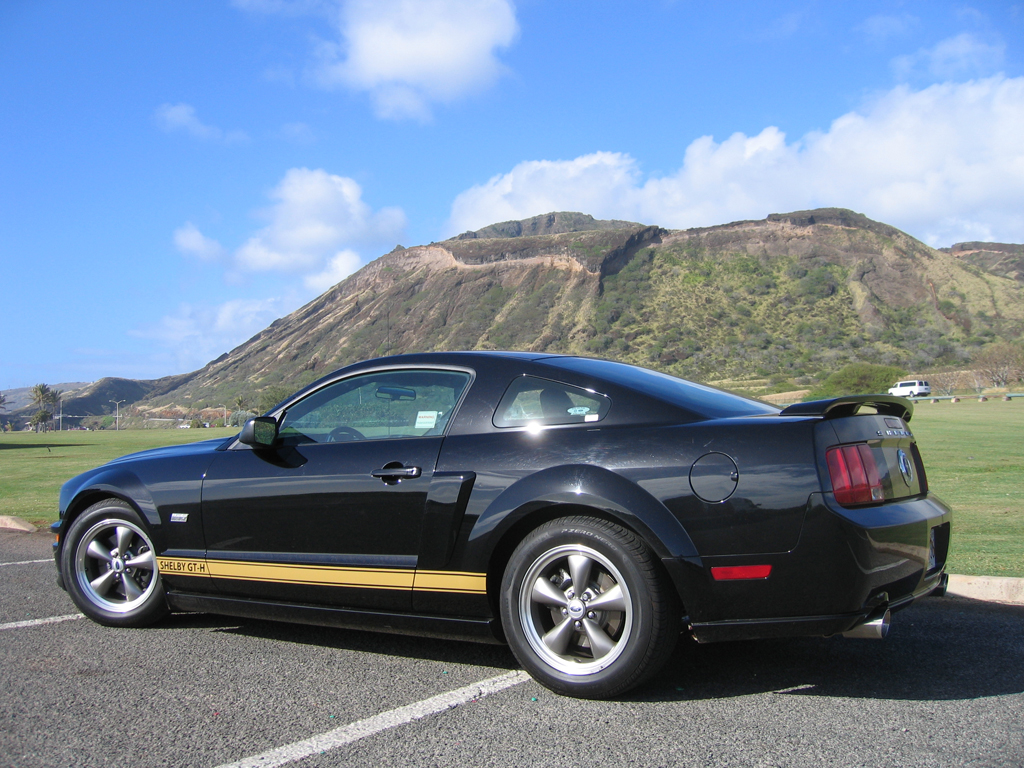 And the noise this thing makes. Wow! I wasted a lot of gas just trying to keep in lower gears to hear that ferocious V8 sound. In a word, it sounds mean. Scratch that – intoxicating is a much better way to describe it. It definitely has a presence driving down the road, and it comes off as being very mean and sinister. But honestly – its bark is much worse than its bite.
Inside, it's typical Mustang. Nothing fancy, and the front seats are comfortable. The driving position is decent too, but a little bit too pedestrian and upright for my liking. But the advantage to this is that visibility is quite good. Compared to other sports cars (yeah, I know this is a pony car), there aren't any major blind spots.
The only thing worth being nit-picky about is the dashboard. Personally, I hate the retro gauges. They are too old-school, and low-tech. Save your flaming responses to that statement, because yes, I do realize that the whole retro thing was exactly the point.
But…I don't know. Some things don't deserve to be brought back from the dead, and these gauges are definitely one of them. The rest of the car is a nice modern interpretation of a classic, but the gauges look exactly like they came from 1970. Ugh.
Otherwise, interior fit and finish was good. This particular GT-H had about 5000 miles racked up before I had my time with it, and things seemed to be holding up well. The leather seats were showing slight signs of wear on the side bolsters, but the carpet and other materials still looked good.
But think about that for a second: 5000 miles. On a brand new car. On the tiny island of Oahu. That's a LOT of trips around the island in a short amount of time. I'm sure this car has had its fair share of abuse and neglect, so it was somewhat easy to overlook its minor flaws.
On the other hand…the body of this particular car made grunts and groans and creaks like you'd expect to hear on a 15-year old Crown Victoria taxicab. Really, there isn't any excuse for that on a car as new as this. It was so bad that I actually had to pull over at one point to make sure I wasn't dragging dead bodies or anything. But I will admit that many of those nasty noises came from the fiberglas hood and the badly-aligned hood pins.
But the rest of the car looked like new, and it drew a lot of attention as I was driving around the island. Everywhere I went, there were people turning their heads to get a look, and at one point I even heard "Hey look – there's a Shelby!" I even got a few waves from some locals in other Mustangs as I was driving around.
Speaking of driving around Oahu, I can't think of a worse place to evaluate a car such as this. Sure, the scenery was spectacular. But speed limits are frustratingly low, and traffic is fierce. I think I got to 70mph once – on the off ramp to the airport as I was on my way to returning the car. I like Hawaii a lot, but as a car guy, I don't think I could have a permanent residence there. Now, a second home on the other hand…
So yes, it is possible for an engine to turn a lackluster car into something quite attractive. I was actually disappointed to have to return the car before I hopped on a flight to the mainland, but I did spend a lot of time when I returned home looking at Mustangs at the local car lots. It had that much of an impact on me.