2016 Hertz Shelby GT-H Mustang review (serial number 16H0022)
Before I begin, I'd like to point out for all you historians and collectors out there that the car in this review is serial number 22 (CSM 16H0022), and I rented it from San Francisco International Airport (SFO) in late February 2017 (contact me if you want to know the exact date). It had 8,329 miles on the odometer when I picked it up, and returned it with 8,587. The VIN number is 1FA6P8CF8G5295520, and it was manufactured in February of 2016.
Now that we've got that out of the way, let's get on with the review…
It's been nearly 10 years since I drove a 2006 Hertz Shelby GT-H around the island of Ohau, and to this day, it remains one of the most memorable automotive experiences of my life. Keep in mind that I was still pretty much a car-virgin back then, and that was the first time that I had ever hooned around in a V8 muscle car by myself.
The sound (and feeling) of that Mustang left an impression on me, and I came home from that Hawaiian vacation desperately trying to find ways to justify trading in my beloved 350z in on a brand new 2007 Mustang GT.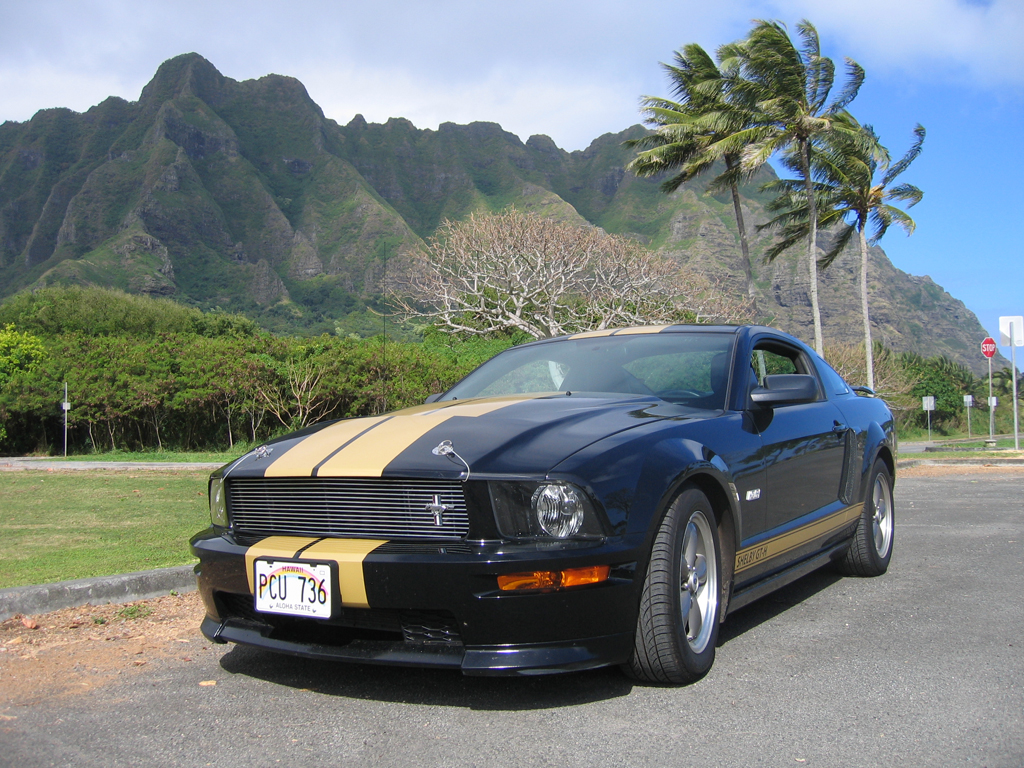 Unfortunately, I never was able to convince myself to do it. Financial responsibility at the time was the deciding factor, as I was right in the middle my first home purchase and money was beyond tight. I never was able to erase that car from my memory though, and I'm still convinced that I'm going to add a 2006 GT-H to the collection if I ever find myself with an empty warehouse and tons of money to burn.
Thankfully I've been able to scratch my V8 Mustang itch over the years. First was the 1996 SN95 Mustang GT I purchased in 2012, and now the 2012 S197 Mustang GT I bought last year. I've had more fun with those two cars than I ever had with anything else that I've owned, and I'm happy to report that my love of V8 muscle cars has not deteriorated after all these years. And that's precisely why I nearly fell out of my chair when I read the announcement that Hertz was bringing back the Shelby GT-H for 2016.
For those of you who are not aware of the historical significance of the Hertz Shelby Mustang, this wikipedia article has all the information you need to know.
The rental experience
I had the chance to review a 2015 EcoBoost Mustang back in August of last year, and before getting into this 2016 Shelby I was mentally using that as a baseline to gauge how much of an upgrade the GT-H package was over the standard car. Technically, the only differences from the Shelby GT-H over the standard GT are as follows:
Ford Racing axle-back exhaust
Ford Racing lowering kit
Exterior decals and badges
Interior badges and stitching
As you can probably tell, the 2016 GT-H is not a heavily modified car, and it's not any faster than a stock GT. But don't tell the staff at the San Francisco Airport (SFO) Hertz counter that. They wouldn't even let me look at the car without two forms of ID and four credit cards as proof that I wasn't a bum off the street looking for a joyride.
Seriously, the two C7 Corvette's I've rented from Avis (one in San Diego, the other in Chicago) were much easier to rent, with the entire process taking less than 10 minutes both times. Hertz takes great pride in their Shelby GT-H's, and they are very careful about renting these things out. If you want to rent one for yourself, you'll need the following:
Two forms of government-issued ID
Three credit cards (that match your name on the ID's)
Proof of a return airline ticket from wherever it is you came from. You can't rent one of these if you are a resident of the city from which you are renting it from.
Once all the paperwork and credit card scanning was complete, the manager personally walked me out to the car to have a look. We went over the car in great detail taking note of any little nick or scratch that was already on it. This particular car was in really good condition though. It had 8,329 miles on it and the only scratches I saw were on the rear bumper, consistent with pretty much any other rental car I've seen.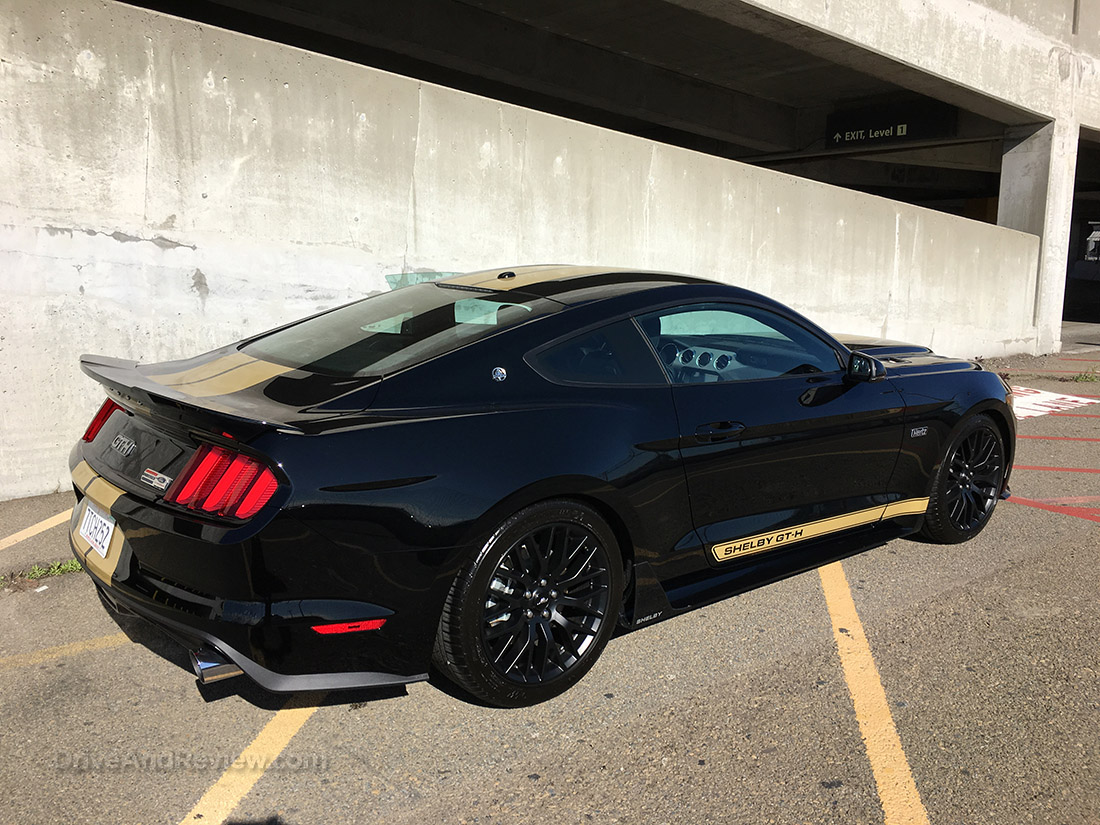 First impressions
Make no mistake about it – the 2016 Shelby GT-H has a presence. Sitting low and squat in that sinister black paint with gold stripes…it just oozes "badass" from every crack and crevice. The amazing thing about all that is the fact that the car is only lowered 1.5" all around. It's a subtle drop for sure, but it makes a significant difference in the stance of the car.
This would probably be a very good place to tell you that I'm very much an introverted person and I hate being the center of attention, so I was a bit apprehensive about driving around in a car with gold stripes all day. Disregard the fact that I once owned a Dodge Neon with stripes – I was still very much a kid back then, and I didn't know any better. But now, at 42 years of age…it's a problem.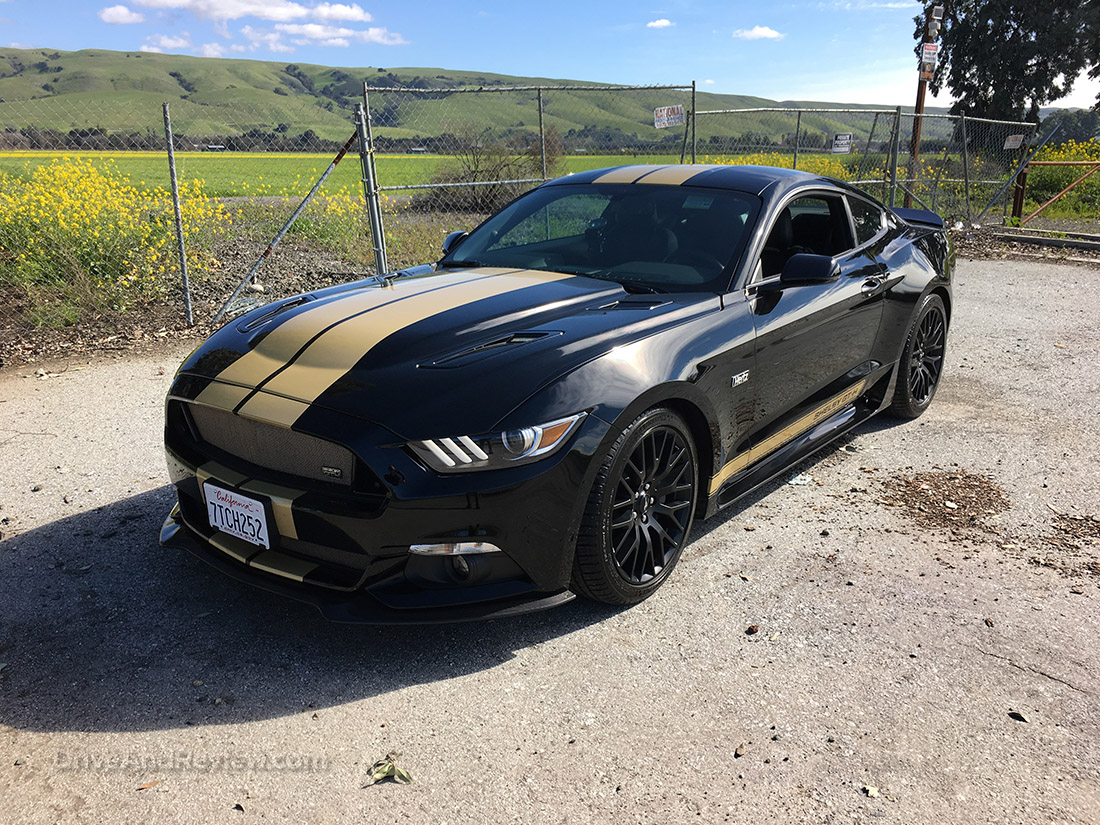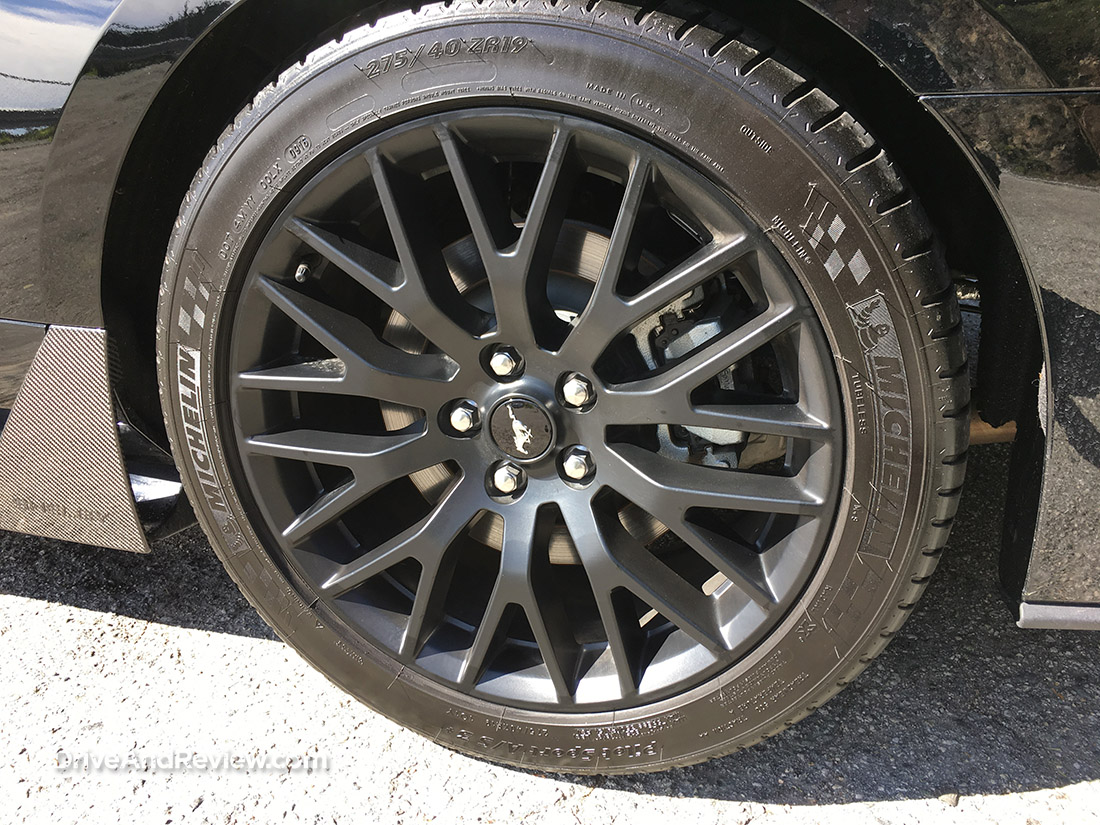 The rest of this car and what if represents made it easy for me to forget about those stripes though. A quick press of the "start" button and hearing that 5.0 Coyote come to life makes all seem right with the world.
So how fast is it?
I'm going to skip all the standard-issue car review drivel (comfort, fuel economy, etc) and get straight to the point. This is a seriously fast car. Ford hit a home run with the 5-liter Coyote V8, but I already knew that since I'm a very happy owner of a 2012 GT with this same engine. But wow…matched with the right exhaust setup, there's nothing that can come close to making sounds as satisfying as a Mustang does. The Ford Racing axle-back exhaust on this GT-H is the perfect match IMHO – it's very aggressive sounding without being too loud. It does drone a bit on the freeway, but overall I found it to be a very nice setup.
How nice? I'll just say this: even if this thing wasn't all that fast, it would still be fun enough to make me giggle every time I hit the gas. It sounds that good. Thankfully, it has the bite to match it's bark.
Also helping this GT-H to feel fast and fun is the Ford Racing suspension kit which lowers the car 1.5" all around. It's so low and planted that it makes my 2012 feel like a UPS truck sitting high and loose on it's solid-axle rear end. Who says Mustang's can't handle? I'm a believer after spending a day in this Shelby.
The black leather interior also helps to give this Mustang a sports-car feel. I quite like it, and getting back into my 2012 after driving this thing around for a day was a major disappointment.
Is there anything bad about it?
If you've made it this far, there's a pretty good chance you're getting sick of me gushing about how good this Mustang is. Yes, it's true – I really enjoyed it and I'd be very happy to have one of my own. But nothing in life is perfect, and even I will admit there are some things that I don't like about the GT-H:
The stripes. Ok, I know I'm going to get a lot of flack for saying that, but here me out on this. The Hertz Mustang is not for introverts, and you will get attention driving this car. The stripes make it more flashy than it really needs to be IMHO, and this car would be much better being somewhat stealthier in all black.
I know this isn't a GT-H specific thing, but I thought it was worth mentioning anyway. The 6 speed automatic transmission is kind of sloppy and lethargic if you select any drive mode other than "sport" or "track". Shifts happen too soon otherwise, and seem to take a while. Thankfully shifts are much crisper in sport mode.
The amount of effort it takes to rent one of these things almost makes it not even worth it. Make sure you have all the identification required, make sure you're not a local, and make sure you have plenty of time to spend standing at the counter while they write up your rental agreement after you sign your life away.
Conclusion
I've got nothing to say in conclusion about the Hertz Shelby GT-H other than the fact that I really want one of my own. There's nothing quite like tooling around in an aggressive-sounding muscle car (looking like a tool, I suppose), and the sound of this car combined with the way it handles and looks is pretty much the perfect combination IMHO.
The 2016 is an excellent successor to the 2006 model I drove 10 years ago, and I guess that means that now I've got to find space for two Shelby GT-H's in my future warehouse…