Saying goodbye to my 1996 Mustang GT
I wasn't really sure what I was going to do with my 1996 Mustang as soon as I bought a replacement for it, but to be completely honest I was leaning towards going the easy route and just trading it in. Doing it the "easy" way like that meant that I wouldn't have to deal with the hassle of selling the car on my own – a process which I've always hated and avoided like the plague.
It all comes down to what I consider my time to be worth, and quite frankly, I value my time quite highly and spending it dealing with tire-kickers, flakes, and joy riders has never sounded fun. I know that trading in a car is very expensive (because dealers typically pay the least), but…I didn't care.
So when I was sitting in CarMax purchasing my 2012 Mustang GT, I decided to hand them the keys to the '96 just to see what they would give me for it. It wouldn't hurt to ask, right?
I knew the trade in offer was going to be low, but I was not willing to give them the car for $350! That's borderline robbery, so I simply told them I'd keep it and I'd have to figure out what I was going to do with it later. Ugh. I didn't want to sell that car on my own, but that lowball offer forced me into it.
Figuring out a plan
Procrastination got the best of me for the next month or so, and I kept putting off the sale. I ended up leaving the car parked safely in the parking garage at work, which meant that I had to move it every 3 or 4 days so that security would't be on my case. I didn't drive the car for the entire time besides those days when I had to move it, and it was getting to the point where it was getting annoying. The car had to go ASAP.
It was the fourth week after I bought my 2012 Mustang that I finally decided to get serious and list the '96 for sale. The first order of business was to get it smog tested, which is a requirement for selling a car in the state of California. The car has to pass smog, so it was the biggest hurdle I faced in this entire process.
Yes the car ran great – it did burn a little oil, but it ran flawlessly for being 20 years old. But would she pass smog? I was a nervous man as the car was being tested, but I felt completely relieved when the smog test station owner told me it passed with flying colors. Woo hoo!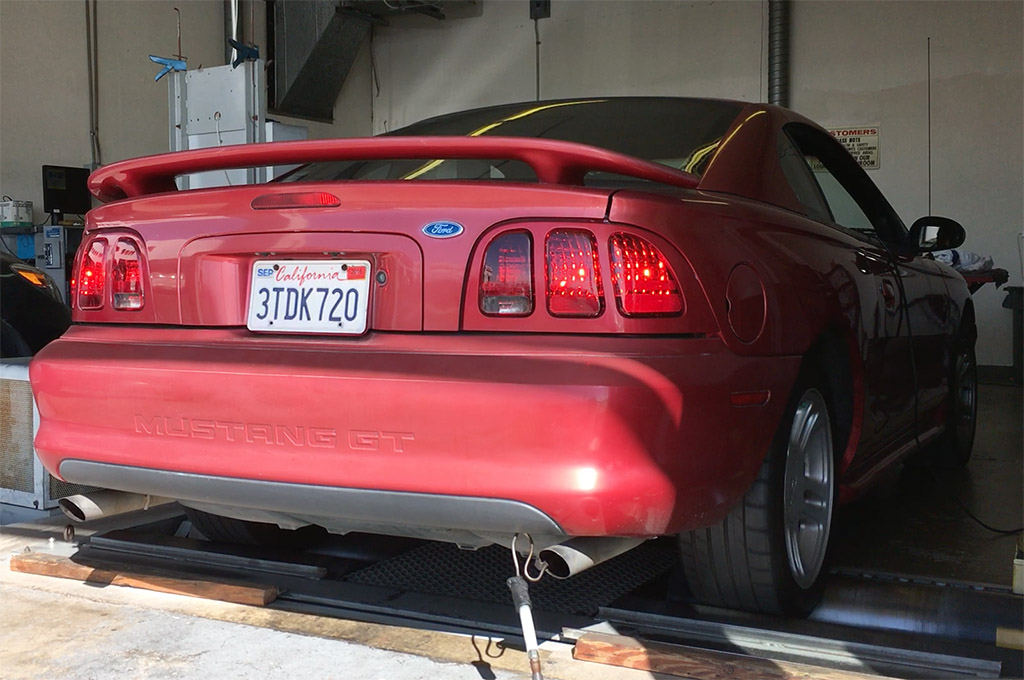 The next order of business was to get it cleaned up and listed.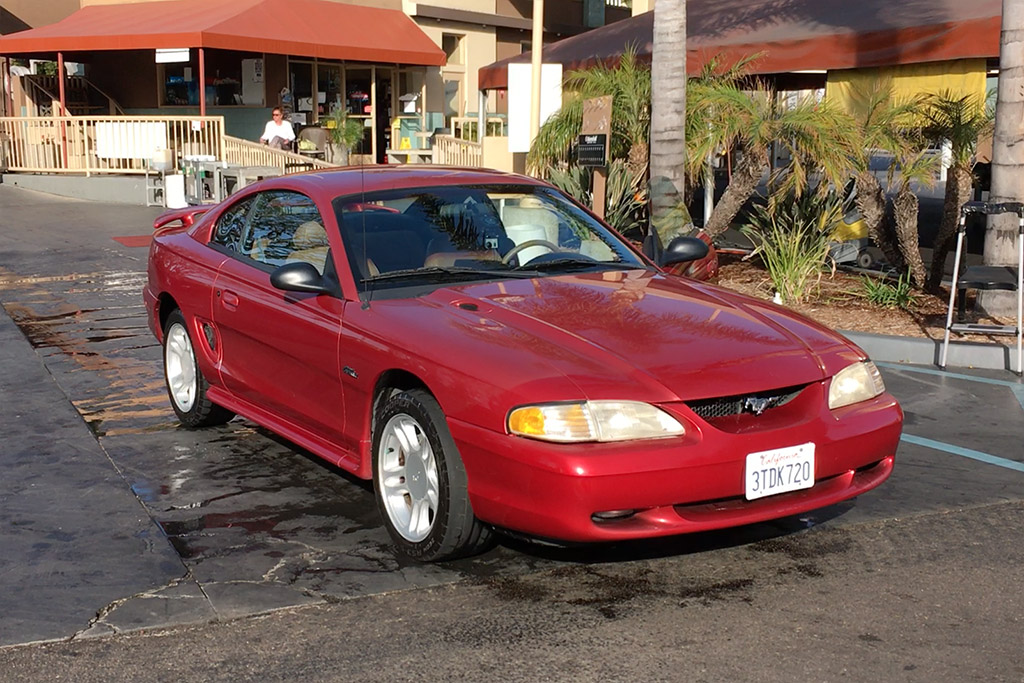 Cleaning it up was the easy part, but listing the car was something I was not looking forward to. Trying my best to avoid Craigslist, I decided to list it on my company's internal bulletin board system first – just to see if there were any takers. Here's the ad that I wrote:
This is a very clean and dependable car! I bought it from the original owner in 2012 and haven't had a single issue with it – its 100% stock, still runs strong, doesn't leak anything, and is super clean inside and out. The odometer is broken but I estimate the car to have less than 130k on it due to the fact that Carfax records show that the odometer broke just before the last owner sold it (at 113k) and I only drove it 2-3 times a week the entire time I've owned it.

The good:

Very reliable. Always starts, and runs strong and smooth.
Easily passes smog (just tested and passed last week)
Super clean inside and out
No leaks
Clutch and throwout bearing was replaced right after I bought it (and I haven't driven this car all that much, so there is a ton of life still left in those $$ parts).
No warning lights on the dash
100% stock (no mods)

The bad:

Odometer is broken (I have the parts to fix it, which I will include with the car)
Paint is starting to fade on the top surfaces
AC doesn't work
Needs new front tires
Power driver's seat goes forward but not back

First $1500 takes it. The car is here on the *** campus (San Diego) so let me know if you want to have a look.
That's right – I listed it for $1500. That's really cheap, yes, but I wasn't in the mood to haggle with anyone and I knew the car had a handful of issues that I was sure to be called out on, so I figured the price was fair. And a lot better than the $350 that CarMax had offered me!
To my surprise, the response was overwhelming and I was jugging multiple injuries within an hour or so. The first guy who came to test drive it was looking for a first car for his son – he seemed knowledgeable about cars (and Mustangs in general) and he didn't even flinch at the car's shortcomings. He did, however, bring the car back smelling like burning coolant – which was worrisome. He walked away telling me that he would have to talk to his wife about it first, then contact me either way. 20 minutes later he got back to me saying that his wife said it was a "no go".
The next guy who came to look at (30 minutes later) was an S2000 owner who was looking for a fun project car. He seemed very interested in it, again overlooking the car's shortcomings, and we went for a test drive. Everything was going well until we were about a mile from work on our way back when the car started overheating. SHIT! Of all the times for this car to ever give me trouble, this was the worst.
We were close enough to work that we were able to make it back to the parking garage without incident. We popped the hood and were overwhelmed with the smell of burning coolant. This was't good.
We didn't notice any leaks right away, but we did notice coolant all over the back and underneath the car, so there was a significant leak somewhere. A closer look in the engine bay revealed that the radiator hose had come loose, and I was instantly relieved that is was such a simple problem.
He ended up calling a car-guy friend who knew a lot about Mustangs (just to confirm if $1500 was a fair price), and he ended up buying it right then and there for full listing price without haggling. So…it was gone, but not without any sort of drama.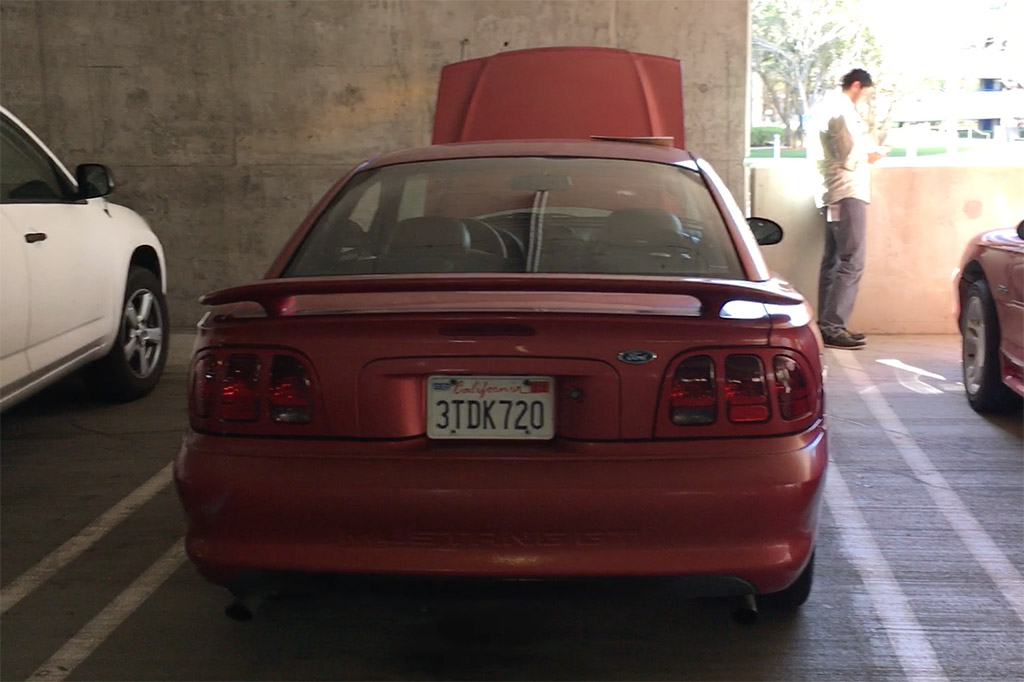 The end of the road
That's where my time with this 1996 Mustang GT comes to an end. I owned it for 3 and a half years (42 months to be exact) and put approximately 10,000 miles on it. In all that time, it never broke down on me or left me stranded – except for the final test drive of course.
I had only intended on keeping it for a year or so when I bought it in 2012, but it ended up being such a good car that it was hard to justify selling it and stepping up into something newer.
So long '96 Mustang. Thanks for the memories, and fear not – our time together will live on here on this blog and on my YouTube channel forever.