Now that the purchase of my 2012 Ford Mustang GT from CarMax is complete, I thought I'd take a few minutes to jot down my overall impressions of that experience. This was the first time that I've ever bought a car through CarMax, but I have known many others who had good things to say about them – so I wasn't nervous or apprehensive at all about going forward with it. After all, if buying a car from CarMax is good enough for Doug DeMuro, it's good enough for me!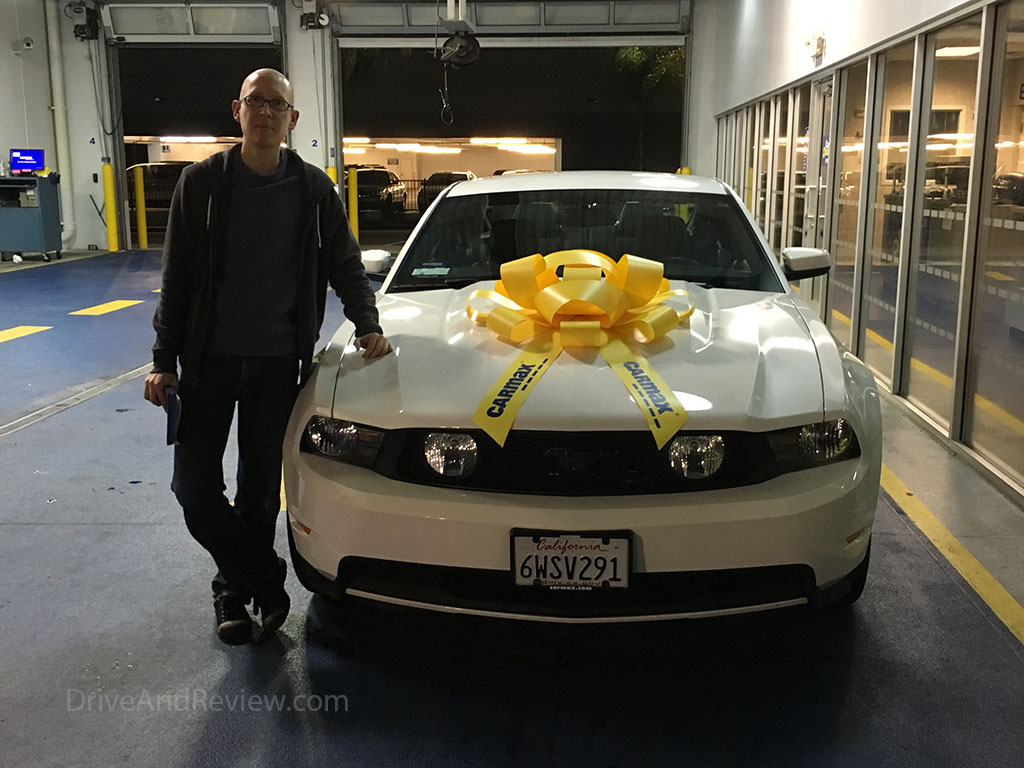 Here's a high level breakdown of how my experience with them went (I'll get into the pros and cons after):
Found a car I wanted on carmax.com
It was located up in Ontario, CA (I'm in San Diego), but it said "non transferrable"
I was ready to call the Ontario location directly, but on a whim, I decided to see if my local San Diego store (in Kearny Mesa) could transfer it for me
The sales associate I spoke with said she'd try and see if she could get it, but not before getting some information from me since I was looking to finance part of this purchase. I didn't mind – I wanted that car and spending a few minutes on the phone providing some information was a small price to pay.
After approximately 15 minutes on the phone gathering information, she told me she'd make some phone calls to see if she could get the car transferred, as well as getting my credit application approved.
20 minutes later, she called me back telling me that she was successful in getting the car transferred (for no fee, because it was located less than 250 miles away), and that my credit application had been approved. She then told me it could take 1-5 days for the car to transfer, and she'd call me to schedule a test drive as soon as it came in.
The very next day, she called me and told me that the car had arrived in San Diego! We scheduled an appointment for me to come in and test drive the car that afternoon.
I met the sales associate, and she immediately walked me out to have a look at the car. Everything looked good, and the test drive went well.
Back at CarMax, we went through all the paperwork and finance information one more time (most of this was completed on the phone the day prior).
Even though I was still undecided on what I was going to do with my 1996 Mustang GT, they offered to appraise it for me. I let them do it, and in the end, they offered me $350 for it (and I didn't accept the offer).
Once the sales associate and I were finished with the paperwork, she took me over to the billing department where I sat and waited for about 45 minutes to meet with a finance representative to sign the official paperwork.
Paperwork signed, my sales associate (and the finance representative) walked me out to my 2012 Mustang GT.
Total time spent at the store: 2 hours and 15 minutes
As you can see, it was a rather painless process. There was absolutely no sales pressure and never once did I feel that the sales associate was trying to milk every last cent out of me. She simply presented the car to me and there was no haggling on price or finance terms. I could take it or leave it – which was a pretty good feeling. And that leads me to my list of CarMax pros and cons:
Pros
No haggling / no pressure buying experience
They hold a high standard to the quality of cars on their lots – they only stock clean well-maintained vehicles
A large (nationwide) network means that they can usually find whatever car you're looking for – and they will transfer it to your local store for a small fee
Cars located at other CarMax locations within 250 miles can be transferred for free
Financing is available for any car they sell
Warranty options are competitive, and they have a good history of honoring warranty claims. This is especially important if you purchase a vehicle that isn't known for stellar reliability.
There's a 5 day money back guarantee. If for whatever reason you don't like the car after the purchase, you have 5 days to bring it back for a full refund.
Each car comes with a complimentary 30 day warranty
CarMax is perfect for those of you who don't like how long it takes to buy a car these days. I was in and out in less than 2.5 hours.
Cons
No haggling means that those of you who like to wheel and deal on large purchases like this will probably be left feeling unsatisfied
Trade in offers are typically very low – you're much better off selling your old car by yourself rather than trading it in at CarMax
Don't expect your sales associate to know much about the car you are looking at. After all, CarMax sells primarily used cars so it's impossible to expect them to be experts in a single brand.
Transfer fees cannot be included in the sales price
If you pay to have a car transferred and you choose not to buy it, you are still responsible for paying the fee
CarMax sells a lot of high-end cars, and knowing first hand what goes on behind the scenes at car dealerships, it makes me cringe to think of the abuse some of the fast sports cars might go through.
My sales associate never followed up with me after the purchase to make sure I was satisfied with the car. This wasn't a big deal to me, but this is the first time I've bought a car from a large dealer where it didn't happen.
So the bottom line is this: would I purchase another car from CarMax? You bet I would! I hate haggling with a passion, so it was very refreshing to purchase a car for once without having to play the "best deal" game.
Sure, I probably could have found a better deal if I was patient and worked for a bargain, but I prefer to spend my time doing other things. I don't have any desire to play that game. CarMax had the car I wanted, they made it extremely easy to purchase, and I drove away feeling completely satisfied. It doesn't get any better than that!