Driving From Miami to Key West (and back) in 1 day is the stupidest thing I've ever done
I was struggling trying to come up with ideas for things to do while in Miami. Long story short, I foolishly decided to spend the entire day driving to Key West and back. It's a drive that I've actually done before, but that was way back in 1999 and I didn't take any pictures and video of that experience. I really wish I had, because it probably would have reminded me how much it sucks to do it all in one day.
Anyway, I love a good road trip, so sitting in a car all day driving through some amazing landscapes is a perfectly fine and fun way to spend a day in my book. Even if it does kind of suck.
A detailed summary of my drive from Miami to Key West (and back) in one day
One of the only things I remember from that drive back in 1999 was the fact that I was feeling completely and totally exhausted at the end of it. And that was a long time ago – back when I was young, a lot stupider than I am now, and bursting at the seams with energy.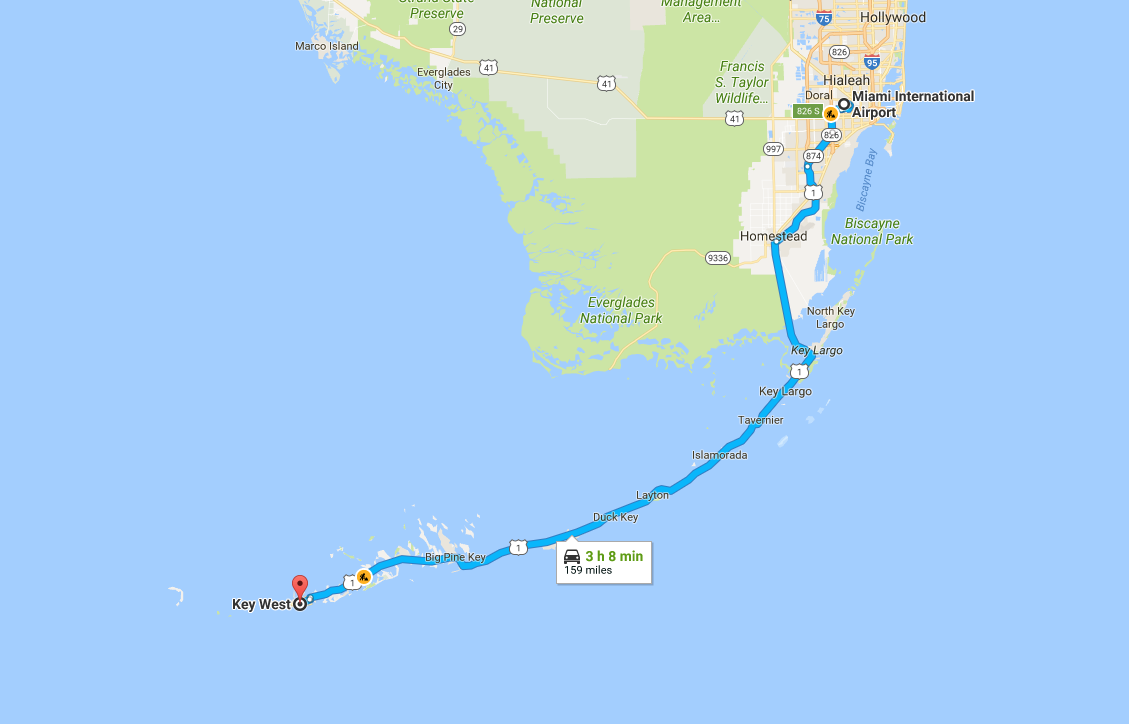 I knew I was taking a risk by deciding to drive all the way to Key West and back in a single day, with the consequence being feeling completely wasted (much like a pile of mashed potatoes) during my flight home to San Diego the next day. I don't enjoy cramming so much into my trips these days, but the lure of Key West was hard to resist. I'm such an idiot…
Avis came through with a Ford Mustang GT for me (one very similar to the 2016 Mustang GT I reviewed), and I was out of the open road by 10 AM pointed Southwest towards Key West (still completely oblivious to the fact that it was going to be a very tiring drive).
To be honest I wasn't entirely sure that I was going to make it all the way to Key West – doing so would mean at least seven hours on the road, which was not what I wanted to do. Five hours sounded like a much more comfortable amount of time to be behind the wheel in one day, but I just decided to take it hour by hour and see how far I felt like going.
The drive to Key West
The first hour of the drive (going south out of Miami) is very busy with lots of traffic. But after that, the little beach towns came and went. First Key Largo, then Tavernier, through Layton and Key Colony Beach. I was actually quite enjoying myself, soaking up the sights of the Florida Keys, stopping every now and then to take pictures and stretch my legs.
These stops were always brief thanks in large part the hungry bugs that attacked me as soon as I got out of the car, as well as the oppressive heat and humidity. If you've never been to Florida in the summertime, you will quickly learn to hate both the bugs and the heat in no time flat. Especially if you're a weakling from California like me.
It wasn't until I hit Marathon that I decided that I was fully committed to drive all the way to Key West. It had already been a very long day so far, but I was feeling like I would have kicked myself after this trip if I went as far as Marathon didn't go all the way to Key West. It was so close – well, about an hour's worth of driving, but still close enough to feel like I could (and should) do it.
The arrival in Key West
After 3 hours of driving, the sense of satisfaction and achievement I felt as I was rolling into the town of Key West rushed over me like, well, a hurricane spinning it's way across the state of Florida. I made it! Yes I was completely exhausted and I hated the thought of having to drive all the way back to Miami, but I made it to Key West gosh darn it and there was no reason to hate myself for not going all the way.
I celebrated the moment by standing on the beach taking a lot of pictures and video, looking like a proper tourist in my sneakers and baseball cap while standing just inches from the water's edge. The sad thing about that moment was that I didn't have time to stay and soak it all in.
If I wanted to make it back to Miami by a reasonable hour, I had to leave ASAP. Oddly enough, it didn't actually feel so wrong to turn around to leave immediately. I had accomplished my mission, and that was all that was needed to put a smile on my face get me back into that car.
The drive from Key West to Miami
Reality set in pretty hard when I fired up Google Maps and it told me that I had nearly 4 hours of driving ahead of me to get back to Miami. Never mind that it was 3 PM and I had already been on the road for 4 hours – just the thought of having to drive all the way back was enough to turn my smile upside down and set a somber mood as I drove east.
I wasn't totally bummed though. The decision to spend all day in the car was mine and mine alone, and hey – I was in a cool car driving one of the coolest roads in all of North America. Things weren't really all that bad.
But then, just as I was staring to make dinner plans in my head, things took a turn for the worse. Traffic started getting a bit thick as I approached Key Largo after several hours of nice and easy cruising along the Overseas Hwy.
The farther I moved east the thicker the traffic got until it had completely stopped and I was stuck in the thickest traffic I've been in in a very long while. That says a lot considering I live in Southern California, home to some of the gnarliest traffic in existence.
At first it didn't bother me so much. A quick check of Google Maps revealed what seemed to be an accident in the heart of Key Largo, and once past that it was smooth sailing all the way to Miami.
But there was no accident. The cause of this mess was simply the mass exodus of tourists like me leaving the Keys all at exactly the same time. It took two hours to go 5 miles, and I was not a happy guy by the time I got through that mess.
I try to keep an open mind when I travel, looking on the bright side of things as often as I can. Despite that, it was hard for me not to feel irritated after sitting in a nonmoving car for so long. I literally could've walked faster across all of Key Largo.
Traffic eventually eased going north out of Key Largo and into Miami, and by the end of it all I had spent 10 hours behind the wheel of that Mustang that day. Beach time in Key West? Exactly 5 minutes. I feel like and idiot typing that just now.
Is it worth driving all the way to Key West (and back) from Miami in one day?
There are certainly worse ways to spend a day, but when choosing between spending 10 hours in a car or sitting on the beach with my toes in the sand, I'll take the beach any day of the week. I should've just went to South Beach that day, as I returned to my hotel room that evening feeling exhausted, starving, and mildly irritated.
For anyone thinking about driving from Miami to Key West and back in the same day, I'll simply say this: don't do it! Key West is a neat (and quirky) place that needs to be explored slowly and casually from end to end spanning the course of several days – a brief five-minute stop isn't going to be worth your time.
Don't be stupid. Commit to Key West fully with a multi-day stay or don't go at all.