I've had the car for two weeks now, and I still love it just as much as the day I drove it home. Unfortunately, I had minor surgery last Monday and I haven't been able to drive it for an entire week. But today I went back to work and I couldn't wait to get back in that car. It's still amazing! Except for those ugly chrome wheels…
I decided not to put the wheel swap off any longer, so 20 minutes ago I ordered a complete tire and wheel package from tirerack.com. Long time followers of DriveAndReview know that I'm not one to modify cars (seriously, I've never put a single mod on any car I've owned post-college) so this is actually a pretty big deal for me. My first real car mod!
The wheels I ended up purchasing are black painted 18" Sparco Pro Corsa's.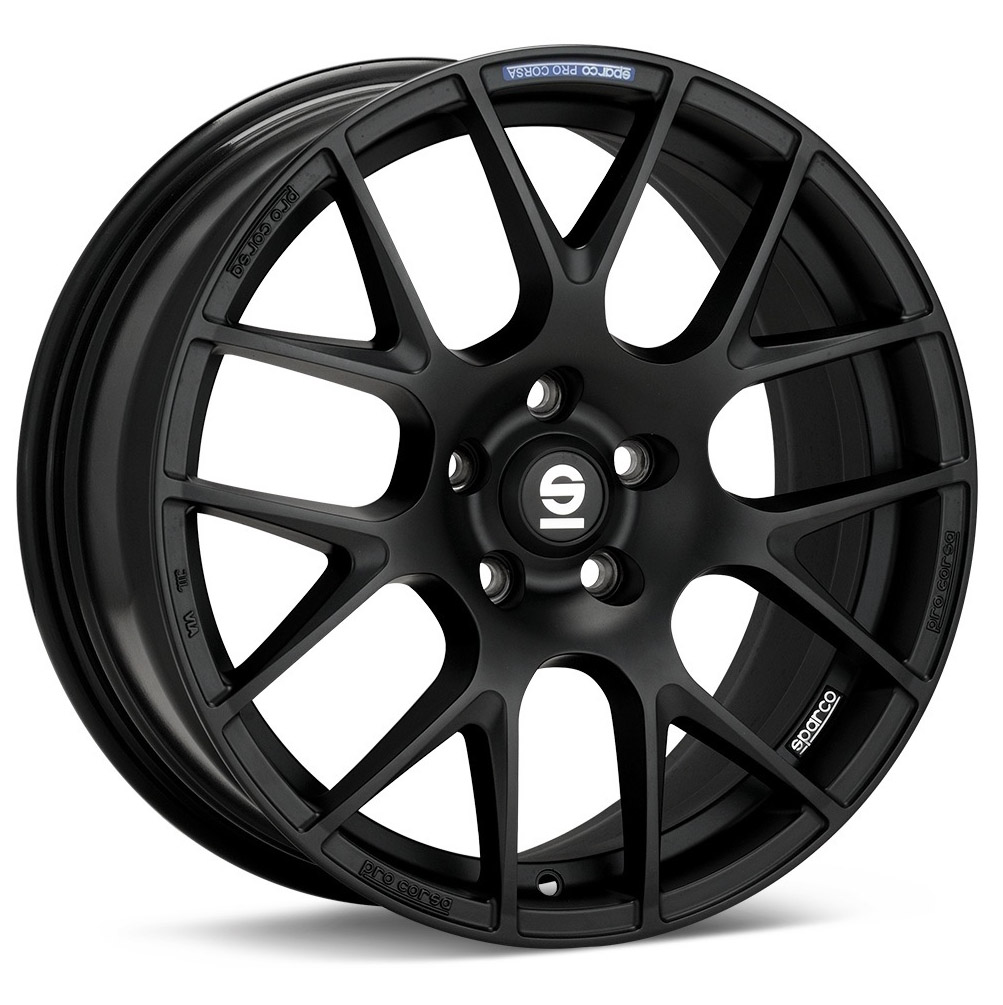 These aren't that much different from the style of wheel that is already on the car, though the spokes are a bit thinner which I think looks really cool. And the best part: they are black! That's going to look great on my white Mustang – a million times better than the blingy chrome hoops that are on there now. I don't know what it is about chrome, but I personally believe it doesn't have a place on any car 1975 or newer.
And before you blast me for sticking with the OEM 18" size, remember that this car is a daily driver that lives it's life parked outside. The last thing I need is a set of wheels that are prone to denting when hitting potholes, as well as drawing too much attention when parked on the street. And to be honest I was debating whether or not to do black wheels at all – it is kind of flashy, but I've always wanted a car with black wheels…so there.
As far as tires go, I went with Michelin Pilot Super Sports for no other reason that the reviews were pretty good and the price was right. Sure, there are cheaper tires available, but I've heard nothing but good things about the Super Sports from many people. Does my Mustang deserve a tire of that caliber? Perhaps not, but they weren't that expensive to begin with.
So this is it. My first ever real car mod! Those Sparco Pro Corsa wheels are going to look great, and I hope to have them on the car by the end of the week. One of the nice things about Tire Rack is that you can ship the pre mounted and balanced wheels direct to a local install shop, so there's no need to mess with hauling those things around yourself.
Pics coming soon!