How long does it take to buy a car? This is my experience…
Congrats! The time has come to purchase a new car. Whether you're in the market for a new vehicle or a used one, it's going to eat up a lot of your valuable time (more than you might think). If you've ever wondered how long it takes to buy a car, here is all the info you need to know:
It typically takes the average buyer four hours to purchase a car, assuming you have done your research beforehand and know what vehicle you want. It can take anywhere from a day to a week to buy a car if you have no idea what kind of car is right for you.
For what it's worth, the fastest I've ever bought a car (my used 1996 Mustang GT) was under an hour. On the flip side, it took nearly 6 hours of negotiation and paperwork to purchase my then brand-new 2004 350Z. I did all my research beforehand on both occasions, and I arrived at the dealership knowing exactly which car I wanted.
The following is an incredibly detailed breakdown of the car buying process (for both new and used cars), along with an estimation of how long each step takes.
It typically takes 4 to 6 hours to buy a new car
When buying a new car, you can avoid the time needed for a mechanical inspection but you may need to spend more time on financing. Though the following steps for purchasing a new car may seem time-consuming, they're very necessary to make sure that you buy the right car for you. These are the steps:
1. Research: 60-120 minutes
Knowing exactly what you're looking for will save you a lot of time when purchasing a new car. It's good to know not only what body e style you prefer, but what you can actually afford as well. And if you're doing the research anyway, you may even want to put together a list of the desired features you want.
This research will save you hours of time walking around the dealership musing over different makes and models.
2. Prepare your finances: 60-120 minutes
If you don't have enough cash to buy the car outright, you'll have two choices when it comes to paying for it:
Finance it
Lease it
It's best to figure out exactly how much you can afford ahead of time, so you don't get talked into more than you can handle. Financial experts advise consumers to put down 20% (or as close as you can get.)
Not knowing this ahead of time can add hours to the car buying process. You have no idea how much joy the finance managers at car dealerships get by "helping" customers figure out how to spend more than they can actually afford.
I saw this time and time again during my time as a lot boy at a large GM dealership during college. Those finance managers can be brutally sneaky.
3. Chose a dealership: 30-60 minutes
Look up dealerships in your area and check out the reviews before even leaving home. Don't be afraid to look further out for a better deal!
From my experience, some dealership experiences are better than others. Make a list of the best places you can get to in case you're unsatisfied with your first choice. It's worth it to do a little bit of extra research to save yourself some time and frustration later.
4. Test drive: 15-30 minutes
Now it's time for the best part of car buying: the test drive. If you're serious about the car you're looking at, take your time driving it around the area. Focus on how it feels to drive, and take note of the things you don't like.
Focusing only on the things you love leads to bad buying decisions. This is the best chance you'll have to decide if this is the car for you, so don't rush it.
Note that not all test drive experiences are equal. For example, figuring out how to test drive a Tesla takes some time if you've never done it before. Tesla has a very different approach to the car buying process.
5. Pricing and negotiation: 30 minutes
This is where your earlier research comes in handy. It's crucial to make sure the car you're looking at measures up both in quality and in price.
Having a number already predetermined in your head will not only help you get a better deal, but a faster one as well. Don't let a salesperson control the conversation; come prepared.
Better yet, go to a place where the price you see is what you pay (and there's no haggling involved). CarMax is great for this sort of thing. There are pros and cons to CarMax, but in my opinion, it's a very easy and convenient place to buy a car.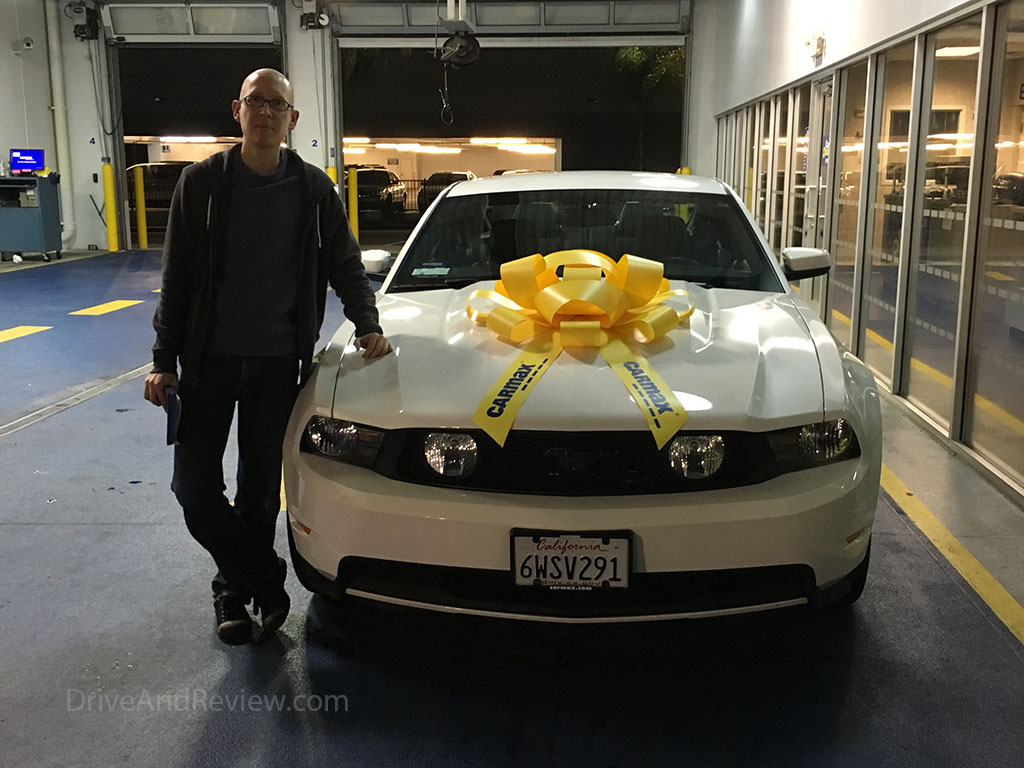 6. Sign the paperwork: 60 minutes
Paperwork can be the most tedious part of the car buying process, and I've always found it to take what feels like forever.
Here, you will work with a finance representative and decide if you're going to finance or lease a car. You'll also discuss insurance and warranty options.
It may take a few days to get approved, but if you've chosen the right dealership, the paperwork itself should go smoothly. If you're trading in your car, it may take a little bit longer.
7. Taking delivery of your new car: 30 minutes
Once the paperwork is complete, the dealership will clean and prepare your car for delivery. Be ready to wait. In my experience, 30 minutes is the usual wait time for this sort of thing.
It typically takes 5 to 7 hours to buy a used car
Buying a used car may take more time than buying a new one because you need to research the history of your chosen vehicle. This is important to make sure you don't accidentally buy a car that's has had multiple issues in the past! Not doing the research ahead of time is only going to give you more problems down the line. These are the steps:
1. Decide on your budget: 30-60 minutes
Before you even start looking for a used car, you need to know exactly how much you're willing to spend (both before and after the sale). You may be able to get a great deal on a used model, but even if the price is a steal, it's no use to you don't have any money left over for repairs and maintenance.
Stick to your price point so you don't waste your time looking at cars you can't afford.
2. Research and select your car: 60-120 minutes
Figure out what you're looking for in your next car, and research those specs against your budget. After you've decided which make and model is right for you, it's time to find it.
Be sure to make note of the average sale price for similar vehicles in your area. This will save you time negotiating later. An informed consumer is a happy consumer!
Despite what you may have heard from family and friends, the Kelley Blue Book (KBB) is not the best place for determining the value of a vehicle. All they provide provide is a vague estimate of what a car might be worth. I prefer to use actual sales data by monitoring the following websites:
3. Price check against dealerships in your area: 60 minutes
You want to be sure you're getting the best deal possible. Once you've chosen your car and noted the average price, it's time to check that number against dealerships and sellers in your area (again, don't be afraid to look a little farther for a better deal.)
You can look at both used car dealerships and independent sellers. You may get a better deal with the latter, but they probably won't do you the courtesy of polishing it up before you get behind the wheel.
4. Check the vehicle history: 30 minutes
There are several free websites that will allow you to search the VIN and look at the vehicle history before you even go see the car. This will save you time going to see cars that aren't worth your consideration. Here are two I've used in the past:
vincheck.info
vehiclehistory.com
Look out for any warning signs of mechanical issues, so you don't end up with a lemon.
5. Contact the seller or dealership: 30-60 minutes
Call / message the dealership or seller and express your interest in viewing the car. If they are responsive, this step can go quickly, and an appointment can be made as soon as the same day.
However, independent sellers can take longer to get back to you. Don't be afraid to consider other options if this is the case. Your time is valuable, and there are always plenty of other cars available.
6. Test-drive the car: 15-30 minutes
Take your time with this step, especially when buying a pre-owned vehicle. During the drive, take note of the interior and anything else you might not have got a close look at when walking around the exterior.
If you notice any problems with the way it drives, you might be able to use that as a point of negotiation to lower the price.
7. Have the car mechanically inspected: 30-45 minutes
This is a pivotal step when buying a used car, as there are many potential problems the average consumer might not notice. Inspections usually take less than an hour but can take as long as a day to get an appointment.
I highly recommend not skipping this step!
8. Negotiate a price: 20 minutes
You know what the fair price is, and you know what you can afford. Now it's time to put that research to work and negotiate the best deal possible.
This can go quickly if the seller is willing to work with you, but don't be afraid to take your time and hang tough if they're trying to overcharge you.
9. Seal the deal: 20 minutes
Once you've agreed on a price, it's time to sign the paperwork. If you're working with an independent seller, they will have to sign over the title to you. You will both need to sign and keep a copy of the bill of sale.
Note that an independent seller may request to do the money exchange at their local bank (just to be sure that the money you give them is legit). The more expensive the vehicles is, the more likely it is that a seller will require this.