01. Introduction: Cross country road trip in a 2015 Chevrolet Corvette Stingray
02: Day 1: San Diego, CA to Deming, NM
03: Day 2: Deming, NM to Amarillo, TX
04: Day 3: Amarillo, TX to Maumelle, AR
05: Day 4: Maumelle, AR to Knoxville, TN
06: Day 5 part A: Driving the Tail of the Dragon
07: Day 5 part B: Knoxville, TN to Salem, VA
08. Day 6: Salem, VA to Dulles, VA
09. Trip summary and final thoughts
10: Review: 2015 Chevrolet Corvette Stingray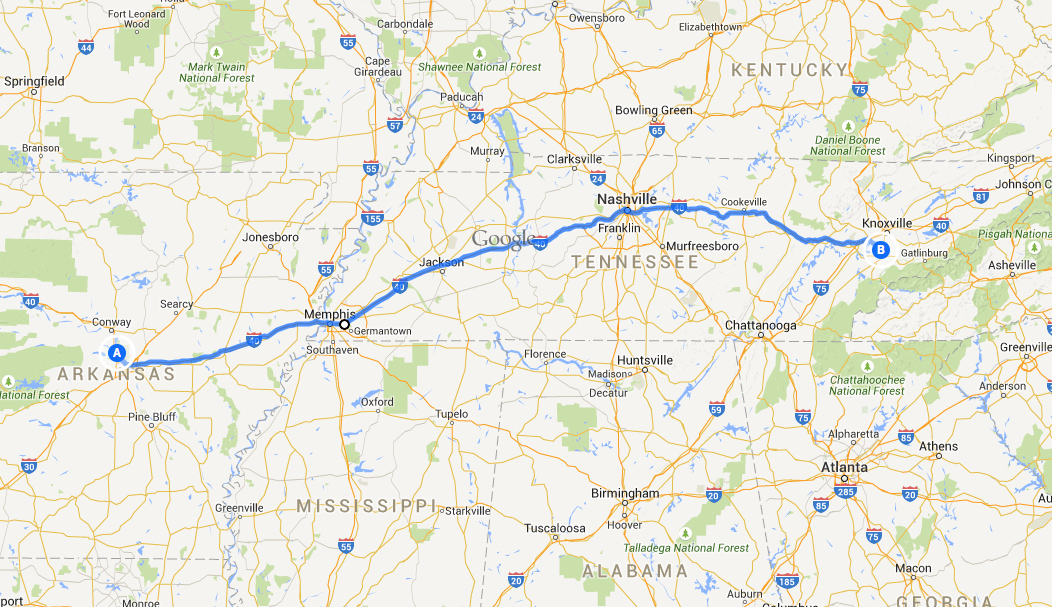 I can't even begin to tell you how happy I was to wake up to a halfway decent weather forecast for my drive to Knoxville today. According to the Weather Channel, it looked as if the skies would start off a little bit sprinkly, then taper off to be mostly dry for the rest of the day.
Yes!! After all the rain I drove through the day before, the last thing I wanted to see was more rain – especially when driving such a fun car as this Corvette. It was actually a pretty good car in the rain, but sports cars are always more fun when the roads are dry.
Just before starting the drive for the day, I discovered that this particular Corvette had the PDR (Personal Data Recorder) option, which will record video looking straight forward overlaid with real-time performance data. That got me pretty excited, so I installed a spare SD memory card into the slot in the glove box and decided that this is how I would record the majority of video for the rest of this trip (as opposed to the GoPro I had been using up until now).
That wasn't a totally wise decision – it wasn't until I got home and reviewed the video from both cameras that I realized that the GoPro was the far better way to go. The video that the PDR in the Corvette records is decent but not up to the quality of the GoPro, and I was bummed that I didn't experiment a bit before making this decision. Oh well. I'll post the entire video in segment 9 of this trip report, so stay tuned for that.
I topped the Corvette off with gas at the Shell service station located right next to the hotel before jumping onto I-40 east towards Memphis, and was really happy to see breaks in the clouds up ahead with sun shining through. But I was right in the thick of morning rush hour, so it took about 20 minutes or so to break free of that and reach open road.
Over the next few hours, I started to take notice of all the truck traffic. It seemed like most every vehicle I encountered was a large semi, and they were everywhere – I had no idea there was this much truck traffic between Little Rock and Memphis, and it was by far the most dense I had experienced on this road trip so far.
Also interesting was the ridiculous amount of speed traps once I crossed into Tennessee. It seemed as if there were state police cars hiding in the bushes at the crest of every hill, and this went on for hours. Watching my speed became the #1 priority for the afternoon.
Despite the traffic, it was a non-stop day of driving and I made pretty good time. I only stopped twice during the entire 8 hours to Knoxville: once at a rest area in eastern Arkansas to use the bathroom (pics above), and once to top off the car with gas. I think what inspired me to keep going was how beautiful the state of Tennessee is – lots of greenery and rolling mountains, and I forgot how pretty it is here.
It's been a long time since I've been through this area of the country, and it was a nice way to get reacquainted with it. However, I also started to compare it to the the driving I had been doing over the days before, and given the choice, I think I prefer driving through the wide open land out west.
I arrived in Knoxville smack dab in the middle of evening rush hour, so it was pretty slow going as I made my way to find a hotel. Unlike the previous three days of driving, I already knew where I would be staying for the night. Well, sort of. Since I wanted to drive the Tail of the Dragon the next morning, I had already decided that I would stay at a hotel adjacent to the Knoxville airport. The Dragon is only 1 hour south of there, and I figured I'd have plenty of nice hotel and food options in that area.
And many options there were. The problem was that it was 5pm by the time I was approaching the airport and route 129 was solid traffic. That made choosing a hotel difficult, especially when I accidentally drove too far past the airport and I had to turn around.
Let's just say that trying to turn back on 129 south during rush hour is nearly impossible. There aren't any stop lights to control traffic near the airport, so it's just a steady stream of cars moving at 50mph with no way to merge in. I ended up having to drive about 5 miles north of the airport before I found a suitable place to make a U-turn to make it back to the airport Hilton.
Day 4 complete.