Corvette mods that WON'T make you look like an idiot
For reasons I've never been able to figure out, people tend to go overboard with Corvette mods (and they end up looking like an idiot because of it). Yup – I'm the kind of person that would be happier driving a stock Corvette rather than one decked out in cheap-looking add-ons. Therefore, I'm dedicating an entire post to highlighting what I consider to bet the best aftermarket mods for the Corvette (all generations).
Please note: DriveAndReview.com is a participant in the Amazon Services LLC Associates Program, an affiliate advertising program designed to provide a means for sites to earn advertising fees by advertising and linking to Amazon.com.
These are the Corvette mods that'll have you (and your car) looking cool:
One of the things that you're going to notice from this list of classy and effective Corvette modifications is the fact that they're all relatively simple. As it goes for most things in life, simple is usually better. Especially when it comes to a near perfect car such as the Vette.
A performance-oriented exhaust system (the first Corvette mod you should do actually)
An aftermarket exhaust has always been one of the best Corvette mods. These cars sound amazing with less restrictive airflow, and the performance benefit is a nice side effect as well. The performance gains aren't substantial, but a less restrictive exhaust system certainly helps the car breath better – which translates into modest horsepower gains. Here are a few choices that are really good for the Corvette:
Borla 140017 Corvette Cat-Back "S-Type" System Exhaust
Made of corrosion resistant aircraft quality stainless steel which decreases the fatigue incurred on these parts during high performance uses

BORLA uses patented straight-through and multi-core technology to help increase horsepower and torque.

Precision manufactured using aircraft-quality stainless steel, guaranteed to look like new for one million miles.

Includes a split rear exit single round rolled angle-cut Phantom tip
One of the most frustrating things I see when it comes to people putting aftermarket exhaust systems on Corvettes is the fact that some wrongly associate volume with power. Having an obnoxiously loud exhaust is one of the worst Corvette mods ever, and whenever I see (I mean hear) someone do it, I can only hold my head in shame.
Loud exhausts are tasteless, annoying to everyone around you, and it usually sounds terrible. This is one of the reasons why I eventually unsubscribe to streetspeed717 and his YouTube channel. Mike has a ridiculous fetish for loud exhaust which is…annoying.
In my opinion, the perfect Corvette exhaust mod is subtle yet powerful. The CORSA Xtreme with Pro Series Quad tips is the perfect example of an aftermarket exhaust which not only increases volume only slightly, but provides a better (deeper) sound with a slight performance gain.
You can hear what it sounds like in the video below. No, I wouldn't qualify it as "annoyingly loud" as Mike states in the title of this video – that's just Mike doing his usual clickbait thing:
Sticky tires (no, this does NOT mean "chrome wheels")
A good set of tires is one of the best and most effective performance upgrades you can make to a car (no matter what kind of car it is). But when it comes to Corvette mods that aren't going to make you look like an idiot, a good set a tires is pretty much at the top of the list of things you need to do. Here are some great tire choices for the Corvette:
Every Corvette since the C4 has come with decent performance-oriented tires right from the factory. However, it is a street car intended for street driving after all, so Chevrolet had to make a compromise between all season safety and high-performance. There are much better tires you can buy for these cars than what they came with from the factory.
Prices pulled from the Amazon Product Advertising API on:
Product prices and availability are accurate as of the date/time indicated and are subject to change. Any price and availability information displayed on [relevant Amazon Site(s), as applicable] at the time of purchase will apply to the purchase of this product.
The Pirelli P Zero and Michelin Pilot Sport Cup are two of the highest rated all-season tires for the Corvette (as discussed on CorvetteForum.com). Although not tended for cold weather driving (and certainly not snow), these two tires have been proven over and over again as the top choice for Corvette owners looking for a tire that handles well both on the street and track. Increased grip, better feel of the road, and good looks make either of these two choices one of the best Corvette mods you can make.
Other really good tire choices for the Corvette:
The thing about tires is that there is an unlimited selection of really great choices out there. Your choice depends entirely on the type of driving that you do, and (honestly), it's hard to make a bad decision. Here are a few more really great tire choices for any Corvette from the C4 on up:
Image
Brand
Title
Prime
Buy

Top

Toyo Tires
PROXES R888R Automotive-Racing Radial Tire - 255/50ZR16 99W

Prime

Eligible

Check Price

Top

Goodyear
EAGLE F1 SUPERCAR 3R all_ Season Radial Tire-325/30ZR19 101Y

Prime

Eligible

Check Price

Top

Firestone
Firehawk Indy 500 Ultra High Peformance Tire 255/40R17 94 W

Prime

Eligible

Check Price
A word about chrome wheels
Finally, before moving onto more Corvette mods that aren't going to make you look like an idiot, I think it's important to mention the danger of chrome wheels. If you're putting new tires on your car, it may be tempting do you put new wheels on as well.
That's perfectly fine, but did you know that chrome wheels went out of style back in the 70s? Yup. It's true. Many don't seem to realize this, so I'm only mentioning it now as a gentle reminder to prevent anyone from making a potentially huge (and embarrassing) mistake.
Cold air intake
Are you starting to sense a pattern here? I'm just about ready to start talking about more really cool Corvette mods, and I've yet to mention anything about appearance mods. The reason for that is simple: the Corvette responds very well to performance mods.
Speaking of which, a cold air intake is probably one of the most effective (and cool) Corvette mods there is. It's extremely subtle, it makes your engine bay look really good, and the performance gains are significant considering the relative low cost of a good intake system.
For example, if you've got a C7 Corvette, the aFe Power 52-74202-1 Momentum Performance Intake System is one of the highest rated of them all. By simply bolting it onto your car, you'll get an instant 46 HP and 39 Lbs. Ft. of torque increase. That's huge considering how simple of a modification this is, which can literally be done by anybody. You don't need to be mechanic to do this.
Other really good (and highly rated) cold air intake systems for Corvettes:
Just as I mentioned in the section about tires above, you can't really go wrong when it comes to cold air intakes. Here are two others that my Corvette-owner friends can't say enough good things about:
Image
Brand
Title
Prime
Buy

Top

K&N
Cold Air Intake Kit: High Performance, Guaranteed to Increase Horsepower: 2014-2019 Chevy Corvette, 6.2L V8,63-3081

Prime

Eligible

Check Price

Top

SLP Performance Parts
21028 1990-1996 Corvette 5.7 Liter Blackwing Cold Air Intake

Prime

Check Price

Top

BBK
1726 Cold Air Intake System - Power Plus Series Performance Kit For C5 Corvette Titanium Silver Powder Coat Finish

Prime

Check Price
One of the other reasons that I really like adding a cold air intake system to any car (not just the Corvette) is how the increased airflow makes the car sound more aggressive.
Think of it as increasing the size of your own throat. The additional air you'd be able to suck in would be easily heard as well as felt, and you would sound like a total badass out there on the tennis court grunting, huffing, and puffing like a beast as you destroy your competition.
For the love of God, lower your car at least an inch
If Corvettes could talk, they would tell you over and over again that they like being low. I'm sure of it. It's just a hunch that I have, which I believe to be completely true considering how amazing these cars look when lowered slightly (but not too aggressively).
I should also note that suspension tweaks are very significant Corvette mods because they not only change the appearance of the car, but there are massive performance benefits as well.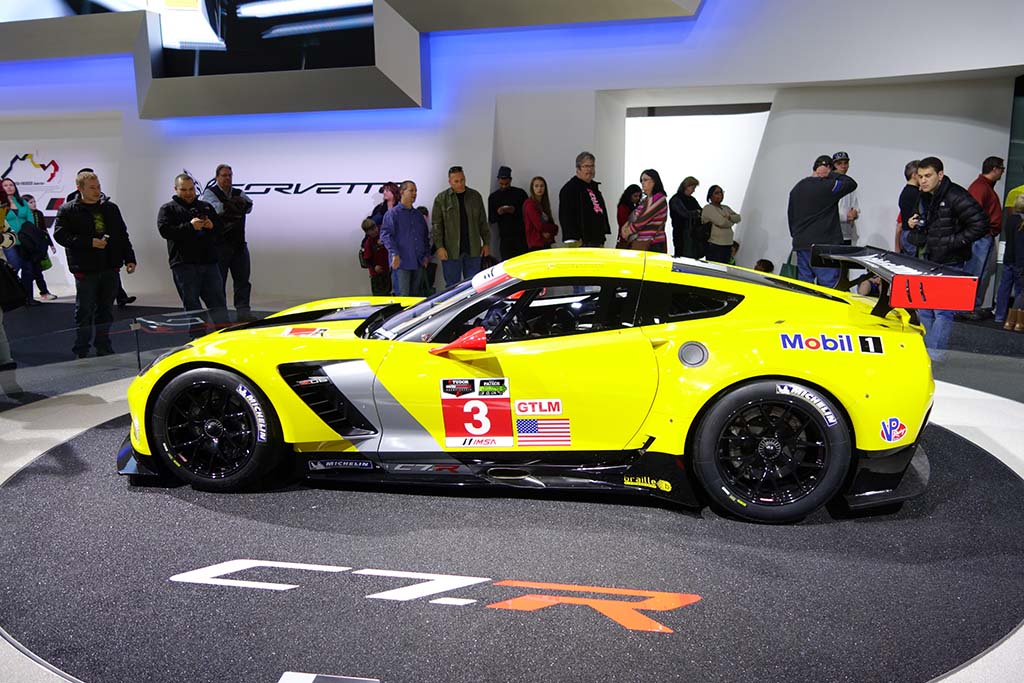 In my opinion, I'm always hesitant to recommend modifying the suspension of a late-model Corvette. Especially if it's your daily driver and you depend on it daily to get you to work and to run necessary errands.
Handling prowess has been the hallmark of the Corvette ever since the C4 was introduced in 1984. I'd even argue that the suspension is too good and over-aggressive for street driving. That's why I'm wincing a bit and clenching my butt cheeks as I recommend suspension tweaks as one of the coolest Corvette mods you can make.
How to lower your Corvette
As long as you're careful with your suspension modifications (and you don't try to redesign what the Corvette engineers spent years developing), you should be able to make some significant improvements with the following 2 items:
1. Lowering bolt kit:
If it were me doing mods to my own Corvette, I would buy a lowering bolt kit and be done with it. And when it comes to these kind of kits, there's the "cheap way" and the "little bit more expensive" way.
The cheap way:
The "little bit more expensive" (but better) way:
aFe Power 410-401001-A PFADT Series Lowering Kit
CNC Machined Stainless Steel, Articulating Ball Stud For Perfect Alignment Between Foot and Stud

Stud with Wrench Flats For Years Of Durable Service, Nylon Foot Pads For Smooth Articulation and Quiet Operation

Lowers Up to 1.25 Drop

Direct Fit, No Modifications Necessary

Manufactured and Assembled in the USA
2. Sway bars
If you can't resist the urge to go a little more crazy with your Corvette mods, replacing the sway bars along with a lowering bolt kit is something that should satisfy your itch. The Following suspension kit will not only lower your Corvette with a more aggressive (and amazing looking) stance, it will also give it racecar-like handling thanks to the upgraded sway bars.
aFe Power 440-401005-N PFADT Series Racing Sway Bar (Heavy Rate)
Provides flat cornering and increased contact patch, The ultimate Corvette racing sway bars, 4130 Chromoly Torsion Bars

Clear zinc finish for durability, Lightweight, 7050-T7 aluminum arms, 3-Way Adjustable front and rear, 9 total combinations

Laser etched adjustment markers, Includes centering rings, and all necessary hardware

Polyurethane Bushings, Direct Fit, No Modifications Necessary

Manufactured and Assembled in the USA
Beware though: this may be slightly too aggressive for street driving! You've got to be really hard-core to want to do this.
Remember what I said: keep it simple don't try to reengineer everything. The Corvette is an engineering marvel that was designed and built by some of the smartest people on this planet. Most of us don't have the ability to improve upon what these engineers have already done, so if you want to stay sane, keep your Corvette mods extremely simple.
Front splitters and spoilers are extremely cool Corvette mods
By now you should have a pretty good sense that when it comes to awesome Corvette mods, I am slightly against most anything appearance-related. There's nothing more offensive to me as an automotive enthusiast then seeing someone add tacky trinkets to the exterior of an otherwise beautiful car.
However, there's one kind of appearance mod that I am a big fan of: front splitters (also known as a front lip or spoiler). Yes, I completely understand that there is absolutely no aerodynamic performance benefit for street driving, but they just look so dang good.
My favorite front splitters for the Corvette:
The nice thing about the Corvette is that aftermarket support is strong. And because looks are such a subjective thing, there are a lot of really great front splitter options available. Here are some of my favorites:
| Image | Brand | Title | Prime | Buy |
| --- | --- | --- | --- | --- |
| Top | Extreme Online Store | 2014-2019 Chevrolet Corvette C7 | Z06 Stage 2 Style ABS Plastic Painted Carbon Flash Metallic Front Bumper Lower Lip Splitter with Side End Cap Extensions Pair | Prime | Check Price |
| Top | ECOTRIC | 2015-2019 Chevrolet C7 Corvette GM C7 Z06 & GS Stage 1 Front Lip Spoiler Splitter Replace for Part #22922352 | Prime | Check Price |
| Top | ECOTRIC | Front Bumper Lower Splitter Side Extension Winglets Compatible With 2014-Up Corvette C7 / EOS Z06 Stage 3 Style Replacement For #22922353 ABS Plastic Painted Light Gray Metallic | Prime | Check Price |
| Top | GT-Speed | CS Style PU Front Bumper Lip Under Panel Flat Splitter - Compatible With 1997-2004 Chevrolet Chevy Corvette C5 | Prime | Check Price |
To me, nothing makes a car look better then dropping it an inch on its suspension and adding a front splitter. It looks amazing, and you most absolutely won't look like an idiot with these two relatively simple (yet effective) modifications.
Well, you will look slightly like an idiot the first times you rip your front splitter off going over a deep pothole on lowered suspension. It will happen, trust me…
Finally, a few other really cool Corvette modifications worth considering:
In addition to all of the great (and ridiculously fun) mods I've listed above, the possibilities are endless when it comes to the Corvette. Here are a collection of some items that I'd seriously getting for my upcoming Vette purchase (no matter what generation I choose):
Image
Brand
Description
Prime
Buy

Top

Borla
60548 X-Pipe

Prime

Eligible

Check Price

Top

269 Motorsports
Speed Engineering C6 Corvette 1 7/8" Longtube Headers 2005-13 (LS2, LS3, LS7 Engines)

Prime

Check Price

Top

Edelbrock
1551 E-Force Street Legal Supercharger Kit

Prime

Eligible

Check Price

Top

Wilwood Brakes
CORVETTE 14" FRONT & REAR BIG BRAKE KIT WITH FREE BRAKE LINES & BRAKE FLUID, FORGED SUPERLITE FRONT & REAR, RED CALIPERS, DRILLED ROTORS, 1997 1998 1999 2000 2001 2002 2003 2004 CORVETTE C5

Prime

Check Price

Top

HINSON Motorsports
C5 C6 C7 Corvette Short Throw Shifter (Shifter Only) Handle Not Included

Prime

Check Price
Don't look like an idiot modding your amazing Corvette!
The way people mod their Corvette's is kind of sad actually. It's an amazing car. It's extremely fast in a straight line, pretty quick around the corners, and extremely easy to modify (I declared it one of the best sports cars under $50k actually).
These cars respond extremely well to aftermarket parts and upgrades, and for relatively little money, it's extremely easy to transform into an ultra-high performance machine capable of dominating the local track.
I remember being 10 years old in the mid-1980s looking at Corvette parts catalogs and dreaming of the day that I would have a Vette of my own. I had notebooks full of lists outlining all of the mods I was going to make my own Corvette once that day came, and thinking back on it, it was really hard for me to resist all of the crazy wings and decals and other ugly stuff that I hate so much now.
I guess what happened was that I grew up. And the only thing that I can think when I see another adult who modifies his or her Corvette with these ugly little trinkets and add-ons is that they're still stuck in their adolescent 10-year-old ways. I'm not hating by the way. I'm just making an observation.
The biggest problem I see when it comes to people modifying Corvettes is the fact that there are an overwhelming number of aftermarket parts suppliers for this car. Companies like Ecklers aren't helping, especially with their huge inventory of pretty much every aftermarket accessory you could ever imagine (and then some) for any model year Corvette.
In other words, there are far too many choices, and sometimes people get caught up in it and they want to try a little bit of everything. Decals, tail light louvers, chrome accents – these are examples of Corvette mods that will have you looking like an idiot if you attach them to your car. There. Yes – I said it. Nobody likes tacky accessories.
What about you? What kind of Corvette mods do you love and hate? I want to know!