What is the best used SUV under $10,000?
Are you looking for a budget SUV? One where you still have the capacity to carry your family and friends all over town (and still have the ability to go off-road without a hitch)? Most SUVs are commonly used as family vehicles due to the size, and are also popular for travel and camping adventures due to the amount of luggage that can be stuffed inside.
However, a brand new SUV right off the dealer lot is an extremely expensive purchase, and high prices are what keep most buyers from buying what they really want. Thankfully, used models are plentiful and (relatively) cheap. To prove it, I decided to put together a list of my picks for the best used SUV under $10,000.
Two important things to note before picking the ultimate budget SUV:
First, in order to make this as useful as possible, I'm going to list out all of the used SUVs under $10,000 that I think I worth considering (along with a quick overview of each). At the end, I'll pick my favorite along with an explanation as to why.
Second, keep in mind that $10000 does not go as far in the used market. For that amount, you're likely going to have to settle for a model with higher mileage if you want one fully loaded with all the options. It is still possible, though, to get a very reliable (and fully featured) used SUV under $10,000 if you're willing to shop around.
This is an earlier version of the best-selling compact SUV that Honda hit a home run with so many years ago. It looks good, it's extremely dependable, and resale values are high.
The older models are still very desirable even though the styling has evolved over the years into a slightly larger version of the original. Best of all, it's possible to find low-mileage / good condition examples for very little money, and is a very good option if you are looking for the best used SUV under $10,000.
The 2008 Toyota RAV4 is, quite frankly, the original compact SUV. It is relatively small in size, but the best value for your money if you don't mind buying one that is more than 10 years old. The RAV4 is easily one of my pics as a sub-$10,000 option, as it represents everything good about the Toyota brand (high quality and durability).
This rugged off-road monster SUV is perfect for outdoor adventure – as well as daily use in the city. The reason why the 2009 Nissan Xterra is amongst the best used SUV's under $10,000 is because of its off-road capabilities, amazing styling (subjective, I know), and durability. This is definitely one to consider if rugged style is high on your wish list.
This is a boxy version of a traditional SUV, and therefore, not appealing to everyone (it's an acquired taste for sure). Dependable and safe with full-time all wheel drive, it is a good option for young growing families who require practical daily transportation. Whether or not you like the looks, it's worth considering as one of the best used SUVs under $10,000.
This older generation of Escape is not as refined as the current generation (check out my full review of the 2018 model), but it is a great value for an SUV – despite being built on a car platform. They are abundant on the used market, and clean low mileage examples are easy to find for an average price of $9943 (yeah, I did the math).
Even though Mitsubishi's sales are not what they once were, and they no longer have a huge dealer network, the 2011 Mitsubishi Outlander is an attractive, reliable option which easily falls into the best SUV under $10,000 category. Why? The comfort and utility is hard to beat in my opinion, and is very highly rated by owners.
The 2007 Acura RDX is a luxurious, compact, and sturdy SUV with the Honda / Acura name behind it (which translates to "reliable"). It falls into the Acura lineup just after the 3-row MDX, and is a stylish and sporty option for those who are looking for something a bit more upscale. It's extremely fun to drive, and an absolute bargain at around $9737 (average price).
A spectacular European import, the 2009 Volvo XC90 offers plenty of room, Volvo's guaranteed safety, and a tall ride height. However, it may not be as bulletproof as some of the Japanese models (such as the RDX mentioned above), so it would be wise to look elsewhere if dependability is your number one criteria in a SUV under $10,000.
As one of the best used SUVs that you can get for under $10,000, the 2009 Chevrolet Tahoe is perfect for anyone who needs to carry a lot of people (or stuff). This full sized V8-powered SUV has strength, room, and durability to cater to all your domestic needs. They are also pretty easy to find, going for just $9600 (on average).
This specific model is classified as a two row crossover, and more compact than earlier versions. It retains the company's "fun to drive" DNA, and is amongst the cheapest used SUVs on the market going at just $9550 (well under $10,000).
First of all, the VehiCROSS looks like a spaceship, and well…how cool is that? It was designed to stand out in a sea of cookie-cutter SUV's from other manufacturers, and is one of the most capable off-road SUV's of the past 20 years.
Despite it being only having two doors, the VehiCROSS is comfortable and adequately equipped, with more than enough space for cargo. They are, however, not that easy to come across due to the limited production run. If you can find one, it's the perfect vehicle for the winter season, and one of the best used SUV's you can get for under $10,000.
Super reliable, super practical, and super bulletproof. Perfect for off-road and winter drives, the Jeep Cherokee was built for extreme conditions. Let's be honest though – both the exterior and interior are a bit last century (quite literally), but it is still one of the most capable SUVs out there.
Personally, I can't believe clean Cherokee's are selling for less than $10,000 on the used market. There's a huge cult following behind these things (the good kind), which can sometimes drive the price up Act fast if you find a good deal!
The second generation of the Hyundai Santa Fe is one of the most sensible SUVs there is. It offers a plethora of desirable safety equipment (Electronic Stability Control, side curtain airbags, tire pressure monitoring, front head restraints, etc). With it's powerful V6 engine option, it has more power, economy, and refinement than many of its competitors.
Note that you're likely to hear a lot of complaints from past owners (for things such as a faulty fuel gauge, paint chipping, and engine stalling) but make no mistake about it – if you can find a clean low-mileage example that's been well taken care of, it's one of the best under $10,000 SUV bargains out there.
Even though this 2008 BMW X3 0Si model is better suited for sporty / active types, it is still a very good family vehicle. The questionable styling (what's the deal with those odd front lights?) may not be all that attractive to some, but it definitely is amongst the best used SUV's under $10,000. The best thing about the X3 is that it's pure BMW, meaning that you'll get all the goodies such as Bluetooth, eight speaker audio system, leather seats and keyless entry.
In the category of "best used SUV under $10,000", it's hard to beat a Kia. The Soul has car-like efficiencies, with an upright driver's position and enough room for all your cargo. At the same time, Kia is a very quality brand known for efficiency and practicality. The later models are better value for your money, since they are more feature-rich than their predecessors.
Ok, yeah, the Durango is a gas guzzler. But with 385 hp on tap, this is the SUV to choose if you want something that has a bit of muscle behind it. It also has numerous creature comforts, such as electronic stability control, park assist, tire pressure monitoring system, and a one-touch turn signal.
Even though it drinks more fuel than other models, it is very roomy (and family friendly) thanks to it's large size. It also has the highest towing capability in it's class, which is perfect for boat owners.
The 2007 Nissan Murano is futuristic-looking SUV, and clean low-mileage examples can be found for much less than $10,000. The only problem worth noting is the sometimes-jerky CVT transmission, which has been a negative "feature" for many. However, if you can live with that, the Murano features nice styling, sporty driving features, and very practical safety equipment.
The 2010 Kia Sportage is affordable, practical and great value for your money. It is a modest SUV that will cater to all your daily driving needs thanks to its upright driving position and commanding view of the road.
A word of warning though: be careful to check the throttle position switch and transmission, which was a common problem on these models. However, there's no need to worry if this is the SUV you've got your heart set on, as it's a quick and easy fix via a simple software update.
Finally, it was named one of the most reliable vehicles of 2009 by Consumer reports, thus giving me even more reason to include it in my nomination for the best used SUV under $10,000.
The Tiguan does not offer as much interior room and storage space as some of its other counterparts, but it makes up for that by being rather peppy and refined (which is the reason why I'm including it in this list). Keep in mind that it is a Volkswagen though, meaning that it's a model prone to engine problems. Be sure to do your research to ensure that the one you're looking to buy is problem-free.
A full sized beauty (to me anyway), the 2006 Ford Expedition may be the best bang for the buck in the "best used SUV under $10,000" category. The 2006 is an older generation, obviously, but it is still very strong and super functional. If you're looking for a full-size V8 beast of a family hauler, the Expedition is most certainly it.
The Japanese sure do seem hell bent on creating the best used SUV out there. The 2006 Highlander is propelled by both four and six cylinder engines (not in the same vehicle duh) with generous amounts of power, thus making it a fantastic choice for a family-orientated SUV.
It's long list of safety equipment puts it at the top of the list for a family-hauling vehicle, and despite their age, they are easily one of the best used SUV's under $10,000.
Note: be sure that you're aware of all the most common Toyota Highlander problems before buying one. There are some doozies you need to know about.
The Outback (love it or hate it) is one of the most capable family vehicles in existence – hands down. Devoid of unnecessary frills, it's a rugged truckster that can easily take anything you give it. This the perfect SUV for those with small children who make big messes!
The Chevy Equinox is easily one of the best used SUV's under $10,000, and here's why; It is extremely versatile, and has been one of General Motor's top three best selling cars in the United States for the past 5 years. It's loaded with active safety tech such as pre-collision and lane departure warning systems. It also comes with Bluetooth connectivity to keep you and your family entertained on long road trips.
The LR3 has superior off-road capabilities, and is oozing at the seams with style and presence at an affordable price. The interior is hard-wearing and washable, which makes it ideal for family use. It is also perfect for embarking on an adventure in the wild, so don't be afraid to stuff it with your camping gear and head off the beaten path!
Despite its boxy and conservative appearance, the 2010-2013 Honda Element is a good used SUV under $10,000 thanks to it's full time all wheel drive and better than average fuel efficiency. Rear half doors make loading heavy cargo easy, so the convenience factor is higher than most other vehicles in it's class. And (as if it couldn't get any better), the Element has durable rubber flooring, making it easy to clean and suitable for people with active lifestyles.
This is a full-sized SUV with seating of up to eight people. The second and third rows can fold flat, making it almost a minivan – which is perfect for carrying large amounts of cargo (and or a very large family). And since it's a Ford, maintenance and repairs are easy for even the most basic of local repair shops.
The Kia Sorrento has always been a great new car value, and I'm completely convinced that it's one of the top contenders in this "best used SUV under $10,000" competition. It has amazing styling, and can seat up to seven people (fairly comfortably I might add). High-end models feature perks such as perforated leather, touch screen entertainment and keyless entry. The second row seats are also heated, which is rare even for new vehicles today.
Did you know that the Lexus RX is the best-selling luxury SUV of all time? Available in both front wheel drive and all wheel drive, either option is just as luxurious as the other. It is a Lexus after all, so if feeling spoiled rotten by your SUV sounds fun, consider the RX.
The best used SUV under $10,000 is…
The 2014-2018 Kia Soul! Seriously – what's not to like about this compact SUV from Korea? It has an exceptionally spacious cabin, it's comfortable, and build quality is top-notch (especially in newer models). Kia is also a brand that has been very consistently good over the years, and they're only getting better. Fuel efficiency is at the top of it's class (30 mpg), which is very important for a second-hand SUV under $10k.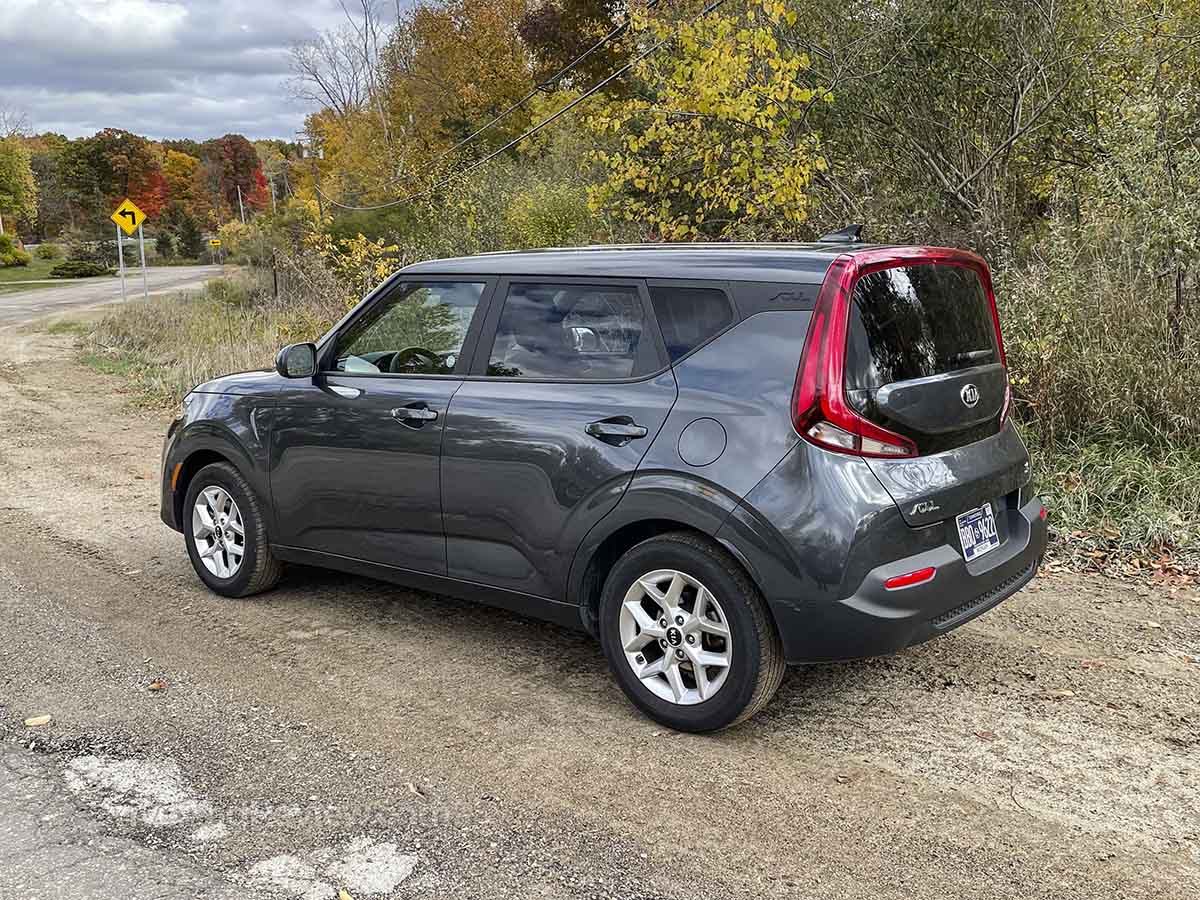 FYI, Kia offers a long warranty period (10 years or 100,000 miles) on new vehicles, which is extra reassurance of great build quality.
To be quite honest, I'm surprised I don't see more Kia Soul's roaming the streets here in San Diego. It is popular for sure, but I don't think Kia did a very good job of marketing it. As far as I'm concerned, it's one of the best-looking SUV's out there and it's a lot of vehicle for the money.
At the very least, test drive one if you're in the market for a safe and reliable family hauler – I'm willing to bet you're going to like it!