What are the best project cars in regards to performance, style, and overall value?
So you want a project car. A car that you can build to your exact taste. A car that's truly yours and nobody else's. Don't worry. I totally understand. I've been having the urge to build a project car of my own lately, and the amount of research I've been doing has been insane. Based on what I'm seeing, these are the 5 best project cars right now based on aftermarket support and overall bang for the buck:
Nissan 350Z
1994-2004 Mustang
E92 BMW 3 Series
Mazda Miata (1st or 2nd generation)
C5 Corvette
I know. That first paragraph was loaded with little nuggets of information which probably have you scratching your head. Research? What exactly kind of research did I do? Well, it basically involves watching copious amounts of YouTube every day, to the point where I'm starting to question whether or not I'm becoming addicted to automotive rebuild channels.
Another little nugget I need to address is my inclusion of the words "right now". You see, a good project car today might have not have been a good project car car 10 years ago. And it may not be 10 years from now either.
It's an extremely fluid market, and you've got to be ready to pivot at a moments notice to make sure you pick a car that isn't going to frustrate the heck out of you. Anyway, grab a bucket of popcorn (maybe even a notepad) and read on. there's a lot to unpack here.
A detailed list of the top 5 best project cars
To prevent this article from getting totally gnarly and out-of-control, I'm just going to run down the list of what I think are the best project cars right now. These are simply what I consider to be the top 5, but I'm willing to bet that most automotive enthusiasts will agree with me on my choices. I'll break down this list even further into specific categories after.
1. Nissan 350Z
The Nissan 350Z is probably the best project car recommendation I have. Mostly because it's an extremely versatile platform that you can basically turn into whatever you want. Believe it or not, the 2004-2008 Z not just for people looking to do a JDM style show car.
If you want to drag race, the 350Z can be built that way. If you want to drift like TJ Hunt, it's an excellent drifting platform. If you want to get really crazy, take advantage of one of the many LS V8 engine swap kits on the market and have fun.
There's a reason why nearly every major automotive YouTuber has picked up a 350Z project car (or two) over the past several years. Adam LZ has two at the moment, as does TJ hunt. Heck, even the Goonzquad Brothers got in on the action with a crazy little build last year.
Used 350Z's are plentiful and getting cheap, and the aftermarket parts seem is growing. If I was going to build a project car today, it would be the 350Z. More than anything, I wish I never would have sold my 2004 base model to buy a Honda Fit back in 2010.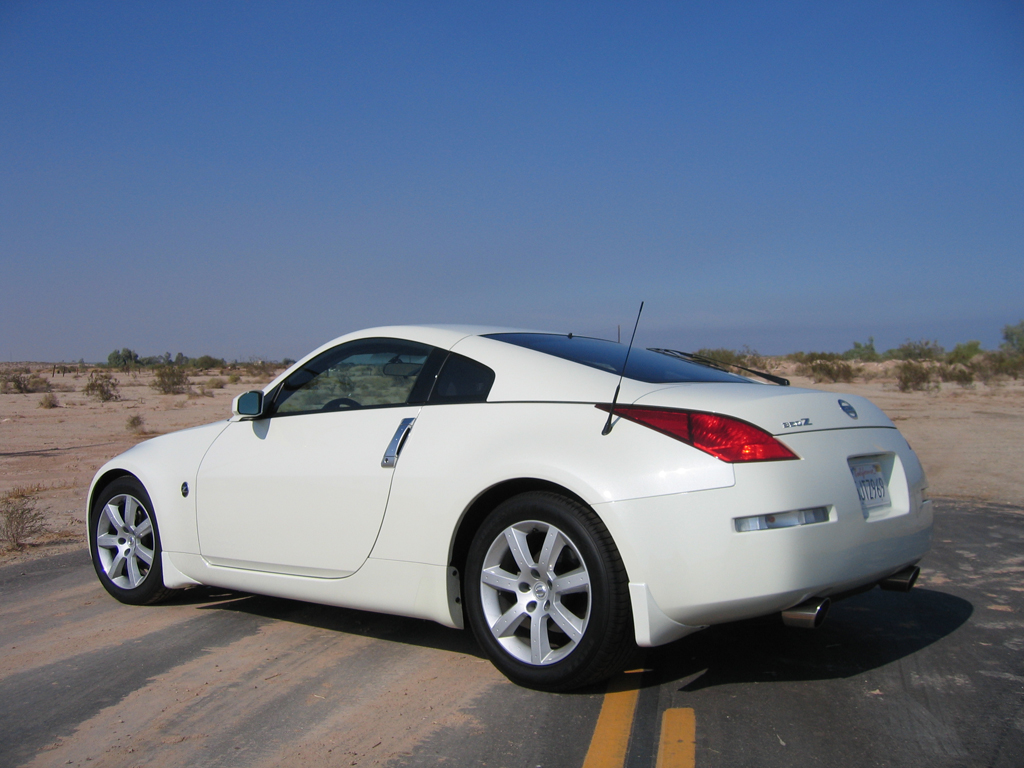 2. 1994-2004 Mustang
Again, just like the 350Z, the 1994-2004 (SN95) mustang is an incredibly versatile platform from which to build from. It may not be as good looking as the Z, but there are an unlimited number of parts and aftermarket accessories for this car that will allow you to create nearly anything you desire.
The best part about this generation of Mustang is that they are extremely reliable. They're extremely tough as well, which I can totally vouch for since I've had two so far. My 1996 Mustang GT was a trooper, and I never once had a problem with it in the four years that I owned it (2012-2016).
I should also point out that it was no coincidence that the 350Z and Mustang GT were #1 and #2 on this list. They are both fantastically fun cars, and I recommend reading my 350Z vs Mustang GT comparison to find out why.
3. E92 BMW 3 Series
I'm personally not much of a BMW fan, but I will fully admit that the E92 BMW 3 Series (2006-2011) is a fantastic project car. You can pick up a used one relatively cheap these days, and if you're willing to do a lot of the work yourself, maintenance and installation of aftermarket parts isn't all that expensive.
The best thing that this car has going for it is that they are plentiful and there are a lot of parts available (both factory and aftermarket).
Personally, I never realized this until I started watching Spencer Berke build up his M3 on YouTube for the past two years or so. I was blown away to see so much aftermarket support for these cars, and I will admit that I've even felt a twinge of temptation to build my own lately. When built right with the best parts, those E92 BMW 3 series are fine looking cars for sure.
4. Mazda Miata
Full disclosure: if I was going to build a project car, and I couldn't get a 350Z, I would most definitely build up a Mazda Miata instead. The first and second generations are the most ideal since you can find them for relatively cheap on the used car market.
Aftermarket support is also much stronger for the earlier cars than the modern versions. And if you want my opinion (most people don't lol), I'd have to say that the first and second generation Mazda Miata are the best looking. By Far.
Now, it's important to note that I've actually never driven one of these things. However, every time I walk past one in a parking lot, I can't help but to get a feeling deep in my gut that it's the car for me. It's small, perfectly balanced, and looks great tastefully modified with the right parts.
By the way, it also looks great modified with a hacksaw and a sledgehammer. Check out Taylor Ray's Miata drift build for an idea of what's possible with a Mazda Miata project car.
5. C5 Corvette
Nope. I'm not much of a fan of the C5 Corvette at all, but I can say without a doubt that it is one heck of a great car to build on. It responds to modifications so well that I just had to include in this list of the best project cars.
My biggest gripe with the C5 is that it's so big. However, it's arguably one of the best handling cars built in the last 20 years, and it can be made even better with just a few aftermarket suspension parts bolted on.
Being LS-based, engine modifications are unlimited. Not only that, engine swaps are relatively easy with the C5 thanks to huge aftermarket support from a variety of online retailers.
Think about it. Rob Feretti built his empire with a C5 Corvette. Cleetus McFarland just bought a C5 to be his dedicated drift car. These are very capable machines and the possibilities are unlimited when it comes to building one of your own.
Please note: Some of the links below are affiliate links (both Amazon affiliate links and others). Note that DriveAndReview.com is a participant in the Amazon Services LLC Associates Program, an affiliate advertising program designed to provide a means for sites to earn advertising fees by advertising and linking to Amazon.com.
What's the best "budget" project car?
That's easy. The best project car for those on a budget is (without a doubt) the Mazda Miata. These cars are everywhere on the used market, and it's not all that difficult to find a clean one with relatively low mileage for under $5000.
The best part is that aftermarket parts for the Miata can be had relatively cheaply as well. For example, these are the modifications that I would do if I had a Miata and I didn't have a lot of money to spend:
| Image | Description | Buy |
| --- | --- | --- |
| | R1Concepts KEDS10544 Eline Series Cross-Drilled Slotted Rotors And Ceramic Pads | Check Price |
| | K&N Cold Air Intake Kit: High Performance, Guaranteed to Increase Horsepower | Check Price |
| | Ksport CMZ200-KP Kontrol Pro Damper System | Check Price |
| | NOS 05122NOS Import Nitrous Dry System | Check Price |
| | Toyo Proxes R888R Autocross and Track tires | Check Price |
What's the best "go fast" project car?
If speed is your primary objective when it comes to a project car, I'd recommend the C5 Corvette. It's already a fast straight-line car right out of the box, and the added bonus is that it corners extremely well too.
For the amount of money that you spend on a Miata (and then all the aftermarket parts to make it fast), you could buy a stock low-mileage C5 and have a car that's even faster.
FYI, I wrote an entire article about the best mods for a Corvette a short while back (the kind that won't make you look like an idiot), and I'd recommend reading that to get a primer for an idea of what's capable with these cars. Not only that, here is a list of first modifications that I would put on a C5 of my own:
Image
Brand
Description
Prime
Buy

Top

Borla
60548 X-Pipe

Prime

Eligible

Check Price

Top

269 Motorsports
Speed Engineering C6 Corvette 1 7/8" Longtube Headers 2005-13 (LS2, LS3, LS7 Engines)

Prime

Check Price

Top

Edelbrock
1551 E-Force Street Legal Supercharger Kit

Prime

Eligible

Check Price

Top

Wilwood Brakes
CORVETTE 14" FRONT & REAR BIG BRAKE KIT WITH FREE BRAKE LINES & BRAKE FLUID, FORGED SUPERLITE FRONT & REAR, RED CALIPERS, DRILLED ROTORS, 1997 1998 1999 2000 2001 2002 2003 2004 CORVETTE C5

Prime

Check Price

Top

HINSON Motorsports
C5 C6 C7 Corvette Short Throw Shifter (Shifter Only) Handle Not Included

Prime

Check Price
What's the best "show car" project car?
If "best project car" to you means "the best looking car", then you can't go wrong with the 350Z. at the time of this writing, there seems to be more aftermarket support for customizing the looks of a 350Z than there are for performance enhancements. As well, the JDM tuner show car scene is really hot at the moment, so it's basically the car to have if you want to show up to one of those events in style.
I should also note that usually any Japanese car is a good platform for a project car (based on aesthetics only). From what I can see, aftermarket body kits and other visual elements are so much better for Japanese cars than they are for US and European cars.
What cars don't make good project cars?
As a car enthusiast, it's hard not to fend off the feeling of wanting to build a project out of nearly every car that I've ever been interested in. However, one of the things that I've learned as I've moved through life is that things aren't always as good as they seem. That's especially true when it comes to cars. There are definitely a handful of them that you'll want to stay away from:
Any Porsche
Unless you're a diehard Porsche fan, chances are high that you're going to get really frustrated as soon as you pick one up as a project car (unless you're Magnus Walker, that is). Parts are extremely expensive, very hard to come by, and there just isn't very much aftermarket support compared to what you'll see for other brands.
Whatever you do, do NOT fall for the temptation of that $5000 Porsche on craigslist. Just know that it's likely to require $10,000 worth of parts (likely more) just to get it somewhat reliable again.
Any Mercedes built in the last 20 years
Again, just like Porsche, a 20-year-old Mercedes Benz is going to be a maintenance nightmare. You'll have to really want a Mercedes in order to put up with the frustration of paying obscene amounts of money for parts and labor alone. Remember: there's a reason why these cars are so cheap on the secondhand market.
Completely stock classic cars
Please. For the love of God. Don't buy a completely stock classic car to be used as the base for your next project. I died a little inside when TJ Hunt bought a 100% stock 50,000 mile JDM Toyota supra in 2018. Why? Well, TJ had built up a reputation as a guy who wasn't afraid to hack and cut up anything, so it was completely disheartening to see him choose that specific car for a big project.
Please, if you're going to do a major build, don't choose a low-mile museum piece. You're just doing a huge disservice to the entire automotive community whenever doing so.
If you're going to cut up the car anyway, why not start with one that needs a little bit of work? It doesn't have to be a total piece of junk, but you'll earn a far more respect in the automotive community if you save a car rather than destroy one.
3 more really good project car ideas:
I realize that this list of the best project cars is massively biased towards my own preferences. Therefore, I'd like to present to you a list of some other ideas that I personally wouldn't consider (even though they would still make awesome project cars):
2000- 2010 Ford F-150: Let's face it. Trucks are the best-selling vehicles in the US right now, and that's a statistic that isn't showing any signs of slowing down. Trucks are everywhere, and it's turning out that the 2000 to 2010 Ford F150 is becoming a cult classic here in the US. Since they're literally everywhere, it means parts are cheap. They're also insanely easy to build on, so the sky is the limit when it comes to a truck build such as this.
First generation Tesla model S. Although aftermarket support for the Tesla model S isn't that strong yet, prices of these amazing cars have been coming down nicely over the past several years. Considering how popular and IN DEMAND Tesla's are at the moment, you're going to be a superstar for turning a plain Model S into something truly special. If I had unlimited funds, I would definitely add a Tesla Model S to my garage as a project car.
2002-2007 Subaru WRX. The "bug eye" WRX is the car that made me take notice of Subaru back in the early 2000's. Before then, I had little interest in this little car company from Japan – I'm sorry, but I just couldn't help to think that they made crappy cars, ok? Anyway, the giggles that passed over my lips while playing Gran Turismo on my old Sony PlayStation will never be forgotten. The 2002 to 2007 Subaru WRX is an amazing platform from which to build from, and better yet, aftermarket support for these cars is insanely strong to this day.