Why is it that it's always the most difficult questions that we seek answers to? For example, does a falling tree in the forest make a sound if there's nobody there to hear it? Perhaps you've wondered what the meaning of life is? No doubt we've all pondered those questions a time or two in our lives, but if you're a car person, there's another one that has likely kept you up at night (at least once) over the years: what was the best Chevrolet of all time?
If this question has never once caused you to toss and turn into the wee hours, how can you consider yourself to be a car person?
What does "best" really mean?
When setting out to declare something as the "best", it's usually important to define what the "best" really means. This is especially more difficult when it comes to cars, because the automobile means something different to everyone. For some it's a not-so-exciting but very necessary mode of transportation to get from point A to point B. For others it's a important tool for the job (for whatever kind of job they may do).
But for the rest of us who enjoy reading and thinking about this kind of stuff, it goes a lot deeper than that. To us, the automobile is very special and integral part of our lives. It's an object which ignites enthusiasm and passion, and for many, very welcome distraction from the demands and pressures of daily life. However, even then, "the best Chevrolet" is still very difficult to define.
To make things as fully objective as possible, the definition of "best" that I am going to use in this article is going to be a combination of things we can measure with data and statistics, mixed in with some emotional components that are common to most people.
The nice thing about a brand as large as Chevrolet is that there is a lot of hard data to work from. The first Chevrolet rolled off the assembly line way back in 1913 (you can read about the history of Chevrolet past models here), and it has built up an enormous reputation here in the United States. It's a brand that is as American as a brand can get, and it's reach is far and wide.
On top of that, nearly everybody in the United States has a connection with Chevrolet in some form or another, so it'll be somewhat easy to identify which particular Chevrolet model has made the biggest emotional impact the population over the years. With that said, let's take a look at some of the most important and iconic Chevrolets ever made.
The nominees for the best Chevrolet ever made are:
I'd like to point out that this article is an opinion piece, built from my own personal thoughts and experiences about the Chevrolet brand. It would be pointless for me to list out every model of Chevrolet that has ever been made, so please note that if I didn't include your favorite model, it doesn't mean that I don't think it's significant.
When it comes right down to it, every Chevrolet ever made has played a part in making this such an iconic brand. As far as I'm concerned, they're all deserving of the the "best Chevrolet" title, but that would make for a boring article. With that out of the way, let's get right to it:
1957 Bel Air
I know. This is the obvious choice. But it's a very important one because the 1957 Chevy is arguably the most iconic automobile of all time – at least here in the United States.
The honest truth is that it wasn't all that great of a car in terms reliability and build quality, but it's practical and convenient body style made it incredibly popular right from the beginning. It was large yet fun to drive, powerful, and very easy to customize.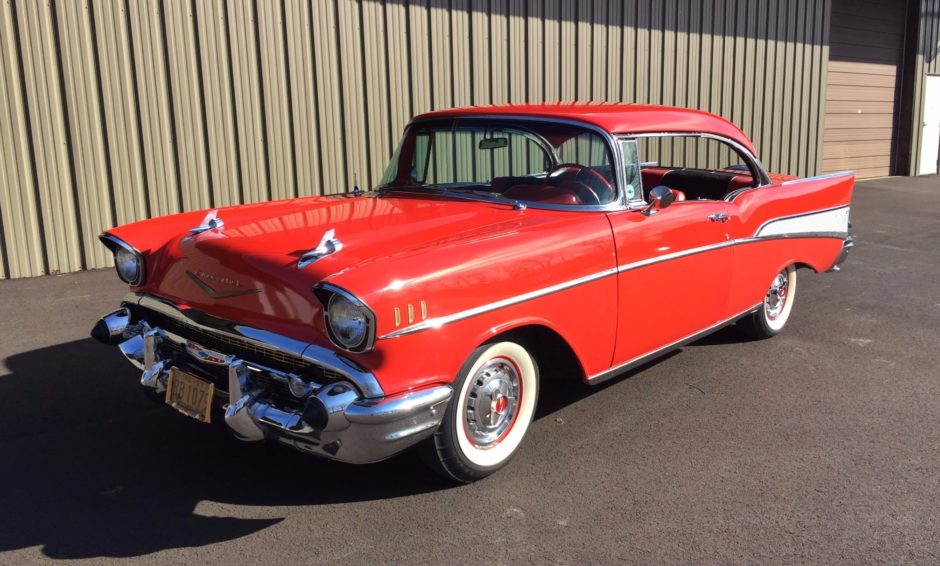 As a matter fact, it was the customization aspect which solidified the 1957 Chevy Bel Air as an automotive icon. I grew up in the 80s seeing these cars at nearly every car show Dad and I went to. And amazingly enough, here in 2019, I still see 1957 Chevy's dominate the custom car and hot rod scene all across the US. The fact that the 1957 Bel Air has been so dominant in the automotive world for more than a half a century it's all the reason I need to consider it for the best Chevrolet ever made.
1977 Chevette
Oh come on. You know just as much as I do that the 1977 Chevette was a very important car in the history of Chevrolet. It may have also been one of the worst cars (in terms of build quality and fun-to-drive factor), but the role it played in keeping Chevrolet and General Motors afloat during a very dark time in the automotive industry is not insignificant.
The best thing about the Chevette was it's small size and fuel efficiency. Actually, let me retract that. The only thing this car had going for it was it's fuel-efficienty. Americans still wanted big cars at that time, but with automotive technology being where it was in the late 70s, the only way to achieve decent gas mileage was by building a small car.
It was slow and ugly, with questionable reliability. OK, maybe it's relatively cheap price tag was another positive point, but overall it was a bland car which sold extremely well and helped to keep the Chevrolet brand alive.
1984 Corvette
Those of you under the age of 30 probably think that I'm high by even considering the 1984 Corvette as the best Chevrolet ever made. However, I know for a fact how significant this car was because it was one of the few car introductions in my 45 years of age that was so memorable and impressive.
Of course I was only 10 years old at the time and I didn't have much life experience build up at that point, but I was a diehard car guy (boy) and I knew everything about every new GM product being produced. The fact that I grew up in a small town sandwiched directly between Flint and Detroit is all the reason you need to understand why my love of General Motors ran so deep from such an early age. I was living in car country. American car country.
Anyway, the introduction of the 1984 Corvette simply blew my mind. It the most technically advanced mass produced car that I had ever seen. Honestly, it seemed like a spaceship with all of its fancy electronics and race car-like Goodyear "Gatorback" tires. This was a car unlike anything that we had seen from Chevrolet till this point. For the first time ever, the Corvette was a serious competitor to other cars such as the Porsche 911 (and even some Ferrari models).
The full-size Chevy truck
Notice that I didn't include a specific model year for this. That's because the full-size Chevy truck has been such an icon for the American culture throughout its entire history, and it's very easy for me to nominate it as the best Chevrolet ever. Chevy trucks are what built this country, and you can't go anywhere without seeing them on every street corner and worksite that you come across.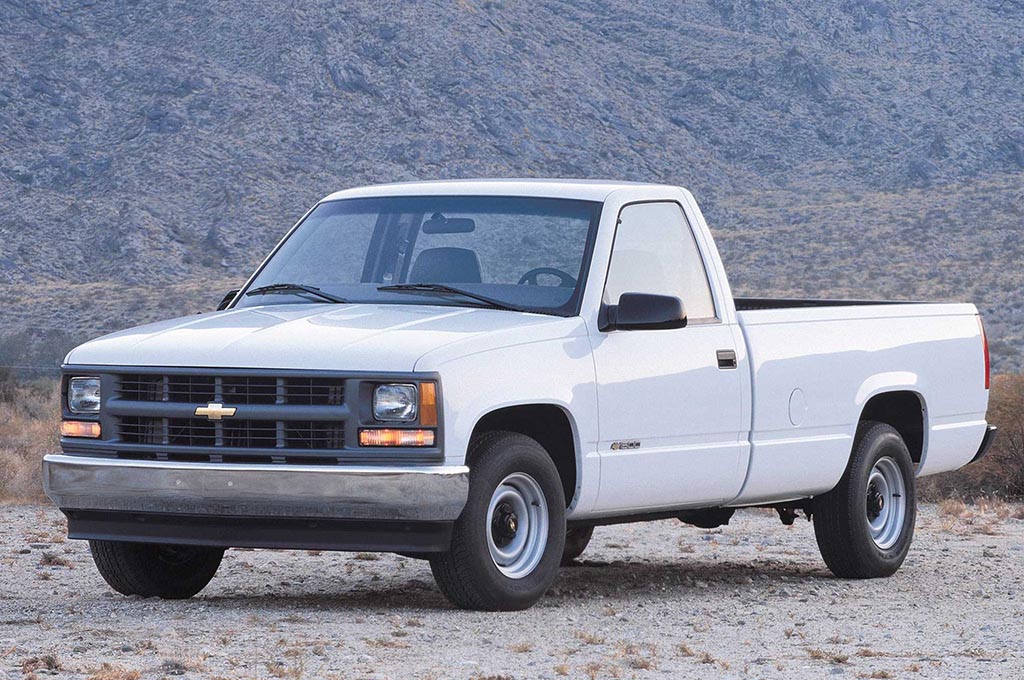 I suppose every generation has it's favorite year of Chevy trucks, but for me it was the early 1990s models. It was around that time that General Motors redesigned their entire truck line to be far more practical and user-friendly, and even I (a diehard sports car guy) was impressed. Those new trucks were amazing, and far more interesting to me than the bland utility boxes they replaced. It was the first time that I had ever been consciously interested in trucks, so that alone is all the reason I need to consider it to be best Chevy.
2014 C7 Corvette
Yes, this is the second Corvette that I've nominated. To be honest, for putting together this list of the best Chevys ever made, I never really considered the Corvette to be a car that did so much for Chevrolet in terms of financial growth and and bringing stability to the brand. But it did, in a very good way thanks in large part to the introduction of the C7 Corvette in 2014.
This is a very important car for Chevrolet for the fact that it was the first time in the history of the brand that they pulled out all the stops to build a world-class car to compete with any other sports car on the market. Whether it be from Porsche, Aston Martin, Lamborghini, Ferrari…it didn't matter.
Chevrolet and General Motors poured significant amounts of money and resources into building what is arguably the finest car ever made in it's history (in both performance and build quality). That says a lot coming from a brand that had been notoriously cutting costs wherever possible since the beginning, resulting in unreliable and unflattering cars.
Important Chevrolet models that I purposely omitted from this discussion
Chevrolet has built so many great cars over the years, that it was really hard for me to whittle it all down to just a select few nominations for the best Chevrolet ever made. I could have very easily included the post-war models from the late 1940s, which were produced in such large numbers that it helped to get America back on track again.
I could have also included the very first Chevrolet ever made (the 1913 Series C Classic 6), as without it, it wouldn't have lead to the evolution of the brand that we know today.
But what about other iconic models such as the muscle cars from the late 1960s and early 70s? The 1968 Chevelle is not insignificant in terms of what it did for creating an entire generation of gear heads and performance enthusiasts. There's nothing more American than the muscle car culture, and the Chevrolet lineup of the 1960s helped to shape what that became. No doubt about it.
You may have also noticed that I omitted the Camaro (of any model year) from this list. I personally believe the 1982 Camaro could easily be a contender for the best Chevrolet ever made, but I realize that's probably a bit too niche and I'm not sure that many would agree with me on that.
The best Chevrolet ever made is:
(Drum roll please)…The C7 Corvette. As far as I'm concerned, this is the car which forced Chevrolet and General Motors to wake the heck up and build a car that could compete (and win) against any other in the world.
Prior to the 2014 C7 Corvette, Chevrolet have been the laughingstock of the world for building cheap and uninspiring cars. Of course things had greatly improved from the dark days of the 1970s and 80s, but for the most part, Chevy was a brand not often associated with high quality enthusiast cars. The 1984 C4 Corvette was their first attempt at building a world-class car (and it was a good one I will admit), but they hadn't quite figured out important things like build quality and reliability.
The 2014 C7 Corvette was a built-from-scratch attempt at creating a car which Chevrolet could shed it's low quality image. The good news is that they actually did it. Magnificently.
The C7 Corvette has been in production for over five years now, and it has proved to be one of the most reliable and best sports car bargains on the market. It's faster than most of their sports cars, it handles better, and it's competitively priced. Personally, I consider it to be the rebirth of the brand, and I confidently declare it as the best Chevrolet ever made.
Conclusion
Writing an article which attempts to identify the best car of any specific manufacturer is kind of like asking someone who the best mother in the world is. You're likely to get a different answer and set of opinions from nearly everyone you ask, and I guess that's what makes questions like this so interesting.
I've never personally owned a Chevrolet, but I've certainly aspired to. The 1980s Corvettes and Camaros were what I yearned for badly as a preteen, and now in adult life I'm salivating over the idea of buying a brand new Corvette. It may or may not ever happen, but Chevrolet is always building products that I'm interested and I suspect that I'll eventually find myself behind the wheel of one of their cars.
The question is: would it be a 1982 Camaro Z28 or…the best Chevy ever made (the 2014 C7)? Decisions, decisions…